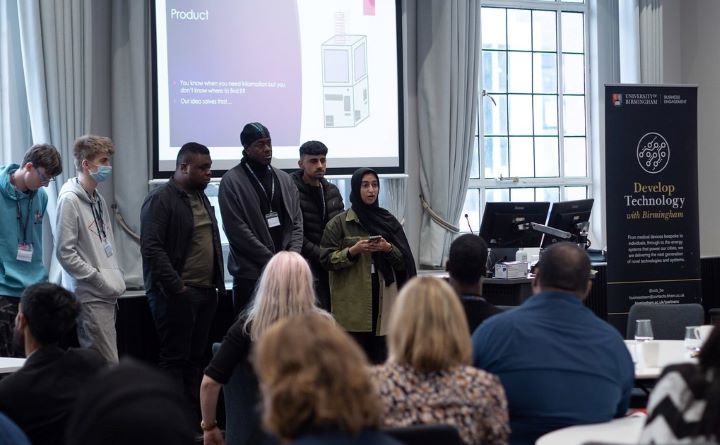 University of Birmingham, PwC and HSBC UK join forces to drive digital revolution
The University of Birmingham, PwC and HSBC UK are joining forces to encourage young people in Birmingham and beyond to improve their digital skills, helping them develop their own careers and create expertise that employers in the West Midlands can tap into.
Building on their existing relationships, the organizations announced their intention to expand the impact of their digital skills programs in Birmingham – using their strong presence in the heart of the city to connect with its citizens.
Co-located around Birmingham's iconic Centenary Square, the training providers will use their complementary business goals and important networks to create a unique and blended offering from their current digital skills-focused programs, with inclusive access to all the communities in the city.
More organizations from different sectors of the West Midlands are expected to join the trio's efforts to further improve the delivery and impact of inclusive digital skills programs and collectively expand their reach.
Organizations are committed to bridging the skills gap around digital, including cybersecurity, big data and artificial intelligence, as well as expanding access and participation in a wide range of education opportunities for diversify the workforce.
By joining forces, the organizations intend to expand their existing offerings, reach and spark a passion for digital among more young people, as well as improve their positive societal impact, while slowing the acceleration. the digital skills gap.
Professor Tim Jones, provost and vice-principal of the University of Birmingham, notes: "We continue to expand our educational offering, ensuring a high quality student experience and working closely with companies to provide internships. and appropriate internships, diploma apprenticeship programs and masters programs designed with companies to focus on industry-specific digital skills gaps.
"In addition to inclusive initiatives to support access to higher education for high potential students who may have been disadvantaged in their education so far, we are committed to regional growth and the program skills beyond higher education, offering coding bootcamps and a variety of public engagement and outreach. Activities.
"We are delighted to be working with PwC and HSBC UK to align and strengthen our capacities for more effective delivery of digital skills and to support inclusive and sustainable growth for our region. "
The demand for digital skills programs continues to grow. The UK Jobs and Skills Commission and Oxford Economics found that around 1.2 million new technical and digital skilled people would be needed between 2015 and 2022 to meet employers' skills needs.
A 2019 employer skills survey cites the lack of digital skills among applicants as a major cause of skills gaps. At the same time, the West Midlands has the fastest growing digital sector outside of London and the West Midlands Combined Authority (WMCA) has ambitious plans to double the industry's economic output over the next decade. .
Matthew Hammond, Midlands Region Leader, PwC, adds: "We are committed to inspiring young people in the region in an increasingly digital world, showing them the breadth of technology careers and how technology is used in all fields. in a more inclusive way. . By joining forces with our anchor organizations in the region, we will increase the impact of our development and technology programs.
"Our technology degree learning program with the University of Birmingham, now in its fourth year, and the 'Tech She Can' and 'Tech We Can' initiatives are just a few of the many examples of how we break down barriers to support social mobility so the next generation can acquire crucial skills and exciting technology-based careers.
"Our recent announcement of the opening of our new technology hub in Manchester, which will create 1,000 technology-focused positions, also reflects the critical and growing role of new technologies for our business and our customers and underscores our commitment to regional growth. and support for regional rebalancing. We look forward to building on these successes with the University of Birmingham, HSBC UK and other organizations as they join us in closing the region's technology skills gap and enhancing the diversity of the industry.
Ian Stuart, CEO of HSBC UK also notes: "Developing digital skills is extremely important if we are to open up a world of opportunity for our colleagues, customers and the communities we seek to serve. Over the past few years, we have created a range of digital qualifications funded by the Apprenticeship Levy for existing colleagues, supported STEM apprenticeships in local SMEs in partnership with the West Midlands Combined Authority, and delivered an employability program focused on the future to UK schools. We see the partnership with the University of Birmingham and PwC as a major catalyst in our work to take this program to the next level. "
Kim Leary, Chairman of Birmingham Tech Week, comments: "It is great to see leading organizations like the University of Birmingham, PwC and HSBC UK coming together to strengthen the delivery of these essential activities, ensuring that all the communities of Birmingham and the West Midlands are prepared. for the future and can benefit from digital growth.
The initial focus will be on developing programs with schools to inspire and spark passion in the digital skills agenda, but other sectors considered are social entrepreneurs and youth unemployment, and working with under-represented communities that do not have access to the same digital learning opportunities.
Notes to Editors:
For more information, please contact Tony Moran, International Communications Manager, University of Birmingham on +44 (0) 782 783 2312. Outside opening hours, please call +44 (0) 7789 921 165.
The University of Birmingham is ranked among the top 100 institutions in the world. His work brings people from all over the world to Birmingham, including researchers, teachers and over 6,500 international students from over 150 countries.
About PwC
At PwC, our goal is to build trust in society and solve important issues. We are a network of firms in 155 countries with more than 284,000 people committed to providing quality insurance, advisory and tax services. To learn more and tell us what matters to you, visit us at www.pwc.com.
PwC refers to the PwC network and / or one or more of its member firms, each a separate legal entity. Please see www.pwc.com/structure for details.
About HSBC
HSBC UK serves around 15 million customers across the UK, supported by 26,000 colleagues. HSBC UK offers a full range of retail banking and wealth management services for individuals and individuals, as well as commercial banking services for small and medium-sized businesses and large corporations.
HSBC Holdings plc, the parent company of HSBC, is headquartered in London. HSBC serves customers around the world from offices in 64 countries and territories in its geographic regions: Europe, Asia, North America, Latin America, Middle East and North Africa. With assets of US $ 2,976 billion as of June 30, 2021, HSBC is one of the world's largest banking and financial services organizations.