V-shaped house by IFA Group in Poland prioritizes natural lighting
the v-shaped house by IFA GROUP captures light and modernity
Along the 'Iławka' river in Poland is the 'single family house', V-shaped Residential space that sums up the modernity and warmth of a family home. The architectural design maximizes natural daylight and is influenced by the surrounding landscape of greenery and river.
IFA Group architect Kamil Domachowski designed the house to be different from the surrounding single-family apartments, but simultaneously well-integrated into the surroundings. The majority of the apartments were built in the 1960s and have varying shapes and proportions, which is typical of a small town setting. However, the "single family home" stands out with its V-shape, white color and spacious open plan.
the v-shaped residence stretches from the street to the river
all images courtesy of kroniki.studio
interconnected and extends along its surroundings
This home is built on a narrow lot with a south entrance from the town street and a north view of the river. The entrance area is preceded by a garage connected to the house by the south patio. As a result, owners can immediately drive the car into the garage from the street. Between the garage and the house there is a south patio which extends from the living room, which gives the house its unique V-shape. The exit from the living room leads to the patio located in the southern part of the plot, while from the dining room, residents can enjoy the view from the northwest patio. The architects designed the two patios strategically to preserve the privacy of its inhabitants where passers-by cannot see what is happening inside the residence.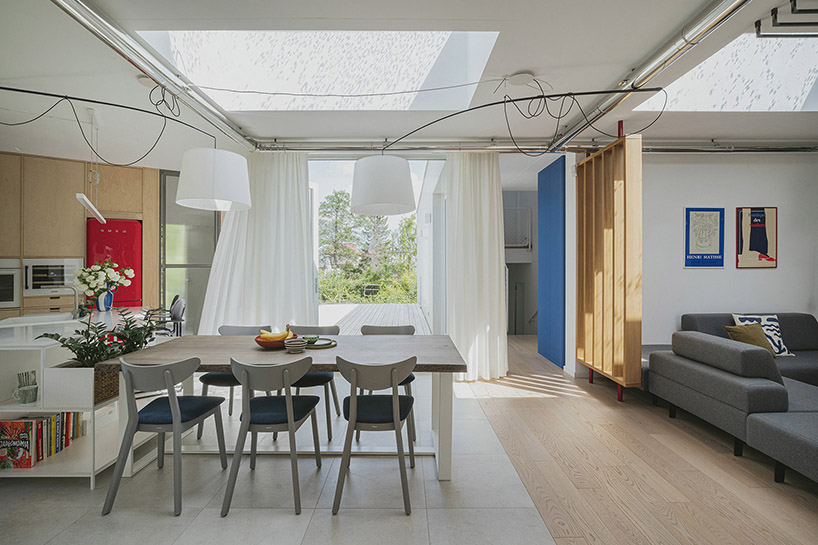 open living space
bright rooms enrich the open concept design
Light plays an important role in this design. The architects from the IFA group has ensured that the house does not overheat, but at the same time ensures that each room is properly lit. Thus, this project illustrates the possibility of setting up modern and functional structures within a small plot. It is designed as an open plan ground floor with a variety of spaces for all members of the household, which includes a check-in room, accessed through the kitchen, and a children's bedroom as well as a boiler room on the lower mezzanine. The upper mezzanine acts as a dividing block intended to ensure the privacy of the parents.
Placing furniture with colorful accents in the spaces gives the home a fun and friendly character. Blue storage cabinets with red interiors, brown tiles above the kitchen counter, colored radiators, a red fridge and different sofas all play a role in identifying the playfulness of each space while emphasizing the modern yet family-friendly design of the house.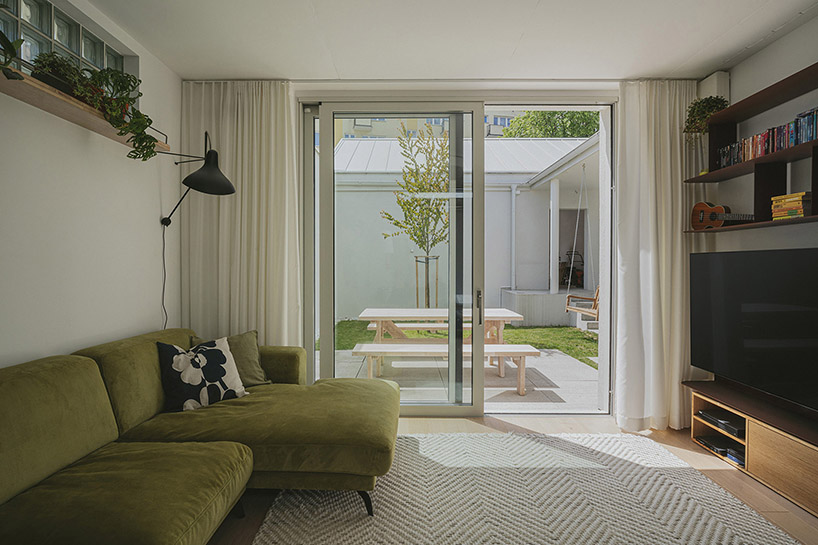 breathable living room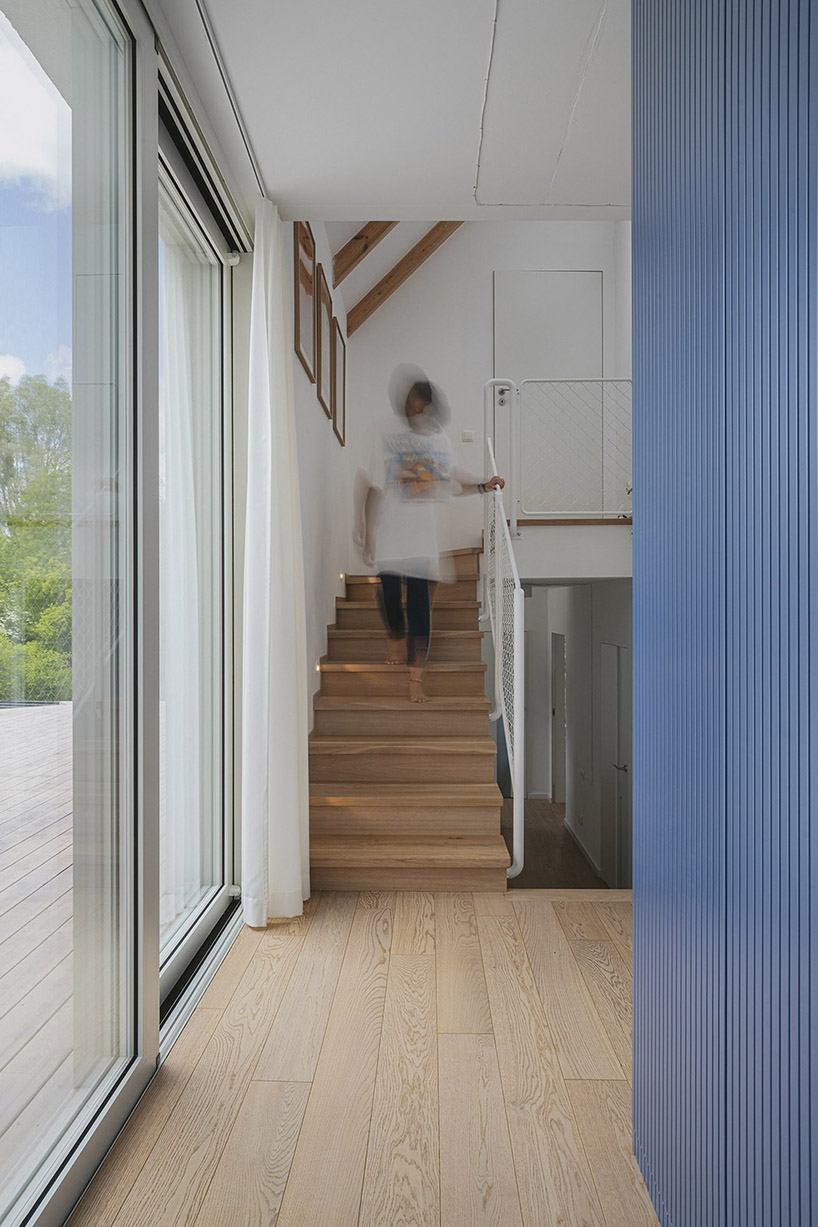 stairs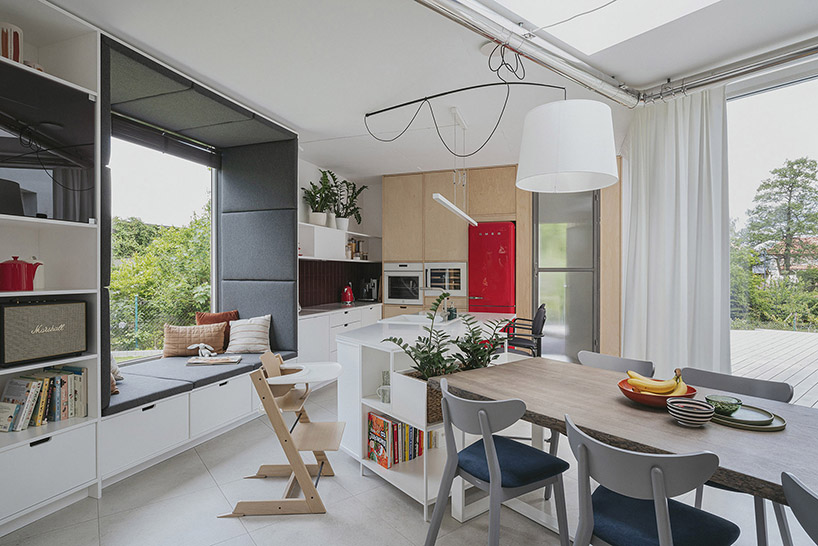 kitchen and dining room with occasional furniture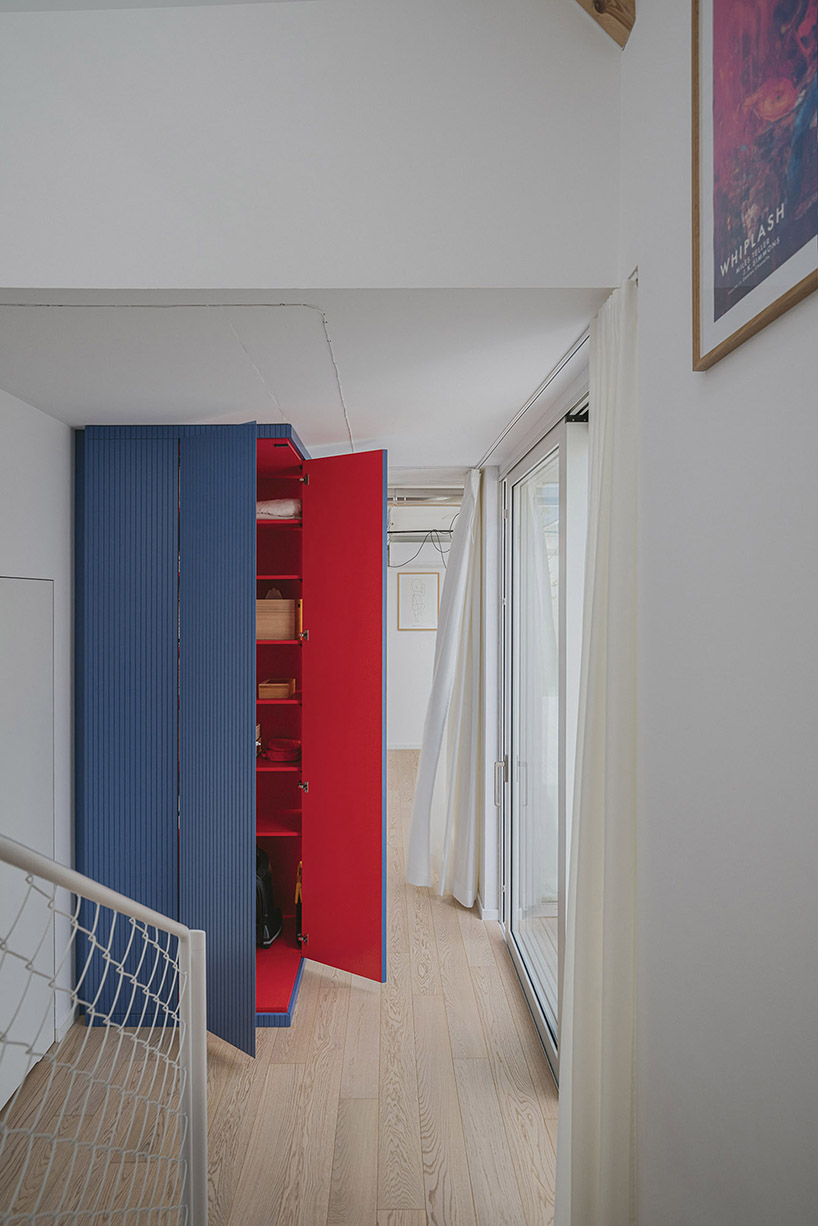 bright blue and red storage