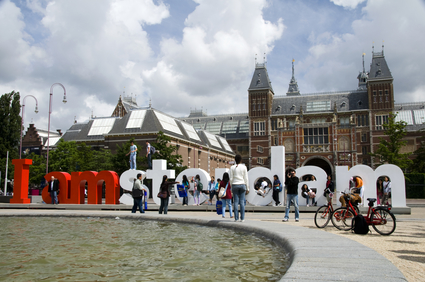 Vacation rental giant Airbnb is hurting communities in Amsterdam
Airbnb is getting greedy. It must invest in Amsterdam for the long-term benefit of its communities, not just for short-term financial gain, says David Zetland of Leiden University.
Airbnb is a popular service for connecting tourists looking for cheaper accommodation in a city with "hosts" willing to offer them a room or apartment.
Oh, did I say "give"? Sorry, I meant "rent". Like Facebook with its claims to help you connect with "friends," Airbnb uses "share" in a way that replaces a child's use of that word with an alt-truth definition that means "rent." This distortion of reality is not a bug but a feature: Airbnb co-founder (and billionaire) Nathan Blecharczyk spammed his first millions into people's inboxes while claiming "that there were honestly no rules about it" in 2002.
I don't know about you, but I knew spam was a scourge long before 2002, and I'll spend the rest of this article talking about how Airbnb founders need to stop spamming and start helping cities. who make them rich.
By the way, let me say that I love the service of Airbnb, which I am happy to use as a host and a guest. What I don't like is how Airbnb seems to be going the greedy route of doing business by focusing more on short stays than strong (and engaging) communities.
I say this as someone who studies communities and how their "common spaces" are built on an intangible web of neighborly relationships more than a common zip code.
I'm from San Francisco (where Airbnb is based), but I live in Amsterdam, which is perhaps Airbnb's most popular city. According to one source, 2-3% of all residences in Amsterdam (and perhaps 7% in working-class areas) are listed on Airbnb. In many cases, Airbnb is driving a trend of replacing affordable housing with illegal investor-owned hotels.
In most areas of Amsterdam, residents share common stairs, bins and personal space. It's not uncommon to hear each other through floors and walls as we go about our business. In many cases, these noises are comforting because they represent the "metabolism" of the building's inhabitants, some of whom have shared stories, help and common challenges for decades.
Airbnb's site and ethos says very little about neighbors (the "community page" allows hosts to swap tips). Their focus on making deals may be appropriate for San Francisco but not for Amsterdam, a city that has worked for centuries to balance the needs of art and commerce, private and public, rich and poor.
In 2014, Amsterdam and Airbnb signed a memorandum of understanding in which Airbnb pledged to "provide strong notice to hosts that they are required to offer accommodations for rental in accordance with applicable rules". It mentioned 60-day limits on hosting, encouraged hosts to "download the neighbor notification card" and said the municipality was responsible for tightening its own rules.
Not included but mentioned, was an agreement for Airbnb to collect and pay the city's 5% tourist tax, which amounted to €5.5 million in 2015. This amount involved Airbnb guests paid more than 100 million euros to hosts, of which about 3% (3 million euros) went to Airbnb.
Late last year, the city and Airbnb updated their agreement to provide a "more powerful" reminder of the 60-day lodging limit. Now, hosts are notified of the total number of days remaining and informed that they will no longer be allowed to use Airbnb once the 60-day limit is reached. But this update omitted two major factors that undermine Airbnb's benefits for Amsterdam.
First, Airbnb does not report host income to the city (or government), data it has and already reports to US authorities for "high-volume hosts." If Amsterdam hosts charge more than €100 million in charges, the tax authorities should gain around €40 million (based on the marginal tax rate of 42% that many landlords would face for renting of their own accommodation for less than 60 days). This money would be useful for a city forced to cut 25 million euros from spending on garbage collection, public spaces, youth programs and more.
Second, Airbnb does little to help the neighborhoods that make its service so popular. Guests and visitors give each other ratings and comments, but it's the neighbors who have to deal with backpacks, early departures, and strangers who don't bring anything to the neighborhood.
Airbnb can solve this problem by allowing neighbors to leave guest reviews. Although this system may take a little time to set up, it is obvious that the very intelligent staff of Airbnb could help the staff of the city of Amsterdam to warn the neighbors and to make sure that strangers would do so. , in the words of Airbnb'belong.'
Airbnb's license to operate in Amsterdam depends on whether it helps or hurts the city. Airbnb can help Amsterdam collect its fair share of taxes and integrate into the community, but it can also resist and harm Amsterdam's quality of life. Let's hope Airbnb invests in Amsterdam for the long term.
David Zeland is Assistant Professor of Economics at Leiden University College and a resident of Amsterdam. Thanks to Kim Zwitserloot and Joes Natris for their help on early drafts of this article.