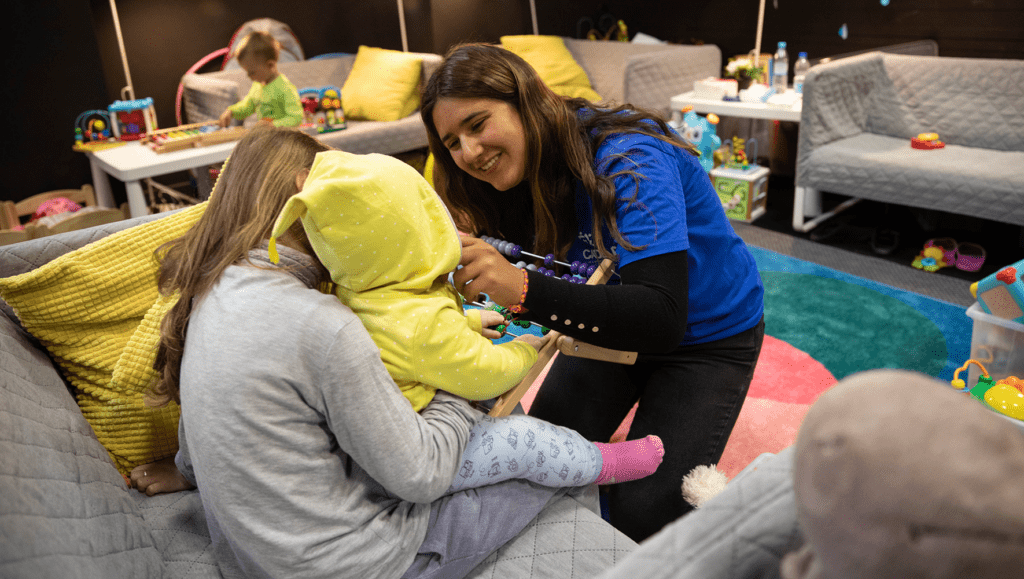 Volunteers come to help Ukrainians everywhere
Cadena volunteer Victoria Zyman spends time in a children's playground at a temporary accommodation center for refugees from Ukraine at Ptak Warsaw Expo on May 26, 2022 in Nadaryzn, Poland. (Betsy Joles for HIAS)
WARSAW – When Maria Radionova talks about leaving Ukraine, she attributes her family's flight to one group: the volunteers. The 43-year-old mother and her children boarded a bus for Poland after dodging missile attacks as they traveled west from Kharkiv to safety. When she crossed the border in May with her 1- and 4-year-old daughters, Lada and Rada, it was again volunteers who helped her find her way.
In the nearly five months since the start of the war in Ukraine, Poland has become an epicenter of emergency relief, absorbing millions of refugees and serving as a transit point for those who choose to go to other countries. The many volunteers who traveled to Poland to help displaced Ukrainians are an integral part of the relief effort – some coming from halfway around the world to do so.
Young people from CADENA, a Jewish humanitarian organization and partner of HIAS based in Mexico, are among those providing support in Poland. In a playground inside Ptak Warsaw Expo, an exhibition center transformed into a temporary accommodation center for refugees, CADENA volunteers offer companionship, spending time with children drawing, playing baby -foot and make bracelets. Brightly lit kids' spaces are adjacent to rows of black beds where people spend most of their time.
Regina Villalobos, 29, a CADENA volunteer from Mexico City, said this type of assistance is simple but impactful because it shows that people from different parts of the world care. As she and her fellow volunteers walk through the halls of the expo center, children come running to hug them and tell them about their family's plans. "[It feels good to meet] them halfway to being there for them [for] everything they need, even if you're not going to change their life," Villalobos said.
In Villalobos' previous CADENA mission, she helped provide medical care to indigenous communities in Mexico, but at Ptak Warsaw Expo, she sees the contribution of CADENA volunteers as more organic and integrated with those they help. "With kids, it's good because you realize where you're from and where you are, that the human connection is there," she said. "They don't want to have coffee and chat, they just want to play."
CADENA began in 2005 when members of the Mexican Jewish community decided to organize in response to Hurricane Stan, a cyclone that wreaked havoc across the region. The group expanded its work in later crises and began to gain a reputation for quick and humane response. "We distribute all the aid hand in hand, which is our main principle," said Abril Páez, director of emergencies and humanitarian operations for CADENA. "Our theory of change is to be in a disaster every time we see that no one else is doing the activity we are doing."
CADENA began working in Poland a week after Russia invaded Ukraine in late February, focusing primarily on mental health and psychosocial support, which the organization considered under-provided at the time. Paez said. HIAS noted CADENA's efforts to provide these services at the Polish-Ukrainian border and offered its support. "It was amazing to meet an organization with the same values ​​that always puts people's needs first," Páez said.
HIAS and CADENA have a history of collaboration, particularly in Latin America and the Caribbean, and the organizations recently launched a project together in Cucuta, Colombia, providing assistance to women and children in Venezuela.
"HIAS and Cadena complement each other on many levels as we share the basis of acting on our Jewish values. It is the epitome of humanitarian aid – a complexity that requires diversity and cooperation, while striving to achieve the same goal of tikkun olam," said Raphael Marcus, senior vice president of programs for HIAS.
The vast majority of 6 million refugees who have entered Europe from Ukraine since the Russian invasion in late February are women and children. The United Nations and other international organizations have sounded the alarm about the adverse mental health effects, including post-traumatic stress disorder and depression, faced by young people who have been directly exposed to violence .
Ukrainian children saw their lives uprooted, leaving behind fathers, friends and routines that kept them grounded. Many have adapted to life in basements and bomb shelters, while others have been transported across Europe by relatives in an effort to find a stable place to live. They found themselves in unfamiliar surroundings with no familiar framework to anchor them.
Marek Stepien, who launched the children's centers at Ptak Warsaw Expo with his wife, says they aim to make the space a happy refuge in an otherwise daunting setting. "We would like the children to remember this room and not what is outside," Stepien said. He said he was happy that CADENA volunteers and others shared their mission. "We are very touched that so many people want to help."
Victoriya Filatova and her one-year-old daughter, Danaya, spend most of their days in the colorful bedroom with other children. Filatova, who arrived in Poland in March, said having such space has helped her older children stay busy between the online classes they are taking at their Ukrainian school. "People can compare it to what they had. When it's quiet and there's no alarm or siren, it means a lot," she said.
CADENA volunteers say their efforts are a way to recognize that anyone could suddenly need help. "I really live [well] in Mexico with my family, my home. One day it could be really different, like here in Ukraine," said Victoria Zyman Levy, an 18-year-old from Mexico City. Zyman Levy arrived in Poland – her grandfather's homeland – shortly before the war for a gap year after school. Growing up in the Jewish community of Mexico, she had wanted to come and learn more about the Holocaust and the aftermath of World War II.
In late May, Cadena volunteers also helped escort a group of refugees, including Radionova, to the airport, where they boarded a flight to Spain. Radionova said she chose to travel to Spain because taking a single plane was a simpler process than multiple train journeys with Lada and Rada. "I'm alone with two children, and it's too difficult to go somewhere by bus, overland," she said.
She began to consider Spain as an option when her Ukrainian neighbor traveled there after the war began. She hopes to be able to enroll her eldest daughter in kindergarten as soon as they arrive. She said her time in Poland, thanks to the kindness of the volunteers, helped her find temporary peace. "[There's] no missiles here and that's enough.