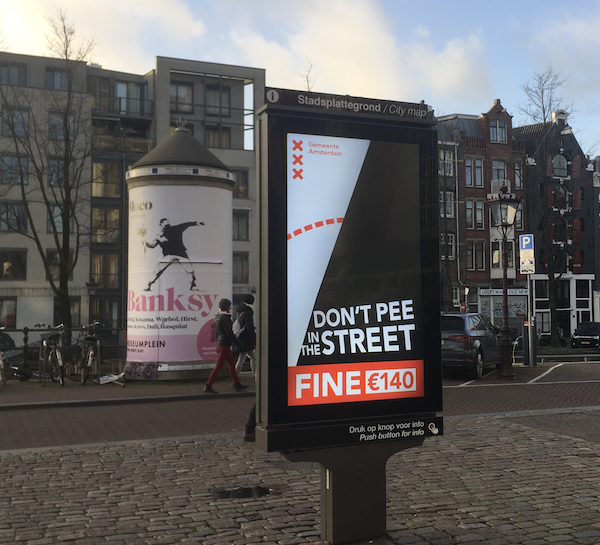 What does a quality tourist look like? Hotels and B&Bs may know this
Stephen and Steve Chicurel-Stein are on an anniversary trip to Europe: six nights in Amsterdam, nine in Vienna, with a program full of ballet, opera, culture, but above all absorption in city life.
For this couple, who stay in a traditional bed and breakfast – alongside the owners and their three children – a trip to the Dutch capital is not the occasion for a breathtaking weekend. It's about opening their eyes.
"Bikes are for people who want to risk their lives!" jokes Stephen, a licensed realtor who lives with her husband in Florida. "I can't watch if I'm on a bike – and when I'm here I want to watch the buildings and the light. The reason why we have the Dutch masters is very clear to me: this light has not changed.
They might just be the kind of ideal tourists Amsterdam city leaders think of when they talk about campaigns to guarantee low-income tenants 'stay away'. In addition, Stephen and Steve are housed in very traditional accommodation. It can be rented out through platforms such as Airbnb, but Maarten Bruinsma and his partner Malo Zacar run an old-fashioned bed and breakfast, where they get to know their guests and sometimes even become friends.
The side effect of this proven type of tourism – a world far from nuisance Airbnb allows in illegal hotels with absentee owners – is that the experience could be more positive for everyone.
Bruinsma, president of the Amsterdam Gastvrij association for bed and breakfast owners, added his voice to others in the hotel arguing that responsible hospitality businesses play a key role in promoting positive tourism. It's a message he brings to the council in Amsterdam on Wednesday this week, pleading for leniency on huge fines for vacation rental owners who have inadvertently broken the rules.
Small scale
"I remember after high school in 1990 we rode through Eastern Europe with Interrail," Bruinsma recalls, over coffee in his cozy kitchen with his partner and paying guests. "We went through Budapest and there was no structure to welcome anyone, all these newcomers who wanted to see these cities. You would come out of the station to see all these people with a sign saying: room for rent.
"What if there was no internet and that was basically it?" It would probably have been so much nicer, because we have a lot of hotels, everything has become industrialized. That's what I miss a bit: the small scale.
In his house and his guest room – a BBB, really, because there are also bicycles – there is no room at all for difficult guests. Zacar, an interior designer who designed a personal space for visitors, likes to share the excitement of vacationers discovering a new city.
"I make a big distinction between people who are here as my guests, who are here for a cultural trip, and a young Englishman who comes for 24 hours just to get high," she says. "For me, they shouldn't come. But here is the reality. We have more of these tourists than lovely people.
Stephen and Steve are clearly among their 'lovely people', eating Dutch apple cake and sharing stories of trips to Ireland, New Zealand, Venice, Barcelona, ​​Vienna and Hamburg – as well as their family history as children of German Jewish Holocaust survivors, one of whom escaped through Amsterdam.
Pee in the mailbox?
While a hotelier won't have the same kind of personal relationship with guests, Marco Lemmers, CEO and founder of Conscious Hotels, believes that well-run hotels are key to attracting kinder guests.
"The whole hotel problem has been framed here as foreign companies coming into the city, depriving the city of money there, and it's all going to a foreign bank account," he says.
"But there are so many things that hotels do from a cultural perspective, from an inclusion perspective and from an economic perspective. Hospitality is a very open culture, a lot of migrant workers have their first job there in a new city, if you are a refugee there is a good chance that you will end up working in a restaurant or a hotel.Yes, there are hotels that are closed, not connected, don't know their neighbours. It's not the tourism industry that I'm defending.
With the Volkshotel, the Lloyd Hotel and the Hotel V, it runs a pointing site that hotels have fire safety, soundproofing, 24-hour reception and an anti-vermin policy (of all kinds) and are an essential part of a tourism policy geared towards the coming.
"I believe in a kind of tourism that has good temporary citizens: people, maybe just for a day or a weekend, who are just part of society," he says. "Good temporary citizens don't pee in the mailbox. We don't have bachelor parties – we don't. Together we must change the profile of Amsterdam.
Hard policy
Last week, the head of the city center, Sofyan Mbarki, announced a series of political proposals to combat tourist nuisance, with 18 million visitors expected to spend the night in Amsterdam this year. The planswhich are expected to be developed in the coming years, include earlier closing times for bars, clubs and window prostitution in the red light district, bans on smoking cannabis outdoors in tourist hotspots and the potential ban on organized pub crawls.
But some experts say Dutch tourists, often day visitors from other cities, should be tackled. Extensive ABN Amro Lead author Stef Driessen's briefing suggested that increasing the tourist tax on overnight stays would have a counterproductive effect – overnight tourists, especially business visitors, are likely to stay out Amsterdam (and many already do).
This would mean a loss of revenue for the city, but would fail to tackle the nuisance caused by the estimated 20 million day visitors who come to party and leave litter in their path. In Driessen's view, banning tourists from cafes — by enforcing a national law that already exists — would do more.
"Overcrowding is not just about hotel guests and Amsterdammers," he says. "There are technical and legal possibilities for people coming from outside the city to also pay for the maintenance of the canals, in order to limit the maximum capacity of certain areas with turnstiles. Tourists are also willing to pay for a quieter visit to the museum, if you have responsive websites or apps. In Venice, it all happened too late, and now it's an open-air museum where a few people live.
Crossroads
Amsterdam is currently at a crossroads: pre-pandemic tourism levels have returned. The mayor of Amsterdam Femke Halsema calls it a "Januskop", like the Roman god of transitions Janus, a two-headed statue. "It's the two sides of tolerance, the paradox of tolerance," she says.
"People come to Amsterdam because of tolerance, but a number of people have behavior that we cannot tolerate. If we continue like this, I think that in 10 or 20 years, people will no longer live in downtown Amsterdam – they will have moved because they cannot afford it, because the atmosphere is too mundane, because the city has become too dirty – in every way. Too criminal.
At the same time, however, the city has an annual budget of 90 million euros. hole in its budget from 2026 – a hole that tourist tax, parking fees and other income from more than 20 million visitors could help fill.
Amsterdam & Partners, the city's marketing organisation, will run a 'stay away' campaign in 2023 to encourage unwelcome visitors to do just that, and director Geerte Udo wants guests who come to support the venues and cultural facilities in the city. She calls it a "regenerative" visitor economy, with interactive apps and social media prompts to suggest places off the beaten path.
Positive
"We encourage visitors to visit these places that we value as locals," she explains. "For example, use public transport, come by train if there is a good connection, go to our theaters and museums, visit the restaurants, bars and shops that we locals love and visit. We [are trying to] encourage people to think outside the box by offering them offers tailored to their needs.
Back in Bruinsma and Zacar's kitchen, there's a guestbook overflowing with complementary observations, and in the spotlight, an American football marked with a child's name. He was a guest, they say, who spent a week playing with their son. "The day he left, the little guy, he said he should probably leave it," Zacar says. "They gave it to my son.
"I love the feeling that whenever you have guests they're so happy. I'm not on vacation but they are. It's such a positive environment… happiness all the time.
Thank you for your donation to DutchNews.nl
The DutchNews.nl team would like to thank all the generous readers who have donated over the past few weeks. Your financial support has helped us extend our coverage of the coronavirus crisis into evenings and weekends and ensure you are kept up to date with the latest developments.
DutchNews.nl has been free for 14 years, but without the financial support of our readers, we would not be able to provide you with fair and accurate information on all things Dutch. Your contributions make this possible.
If you haven't donated yet, but would like to,
you can do it via Ideal, credit card or Paypal.