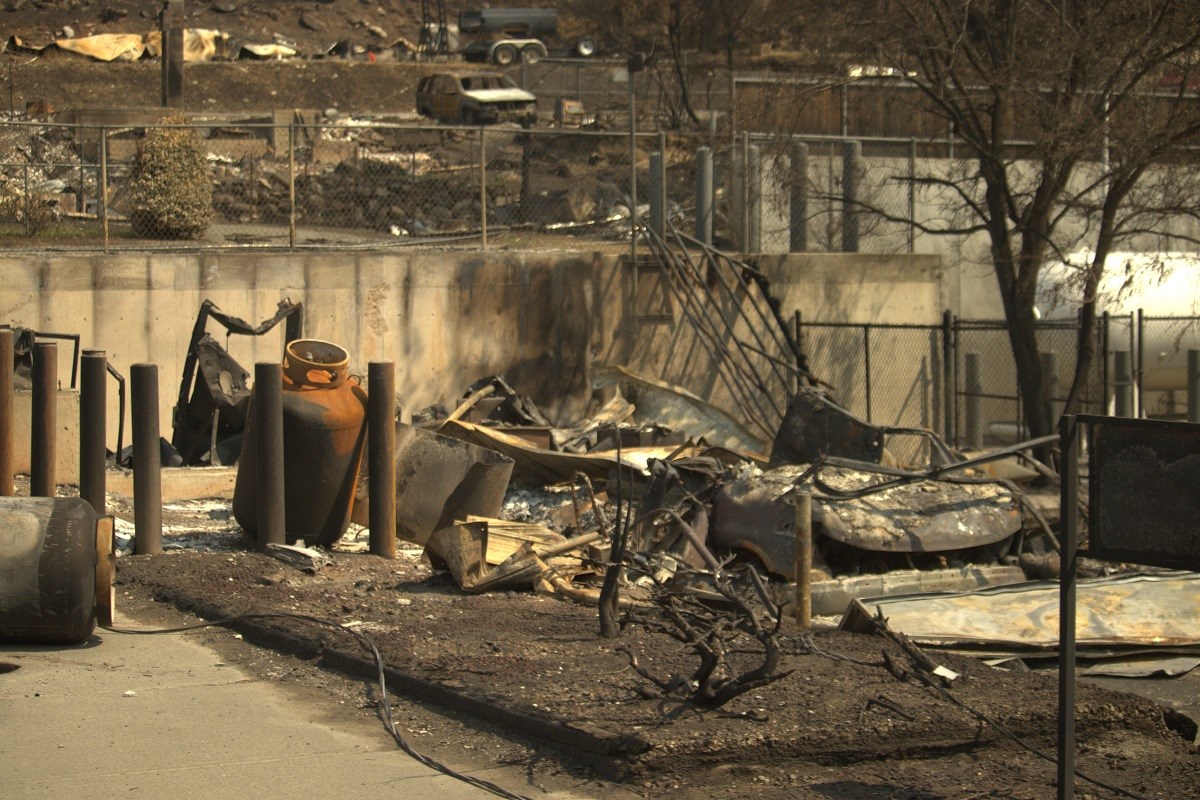 Why does it take so long to rebuild Lytton?
When the city of Paradise, California burned down in 2018, residents were allowed to return home on their own after six weeks. So why did it take Lytton so long?
A Transportation Safety Board investigation that found that a train was not to blame for the fire that consumed Lytton prompted dozens of villagers to demonstration along a railroad track outside of town. Online, hundreds of people have signed a petition calling for a new federal investigation, which includes resident witnesses.
But for others, bigger questions loom. Three and a half months after the devastating fire, residents are far from returning home.
"They are scattered all over the place. They are still displaced, "explains Edith Loring-Kuhanga, administrator of the Stein Valley Nlakapamux school, located about five kilometers from the city.
Loring-Kuhunga, who lost her home when fire ravaged downtown Lytton on June 30, now spends most of her time in Victoria, returning to Lytton whenever she can find an available Airbnb rental.
She says access to her properties and those of other villagers has been extremely limited.
"The only time we were able to go back was when we sifted through the ashes to see if there were any memories," she told Glacier Media.
The residents, she adds, were to be accompanied by volunteers from organizations such as Christian Aid Ministries and Team Rubicon, which was due to complete its work this week, according to a written update from the village of Lytton.
Loring-Kuhunga says she had an opportunity to see her house burned down on September 10.
"We cannot go in alone. They sort it out and we keep an eye on it, "she explains. "Everyone is trying to sift through their homes before winter and destroy what's left."
"This is why we are so frustrated."
When Loring-Kuhunga evacuated on the day of the fire, she fled to the school where she works to help set up an emergency assembly post. About 200 people initially took refuge there.
She says that in downtown Lytton, where the fire is said to have destroyed 90% of the city, the majority of the population is elderly.
"I'm worried about them. They are (elderly) people over 75 years old. They are still displaced. How are they going to cope?"
A SLOW RESPONSE FROM THE GOVERNMENT?
In the first days after Lytton's evacuation, the Thompson-Nicola Regional District (TNRD) donated part of its offices in Kamloops to the mayor and village council. TNRD board chairman Ken Gillis said the regional body was doing all it could to help.
But when it comes to getting people back home and rebuilding the city, he says it ultimately depends on the village and the provincial authorities.
"I know there have been problems for a while," he says. "There seems to be a certain disconnect between the city and the provincial authorities who are dealing with this – bringing people home."
A spokesperson for Emergency Management BC (EMBC) said affected communities were behind the recovery from the wildfires. Advice, expertise and dedicated resources are provided at the request of communities like Lytton.
In Lytton's case, that means providing money to hire numerous positions to help with the recovery, including a re-entry manager to coordinate ash screening, debris removal and critical infrastructure work.
"This team works daily with the village and Lytton First Nation on recovery planning, providing advice and support," EMBC spokesperson Jordan Turner said in an email.
Turner says EMBC is still providing emergency support services to people who have lost their primary residence or are on evacuation orders. He says the province also made a formal request for help from the federal government through disaster financial assistance deals on July 29 and is awaiting a response.
This week, the village of Lytton announced that all insurance assessments have been completed. The Insurance Bureau of Canada says residents of the village have suffered insured claims worth $ 78 million.
Burnt trees are still pruned and removed from the village, and Interior Health is working with a company to restore the water.
Meanwhile, security fencing and 24-hour surveillance are still in place around the burnt down properties, according to the village. Once the cleanup is complete, the village says the survey will reestablish the property lines.
A spokesperson for the Fraser Basin Council said it is looking to refine a plan for a safe return to the village within the next week. This plan, says Denise Hoskins, includes the disposal of toxic debris, temporary accommodation on site and the provision of essential services.
Glacier Media has contacted Lytton Mayor Jan Polderman, but has not received a response.
WHEN PARADISE BURNT IT TAKEN SIX WEEKS TO RETURN
June's record-breaking heat wave propelled Lytton into the international spotlight. The village set and reset Canada's all-time temperature record for two consecutive days, now at a scorching 49.3 ° C.
When the devastating fire swept through the city the next day, Steve Crowder took note.
In 2018, Crowder was appointed advisor to Paradise, Calif. Two days later, the 180,000 acre campfire burned down paradise, destroying 95% of homes and leaving 27,000 people with nothing.
"I left my house that day with [the] clothes on my back, and that was it, "he said.
The mayor quickly contacted his counterpart in Lytton. Soon her community had gathered $ 11,000 in gift cards to distribute to residents – gift cards, according to Crowder, were a lifeline when her community was decimated.
While in another jurisdiction under a different set of laws and expectations, the Paradise experience offers valuable insight into how quickly a community can return home after a devastating wildfire.
In the weeks following the Paradise fire, the California mayor said hundreds of thousands of gift cards had been handed out at an emergency center housed in an old Sears building. City council and staff, The Salvation Army and other government and nonprofit groups came together to distribute aid.
"There were only wall-to-wall people," he says.
For six weeks, the city was shut down as emergency and recovery personnel cleaned up debris, burned trees and downed power lines and searched for bodies. In the end, 85 people died in the Paradise fire. After six weeks, residents returned home to sift through what was left of their belongings.
When they went to town, they had to show some ID to prove that they lived there. Residents were given protective suits – think light HAZMAT suits – and were given a curfew at 8 p.m.
"They could stay all day if they wanted. We had no restrictions," Crowder recalls.
Yet, he adds, people were yelling at officials, saying six weeks was not fast enough. When asked if he could have kept people away for the three and a half months that the residents of Lytton endured, he was unequivocal: "There is no way."
"It's a long time to make it sure."
EMBC's Turner said sorting of debris should be done under supervision "to ensure the safety of residents and compliance with [WorkSafeBC] procedures. Turner notes that the screening is expected to be completed "shortly" and has already been completed for the Lytton First Nation.
Back in Lytton, a delayed return isn't the only thing regarding Loring-Kuhunga.
The school administrator says she and other residents understand the colossal task of rebuilding a town, but hold the mayor and the three councilors to account.
"They can't even hand out $ 30,000 in gift cards given to evacuees after the fire. We still haven't received them. So how are they going to rebuild?" she questions.
Stefan Labbé is a solutions journalist. That means it explains how people react to issues related to climate change – from housing to energy and everything in between. An idea of ​​history? Get in touch. Send an email to [email protected]