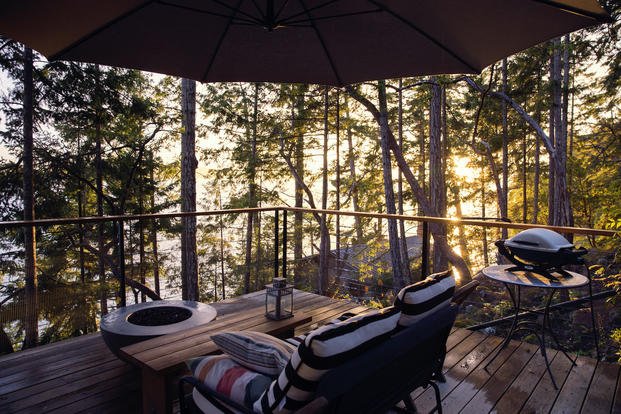 Why Hosting Airbnb Can Be a Good Option for Retirement
After serving 30 years in the military, veteran Bo Balcavage and his wife Kim needed a change. The couple moved around the world for the military, living in 19 different homes in the process.
When it was time for Bo to retire, the couple wanted to choose a special place for their permanent residence. They had no idea then that they would end up sharing it with complete strangers.
Balcavages are Airbnb hosts; they do a business of renting out the ground floor of their house to short-term guests. It all started when the Pennsylvania natives moved to Cape Porpoise, Maine and saw the opportunity to build a lower-level suite for family visits and potential short-term guests.
Even then, they couldn't expect the demand. The couple officially opened an Airbnb listing in June 2020, and they were quickly booked for the next six months. Kim estimates that they have earned around $40,000 from their side gig as hosts since then. They charge customers $175 per night and will soon increase their rates.
"I've always wanted to have a bed and breakfast, but I'm not a morning person," said Kim Balcavage, who also runs a leadership development business with her husband. "When we retired it wasn't on my radar, but deep down, hosting people was always something I wanted to do, and I wanted to keep meeting new people."
Meanwhile, Coast Guard Petty Officer 1st Class Matthew Gibson and his wife and Alina also decided to try short-term rental accommodations in the summer of 2020. The Louisiana-based couple purchased a condo on the beach near Pensacola, Florida, as a second home and crash pad for family and friends, but it often remained empty.
When the family listed the space on short-term vacation rental platforms, they were blown away by how quickly it filled up.
"Within hours we were getting reservations, for hundreds of dollars a day," said Matthew Gibson. The two enjoyed the hosting experience so much that they decided to do an out-of-company retirement plan. They already owned a long-term rental and found that the vacation home made four times as much money with short-term guests. They bought four more units in the seaside town before leaving Matthew's terminal in June.
"It was a turning point for what we were going to do," said Matthew Gibson. "I was looking for government jobs, and now I'm going to live on the beach. It's so much more convenient, and I play a bigger role in my future compared to a 9-to-5 job."
According to Airbnb, many military families choose similar paths. The service reported that 10% of hosts are active or retired military and have collectively earned $40 million on the platform from January to September 2021.
However, both host families caution that running a short-term rental isn't the right fit for all military families, and people should do their research before jumping in. Hosting usually requires a large initial investment and involves a lot of work to keep visitors happy. Hosts should thoroughly research ever-changing local and national short-term rental rules to ensure they are following the law. Units must be fully furnished and decorated, cleaned after each visitor, and expertly marketed to remain competitive with other rentals in the area.
"I think all the years of traveling while we were in the military definitely taught me what I like about staying in certain places and what I don't like about staying in certain places," Kim said. Balancing. "I did a lot of research, which I recommend if people want to start their own business. Research what others are offering, read reviews and see what people like about them, then do it better."
Both couples insisted that hosting is not passive income and that the host or management company should be nearby to respond to any issues or requests. They believe it would be difficult for an active duty member to successfully manage a hire remotely or while deployed without a strong local team, which may be hard to come by during the current labor shortage. .
"I tell my family that if you see me on my phone, I answer someone's questions about where the ice cream is or something," added Alina Gibson, who is now an Airbnb ambassador. "It's very convenient, that's for sure, and it's high maintenance. We've made over 120 families happy, and it's not easy to do."
Airbnb wants more retired and active-duty members to become hosts and has even formed partnerships with career veterans recruitment Boots2Roots and the Live and Work in Maine platform have pledged to award up to $15,000 in free Airbnb stays to military families looking for jobs or homes in the state.
"A lot of people coming out of the military, even if they don't have a business background, are enterprising and like to be on their own," said Bill Benson, retired colonel and executive director of Boots2Roots. "Hosting a rental is a chance to use something you live in, in a beautiful place, to maintain the lifestyle you want. I think the opportunity is something that would be very appealing to people going out of the Army."
Learn more about Airbnb's partnership with Boots2Roots and Live and Work in Maine.
— Read it original article to MilitaryFamilies.com.
Follow the ins and outs of military life
For the latest military news and tips on military family benefits and more, subscribe to Military.com and get the information you need delivered straight to your inbox.
Show full article
© Copyright 2022 Military Families Magazine. All rights reserved. This material may not be published, broadcast, rewritten or redistributed.