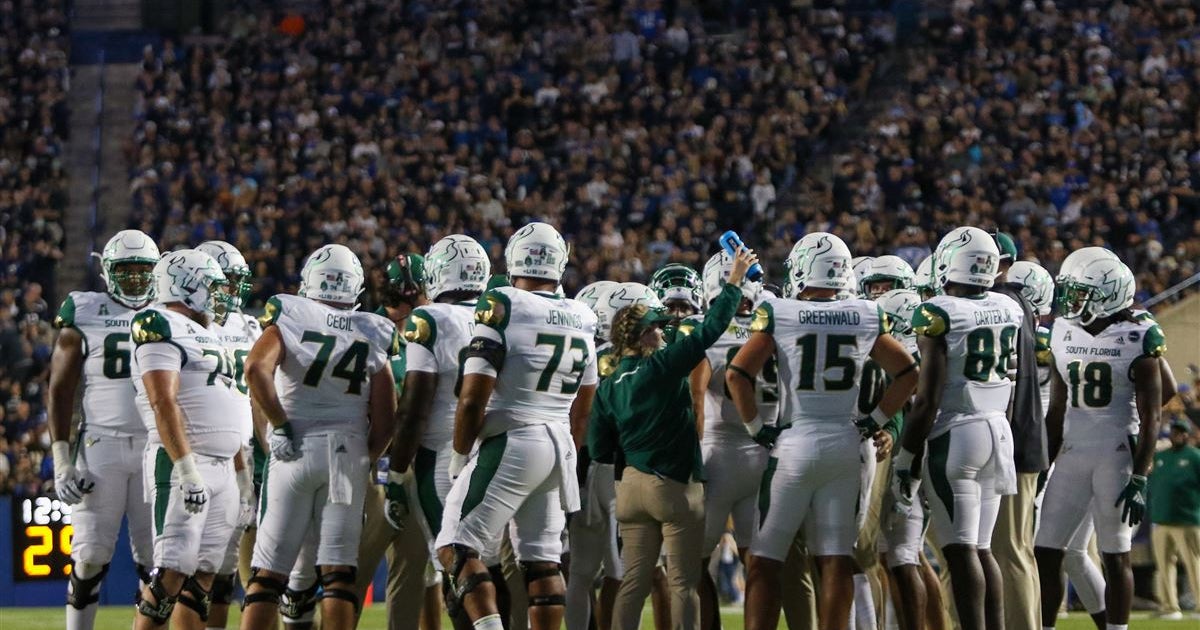 WT's early lessons on USF's defeat at BYU
PROVO, Utah — It was an extremely late night on the east coast for me, as I didn't get into my Airbnb until 2:30 a.m. MT, which equals 4:30 a.m. ET for those not good at math and spindles. schedule.
He probably stayed awake for 10 p.m. when all was said and done, seven on a plane or at an airport and seven inside LaVell Edwards Stadium. While the USF didn't beat BYU on Saturday night, the mere fact that the Bulls almost got back on the Cougars was worth it.
Of course, you'd better pay a hefty sum of money to travel to Raleigh to witness a 45-0 beating by the now ranked NC State.
USF showed courage, which is what you wanted to see against the nation's No.15 team. As always, I have thoughts and opinions, so let me go ahead and gather my sleeping brain for some takeout before I retreat to the mountains of Utah this Sunday afternoon.
BYU got off to a quick start, USF did the opposite.
Cougar Offensive Coordinator Aaron Roderick told reporters this week that BYU needs to get started quickly. Especially with the backup quarterback Baylor romney on his first start of the season, the Cougars really wanted to get off to a quick start. A 21 point first quarter is about as good as you can get in this department.
Romney broadcast it with a 49-yard pass on the first drive, then a 55-yard pass on the second drive to return the field position. BYU only needed four games to score seven points on the opening disc. USF was punched in the mouth defensively and tried to be aggressive early on, but that aggression doesn't help when BYU guys are a step behind USF corners after those corners bite. bogus games early and often.
The importance of starting quickly is not lost on the Bulls.
"We played a sloppy first half. I feel like we start a lot of our games slowly, and I feel like if we go out fast we will have a different result. We can't let ourselves go into holes like that, "said the USF running back. Jaren Mangam noted.
We started to see the expansion capacity of the game from Timmy mcclain.
BYU Head Coach Kalani sitake was baffled by the Bulls' youthful freshman quarterback and his ability to dodge sacks.
"I have to give him credit, I can't believe he's a young freshman. He can escape, he can run. I felt like we couldn't contain it, "he said.
It's important, and praise from one of the best head coaches west of the Mississippi.
Although his 17 for 24 night was particularly impressive and some of the throws he made for Xavier Tisserand and Demarcus Gregory were even more so is what he did before the game and when things broke it showed a ton of improvement from week 1 to week 4.
The USF offensive line didn't make a false start all night, and McClain played a big part in it. He approached each lineman before the game and relayed as many signals as possible in front of a crowd of 60,000 people.
The cadences and silent counts have been done well to keep everyone on the same page. Hats off to McClain, OL head coach, USF Jeff Scott and offensive coordinator Charlie Weis Jr. for preparing the group in this regard.
There is one piece that really impressed me. On a 3rd and 4th in USF 39, McClain didn't like what he saw ahead of time and quickly ran out of time. After finishing the game with maybe half a second before a game delay penalty, he found a way to make it a first down with a gain of nine yards. This is the kind of improvisation work that theaters need.
Charlie Weis Jr. does a masterful job of tailoring the offensive to the needs of the USF.
USF had just eight practices on Saturday night and had the ball 11 minutes longer than BYU. Obviously BYU had fast drives. His five touchdowns were completed in 3:51 or less, but USF controlled the clock extremely well offensively.
After a punt and fumble on the first two practices, the USF pulled off a 13-play, 69-yard practice that took 6:35 on the clock. Then came a 12-play, 62-yard drive that took 5:07. Both ended in field goals. Maybe you'd like to see USF go for one of these, especially on a BYU 25 4th and 5th. It's a doable pickup in my mind.
The control of the clock in the second half was impressive. Except for the fact that USF needed two timeouts on their initial third quarter record. It was less than stellar. A 14-play, 75-yard workout that ended upside down from Weaver took 7:35 on the clock, then the USF shot into a quick hitter in 2:30 that featured a good starting position on the field and a 26-yard game from McClain to Weaver.
And that 19-room, 94-meter journey to end the evening? Very well done. As a result, BYU's offense saw the ground only three times in the second half.
This is an offense which – basically – is based on tempo and fast playing. We have seen it at times. We also saw what it does to a defense that has been riddled with injuries and guys playing excessive snaps. To revive the defense, it was important for the USF to slow things down.
It's a big and really good adjustment for Weis Jr. and Co. to make.