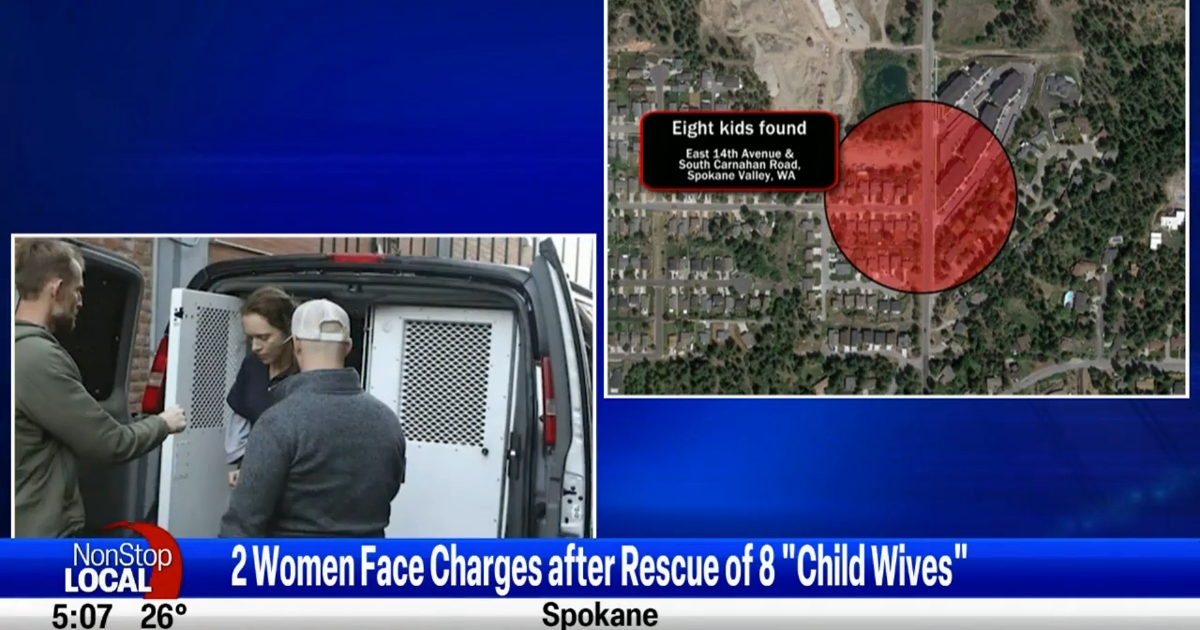 2 adult wives of polygamist ringleader Samuel Bateman appear in court | News
FLAGSTAFF, Ariz. — Two adult wives of polygamist group leader Samuel Bateman appeared in federal trial court for status hearings on Tuesday, Dec. 13, in Flagstaff, Ariz. Donnae Barlow and Naomi Bistline face charges of kidnapping, obstructing and tampering with or destroying evidence in connection with an official investigation after eight child brides of Bateman were found in Spokane, fleeing from investigators.
Bateman, 46, claims to be the prophet of a Fundamentalist Church of Jesus Christ of Latter-day Saints (FLDS) group in the twin cities of Colorado Springs, Arizona and Hildale, Utah. He has at least 50 followers and 20 wives, many of whom are underage. His youngest wife is 11, although he married her when she was 9.
Nine child brides were placed in Arizona Department of Child Safety group homes after Bateman was arrested in September. Eight of them fled in November, while the youngest was apprehended while trying to escape. The group traveled to Spokane with another adult wife of Bateman, 18-year-old Moretta Johnson, where they were apprehended by the Spokane County Sheriff's Office at an Airbnb on behalf of federal investigators.
Johnson was also a minor when she was married to Bateman and was probably only 17 when she conceived their child. Johnson also faces charges, although she remains in Washington awaiting extradition and has yet to appear in court.
According to AP News, Barlow's attorney said his client was only doing what she believed to be right, adding that Barlow would follow all orders issued by the court. His attorney argued for Barlow's release, citing Barlow's lack of a criminal history as well as his 2-year-old son with special needs.
Prosecutor Wayne Venhuizen, however, noted that Barlow and Bistline communicated with Bateman about the children before and during their escape attempt.
"These women have proven they will stop at nothing to interfere with a federal investigation and protect Bateman, who was sexually abusing children," he said.
The federal judge hearing the case ruled that Bistline and Barlow will remain in custody at their Dec. 5 preliminary hearing.
Bistline, Barlow and Johnson could potentially face life in prison if convicted.
As for Bateman, he is still being held in Florence, Arizona. He pleaded not guilty to the child abuse charges and the federal evidence tampering charges.
While court documents refer to heinous acts of child sexual abuse and polygamy, he currently faces just three counts of child abuse after three underage brides were found in a caravan, as well as federal charges for asking his followers to delete his Signal account from his phone to obstruct the investigation. Bateman is not facing charges related to sexual abuse at this time.
His trial on the federal charges will take place in January.
In an interview with AP News after his wives appeared in court, Barlow's sister Alice said the charges against Bateman were a misunderstanding, adding that he was a "gentle, gentle spirit".
"What they're trying to do is destroy a religion," she told AP News. "Samuel is a prophet and a savior in this world. He didn't do anything wrong. They must realize that God will defend his prophet.
Alice Barlow has two teenage daughters in state custody, one of whom ran away from the group home. She told AP News that she has not been allowed to see or communicate with them lately.
A spokesperson for the Arizona Department of Child Safety declined to comment on the status of the nine state-detained child brides. SCSO also has no comment, as they were acting on behalf of the FBI when the group was arrested. Other communications regarding the incident. they said, should come from federal investigators.