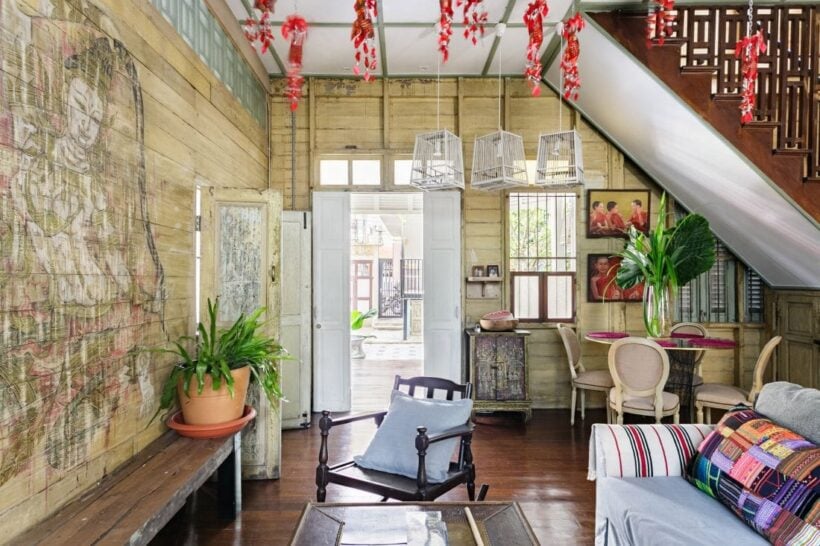 Experience the creative atmosphere during Bangkok Design Week with Airbnb
Thailand is a hub of creativity; a country filled with artisanal culinary gems and art galleries that claim creativity and innovation allowing cultural tradition to sit comfortably alongside the adoption of new ideas. Thailand never gets tired and Bangkok remains popular, with Airbnb seeing an influx of guests at festivals and events such as Bangkok Design Week, which returns for its second year from January 26 to February 3.
The creative economy is flourishing around the world and in Thailand, Airbnb has seen a clear synergy between creative and sharing economies with recent data from Airbnb showing that there are 2,000 passionate Airbnb hosts in Thailand who work in the creative industry.
Airbnb's global digital platform helps creative entrepreneurs nurture themselves, fund their passions, and in many cases showcase their creative work, in turn promoting local culture and authentic travel experiences to travelers. national and international.
Held in Bangkok's Bang Rak district – known for its creativity and centered around Charoen Kung Road, Bangkok's oldest road – the second edition of Bangkok Design Week takes place under the theme "Fusing Forward" and seeks to s 'build on its first year of success.
With nearly 10,000 Airbnb travelers expected in Bangkok each design week day, and nearly a quarter of all Creative Airbnb hosts in Thailand being based in Bangkok, we share unique homes across the city, ideal for those looking to enjoy the creative vibe of Bangkok. Between waking up from the comforts of a home creatively designed to attend lively conferences, travelers and locals alike find inspiration in this ever-changing golden city. Airbnb also recently launched Airbnb Plus, a selection of homes for guests looking for beautiful, unique homes that are thoughtfully designed and with great hosts.
1) House of anonymous heritage
This rare and unique Thai house built in the early 20th century is made of golden teak wood and features antiques, artwork, and high ceilings. Located in the Silom district, the Creative District is a short walk away and the river boat to the old town and temples are minutes away.

A 40-year-old refurbished boutique in Bangkok's bustling China Town, Bā hào offers Thai-inspired accommodation on the third and fourth floors with common living space on the second and an eclectic oriental-style bar on the first floor.

Minimalist and zen, this townhouse is located in the heart of the city while providing a relaxed atmosphere away from the hustle and bustle. With five bedrooms, it's ideal for a group looking to explore the city's creative nooks and crannies.

4) Design house near Chatuchak and Ari market
This architect-designed home is in a lovely neighborhood with plenty of local street food nearby and easy access to Chatuchak Market, Bangkok's most popular creative hotspot, tourist spots and shopping malls.

This old-design, family-run B&B is located between Old Town and New Town and offers a truly unique accommodation experience just 300 meters from the nearest BTS station and 600 meters from the nearest pier to the Chao River Phraya.
Airbnb is also supporting a new wave of creative entrepreneurs, where we are seeing more and more creatives become Airbnb hosts. Meet local artists and spend the afternoon with them thanks to Airbnb Experiences.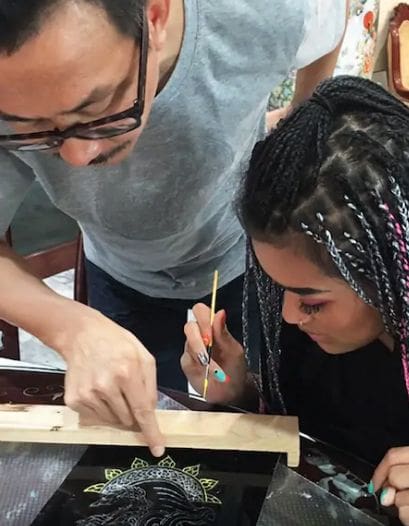 6) Lai Rod Num: Thai Gold Craft Workshop
Lai Rod Num is an ancient Thai craft using gold leaf and black lacquer paint which is often used in the decoration of temple or palace pillars, window and door panels, ceremonial bowls , jewelry boxes and more. You will learn more about the craft and in the workshop using adapted modern technique, you will have the chance to create your own piece of craftsmanship that you can take home with you.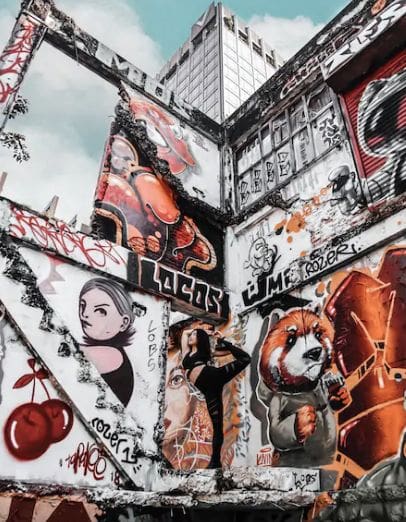 7) 1970s photo shoot with a blogger
Blogger and photographer Tommy will show three completely different faces of Bangkok, in three different neighborhoods, showcasing Bangkok's diversity and the city's most beautiful spots. Guests will experience Bangkok's classic architecture as well as the hipster side of Bangkok with its hidden graffiti, street art and the way of life of the locals, as well as breathtaking views of Bangkok.