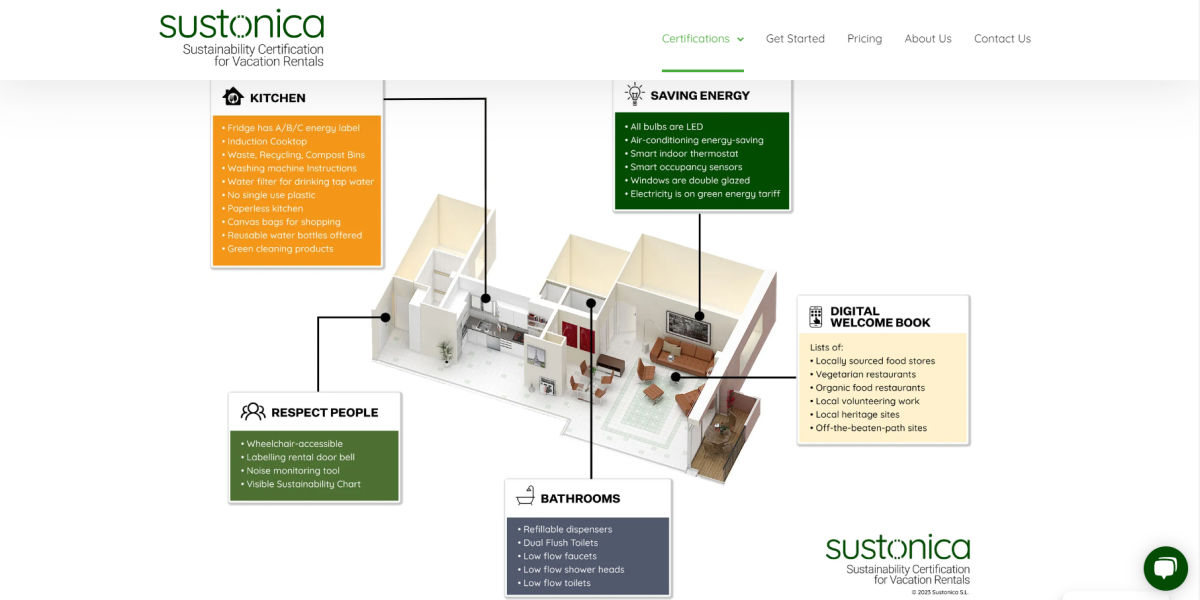 New Efforts Shine a Light on Sustainability in Short-Term Rentals
While the hospitality industry is full of sustainability certifications, they are rare in the short-term rental (STR) industry. Until now, owners of short-term rentals did not have an STR-specific standard to meet.
Vanessa de Souza Lage, Founder and CEO of sustonica, aims to change that. Her Barcelona-based startup awards properties an "Environmental Sustainability Certification" which she says is the first sustainability certification open to all STRs, regardless of where they are listed. The certification program was launched earlier this month.
STR durability is "a very confusing world because you can find a lot of conflicting information," says de Souza Lage. The industry needs "one certification, not 201 certifications" like the hospitality industry, in which the vast array of sustainability certifications only serves to "confuse customers", she says.
"I think it's a good time to introduce something like this," says de Souza Lage. "It's a priority for a lot of people, and [owners] realizing the benefits of not only getting more bookings because so many more travelers are interested in sustainable tourism… they're also interested in doing something good for the planet themselves.
Subscribe to our newsletter below
Forty-one percent of travelers say they are likely or extremely likely to book with a travel brand that makes sustainability a priority, said Madeline List, senior research analyst at Phocuswright, citing The latest study from Phocuswright on consumer travel to the United States.
"Many travelers have good intentions of seeking out options that seem more environmentally friendly, but simply don't have a rigorous enough understanding of the industry to fully judge their travel suppliers or certification choice," declares List.
Another new effort launched on Friday aims to get the STR industry on the same page on the subject of sustainability.
EnviroRental describes itself as "the vacation rental industry's premier sustainability clearinghouse" to give owners, property managers and other businesses the knowledge they need to save money, reduce emissions and meet growing consumer demand for sustainable stays. The site contains a sustainability roadmap, news, webinars, case studies, measurement tools, data and podcasts.
"The vast majority of vacation rental professionals want to make their business more sustainable – intellectually and emotionally, they get it," says Bob Garner, Founder of EnviroRental. "Their problem is that they don't know what to do or where to start.
"EnviroRental aims to eliminate this concern and empower every owner/property manager with appropriate sustainability solutions that they can implement at their own pace…with the least amount of effort or expense."
"Consistent standard"
Steve Milo, founder and CEO of a Florida-based property management company Vtripssays he would be "very supportive" of Sustonica's initiative.
"Currently, there is a lack… of a consistent standard as to what makes a real estate or property management company sustainable," says Milo. "You go to an OTA like Airbnb and it's a bit like the Wild West. … What sustainability means to one person might be completely different in another property.
Milo suggests that the first pass of certification could set "a lower bar, and then with each passing year you make adjustments."
Also, he adds, "what may be standards in Europe may not be standards in the United States. I think Europe is further ahead of the United States, so I think that the standards will potentially have to be country-based as well".
To earn Sustonica's badge, a rental property must provide evidence that it has met at least 12 of 40 benchmarks, including having recycling and compost bins and using LED light bulbs, low-flow toilets and energy-saving refrigerators.
About 30% of STRs who have so far applied for Sustonica certification have failed to qualify, she says.
What sustainability means to one person might be completely different in another property.
Steve Milo – VTrips
In the near future, it plans to announce a partnership with a smaller OTA that will allow its users to filter results for Sustonica-approved properties.
"And then we talk to the big boys, obviously at Airbnb, at Expedia, at Booking.com," she says. "As we grow, the standard is meant to evolve, and we may consider comparing a property to other properties in the same area."
And Sustonica's message to rental owners: "We need your help to reach critical mass as this will speed up the process. Meanwhile, your certification will boost your direct booking efforts.
And she says certification can pay off for vacation rentals by helping them meet environmental, social and governance (ESG) goals that appeal to investors.
"We have the power to influence so many people because the guests who come to our house are also owners, so they…can be influenced by how we have changed our homes to make them more eco-friendly. environment," says de Souza Lage.
Occupancy amplifier
De Souza Lage designates Booking.com as a leader in the space, with its own badge for hotels, resorts, apartments, bed and breakfasts, vacation homes, hotels, resorts and other sustainable properties.
Data firm STR Transparent Intelligence studied Booking.com listings and found that sustainable listings achieved 2% higher occupancy than their "no-badge competitors".
"You can laugh at 2%, but that equates to one extra week booked over the course of a year, which as we all know adds up," says Transparent Intelligence.
However, the average daily rate key performance indicator did not follow suit, the company found, with ADR lagging $7 for durable properties. One reason could be that prices are lower for new listings that have these badges, according to Transparent Intelligence.
Milo says professional property management companies have the ability to make a big impact on sustainability, adding that Vtrips has adopted a variety of eco-friendly practices.
For example, says Milo, Vtrips saves both energy and water by doing laundry in eco-friendly facilities that use recycled water and eco-friendly cleaning products, rather than in residential washing machines. The company has also eliminated paper and is looking to install shower dispensers rather than providing single-use bottles.