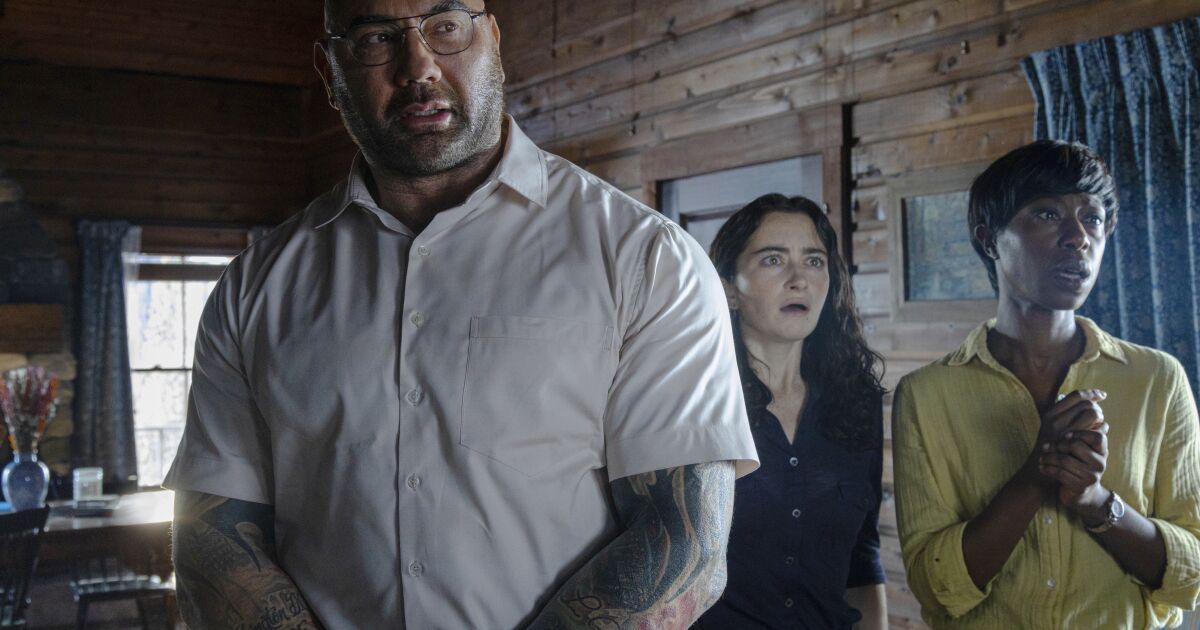 Review: 'Knock at the Cabin' Twists Home Invasion Horror
Struck. Struck.
It's the middle of winter (usually a slump in movie theaters), so it's a comfortable relief to be able to open the door and find M. Night Shyamalan standing tall with his near-annual serving of high-concept thriller. His latest, "Old," about vacationers trapped on a private beach where aging is accelerating — a sort of high-speed "White Lotus" — came at just the right time in the summer. But this quieter, darker time of year seems perfectly timed for Shyamalan to burst in with his signature brand of bonkers on the big screen and some new twists to the age-old question of "Who's there?"
"Knocking at the Hut", which opens in theaters on Friday, is both like all previous Shyamalan films and an exciting start. Fancy setup? Check. Unhealthy spiritualism? You bet. But as a stand-alone, beautifully staged thriller — after the fact, the film takes place almost entirely in a secluded cabin — Shyamalan's latest film finds the filmmaker working in an engaging, simple, and stripped-back way.
We have our shack, our small cast of characters, and most importantly, our whimsical premise. Although Shyamalan's films often flirt with higher powers and existential conundrums, nothing rules his cinematic universe more than The Concept. And in the gripping "Knock at the Cabin," he carefully teases it, harnesses it, and dutifully follows it to its ultimate conclusion with the command of a seasoned professional.
Just outside a cabin in a wooded forest, 7-year-old Gwen (Kristen Cui) collects grasshoppers in a glass jar. "I'm just going to get to know you for a while," she said to one as she slipped it into the jar. Shyamalan, too, collects specimens in a hermetically sealed container for investigation. We slowly emerge from the woods. A large, bespectacled man (Dave Bautista) approaches Gwen, politely introduces himself as Leonard, and chats sweetly while occasionally glancing over his shoulder. Then he says the reason he is here hurts his heart. He describes it as "perhaps the most important work in the history of the world".
Before you exclaim "podiatry!" Leonard's work turns out to be a bit more sinister. He and three others, who soon also emerge from the forest, are there, as Leonard patiently explains, to give Gwen's parents a choice that will dictate the fate of the world. After forcing their way into the cabin, Leonard – flanked by Sabrina (Nikki Amuka-Bird), Redmond (Rupert Grint) and Adriane (Abby Quinn) – informs Gwen's two fathers, Eric (Jonathan Groff) and Andrew (Ben Aldridge) ) – that they must make a sacrifice to stave off the global apocalypse. Each came to the cabin after all-consuming visions – like warped versions of those that preoccupy the characters in "Encounters of the Third Kind" – of the fate that awaits if the family in this random cabin does not, within hours, kill them. one of them.
It's not, like last year's "Barbarian," another chastising example of the dangers lurking in the ill-chosen Airbnb (although, for my part, I won't click "Allegory Shyamalanian" again in all future bookings). This is, like most of Shyamalan's diagrams, a sincere metaphorical proposition. Which is more important: preserving your family or the rest of the world?
There are, of course, reasons to be suspicious of strangers showing up at your vacation rental asking for blood to spare mankind. Are they delusional? Was this gay couple targeted? Don't their demands sound a bit like the madness of some of today's real-world attackers? Eric and Andrew feel the same kind of brutality they've endured all their lives as gay men. Flashbacks to their past, including moments of happiness and pain, suggest this grim episode is part of a larger tale of a loving family forged against a difficult world. "Always together" is the couple's mantra.
But the way the four intruders speak contradicts this possibility. They seem sincerely concerned about the well-being of the family. They identify as ordinary people, some with their own families, fulfilling a duty reluctantly but necessarily. They also make their own sacrifice. Bautista, in one of his finest performances, is more gentle than menacing, even while wielding a heavy weapon. Amuka-Bird, too, is an affectionately sensitive presence.
The performances, all around, are compelling, and Shyamalan vividly stages the intense clash as the blood begins to flow and the calamities, seen on TV, pile up. The tale, adapted from Paul G. Tremblay's 2018 novel "The Hut at the End of the World" with a notable tweak to the ending, deftly reverses the home invasion thriller.
There are, no doubt, deeper avenues of exploration that have not been explored. But there are also B-movie pleasures that stray from horror conventions, and even some of the director's own sensibilities. Shyamalan doesn't escalate the violence, nor does he rely on plot twists to complete "Knock at the Cabin." Instead, the film functions as a kind of brutal, carefully distilled morality piece that plays with the allegory of fatalism, family, and climate change. What most sets Shyamalan's film apart is how it dares to ask whether certain things are more important than family. In apocalyptic shows on the big screen, family is almost always the last and most enduring refuge. Here it can be an obstacle.
"Knock at the Cabin," a Universal Pictures release, is rated R by the Motion Picture Association for violence and language. Duration: 100 minutes. Three out of four stars.
___
Follow AP Film Writer Jake Coyle on Twitter at: http://twitter.com/jakecoyleAP