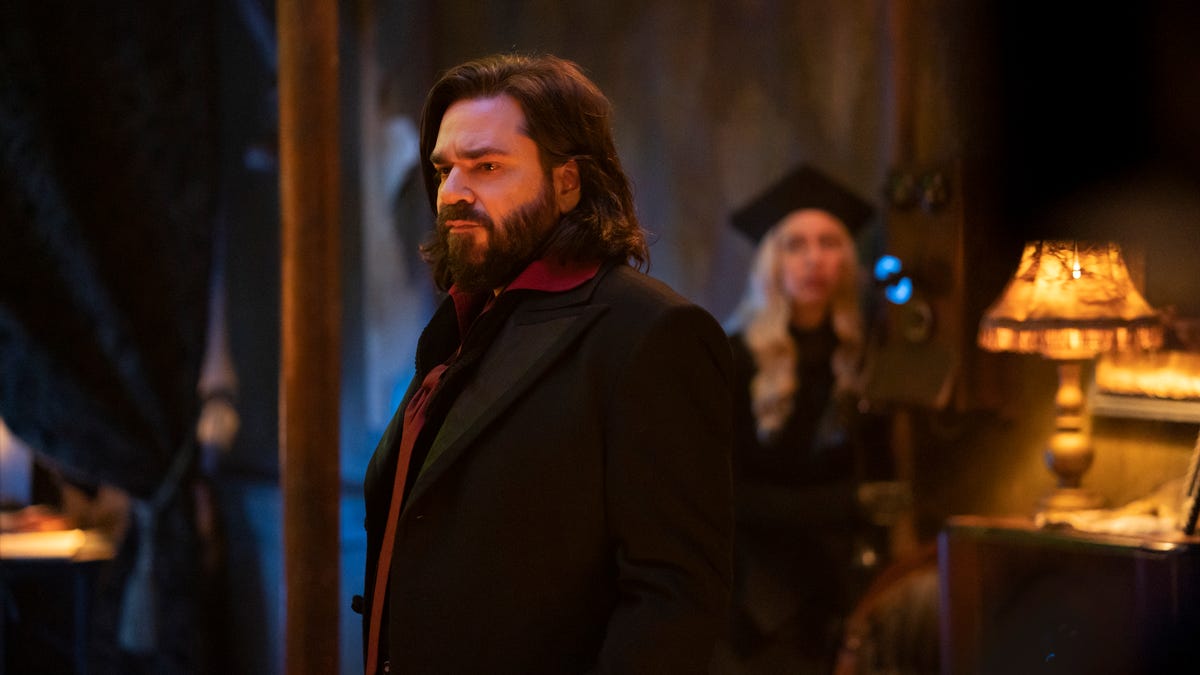 What We Do In The Shadows season three, recap of episode five
Who likes the monsters here? Most of you, I suppose — you are reading a summary of a What we do in the shadows episode. Well, I agree. Monsters are the best. And this week's episode has a menagerie of critters unlike any we've seen so far in the season. When I say "monsters," I am not talking about our core vampires, even though they are abominations that literally feed off the suffering of others. (And we love them for that!) I'm talking about monsters, the kind that was made from liquid latex and foam rubber, but is now made, more often than not, with the help of a guy in a mo-cap suit.
The king of these guys, Doug Jones, returns this week as The Baron, last seen crispy like a tortilla forgotten on an open flame after a night of partying with Nadja, Laszlo and Nandor in the first season. But Nadja's eulogy: "Baron, we have had such wonderful times. What a way to live your afterlife, and what a way to die "- turns out to have been premature. The Baron has held on to Eternal Life for the past two seasons by sucking the leftover blood from the many humans buried in the vampire backyard. (RIP Topher.) This, of course, raises some concerns.
You see, the What we do in the shadows the universe follows a modified version of the Lost boys principle, which states that if you kill the original vampire that all vampires are descendants of, it will affect the rest of them as well. In Joel Schumacher's film, vampires have just become human again. But in this show, it means a certain second death. Vampires seem to have a slippery understanding of what it is ways, Exactly: Wait a minute they're all terrified, but by the time they actually get closer to The Sire AKA Girly Jim AKA Gyormn, they're ready to kill themselves en masse by proxy by killing the leather-winged bastard. I guess when you're alive as long as they are, death becomes an abstract concept.
But we are getting ahead of ourselves. At the start of the episode, Nadja tears up the seat of the Vampiric Council trying to find a Magic Flute that will help Laszlo with one of her many. seks-seewal conquests. (Ah, my love.) This leads to the realization that she and Nandor forgot to feed The Sire, the featured, but not seen, OG vampire, in episode 1 of this season. (It really underscores how lucky they are to have Guillermo around. Guillermo is said to have fed the old man.)
G / O Media may earn a commission
If Laszlo turned out to have Something of a consciousness in "The Casino», Then this week Nadja showed that she had none at all. Or, at least, she is unable to admit her mistakes, first by tricking Nandor (or perhaps hypnotizing?) To take responsibility for the Sire's disappearance, and then stopping just before d 'confess your lie. And honestly, that's a good thing, at least in terms of the writing – how silly and cliché would it have been for her to give a big speech at that point?
Guillermo shows a little more courage this week, calling the vampires bluff and forcing them to shut up and do as he says if they enjoy their living as undead. He even gave Nandor some common sense, who really took to heart the idea that it was all his fault. At the start of the episode, Colin and Laszlo's bromance continues while Nandor and Nadja are at work. But by the end of the episode, the whole gang got together – my favorite!
In the meantime, we take a little detour to visit two chatty New York gargoyles in a scene that reminded me a bit of the original. ghost hunters, both in its rooftop setting and in the old-school look of animation. (I wasn't sure if this was a practical or a digital effect. Does anyone have any idea?) The father himself is most definitely a digital effect: an actor, stuntman Vaios Skretas, is credited with physical performance, while another, Jean-Michel Richaud, is credited with the voice. I really liked the design of the creature on The Sire: part mouse, part gorilla and part bat, and expressive enough to go from creepy to cute in the right context.
It was an ambitious episode in terms of effects and locations, and dare I say, they pulled it off. The vampires actually did their job half-right for once too, but not without a little help. I'd be curious what new viewers who haven't written a thousand words a week on this show since it started airing are thinking about these intrigue richer in internal lore. But it's hardly Game Of Thrones, especially with those built-in flashbacks. Speaking of internal lore: When is the spinoff sitcom about The Baron, The Sire and Hellhound coming to FXX ?!
---
Stray observations
"It's a very angry, very crispy piece of crust."
I liked Nadja's top in the opening confessional interview. That's it, I just liked it. Who are you wearing, Nadja ?!
"Lars Murderbone, Orlando Sentinel."
Colin purring on about Jaws trivia really brought me back to awkwardly standing in various theater halls, wondering where I've met this guy before and how I can politely get out of this situation.
"How do you know what vampire piss tastes like?" "Trust me, okay? "
Colin ignores the calls for help he hears in his neighborhood, but posts on Nextdoor when he wants to wreak havoc. Typical nextdoor.
The week's line read goes to Kristen Schaal, for appearing next to Guillermo and whispering "I will" to him when he tells her and the Baron to shut up. Schaal was on fire this whole episode, really.
I was also tickled by everyone's fake laughs when they dug up Le Baron and I wasn't sure if he remembered that they had murdered him or not.
Laszlo swallowing the harmonica – meta commentary on how everyone is obsessed with the musical qualities of Matt Berry's voice, or just some silly gag?
I don't have any fun historical facts for you all this week, because "The Escape" was just good old fashioned monster mash!
Oh, it's why they called the dog a Hellhound.
One of the things I love about this show is when they give you a new, funny. supernatural context to an otherwise ordinary thing. This episode had two of these: Truck sounds, and Airbnb.
This week we will be playing with the great Robyn Hitchcock with "The Man Who Invented Himself", part one, track one of Hitchcock's solo debut. Black Snake Diamond Role.