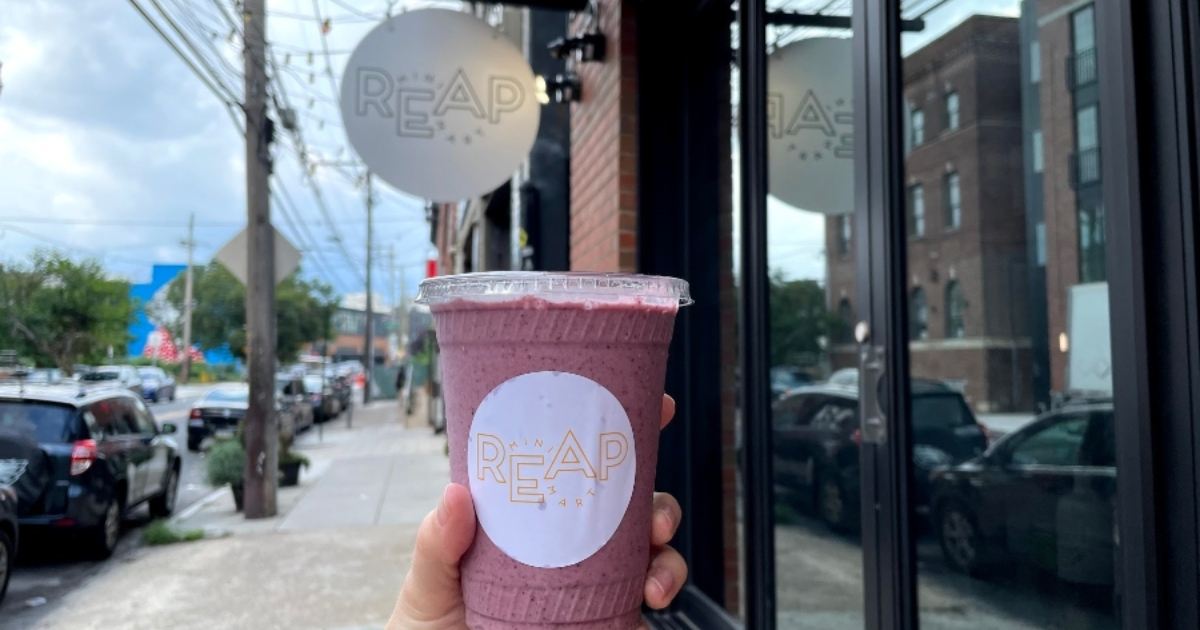 Where to find healthy smoothies around Philadelphia
Check out these local places for smoothies, from high protein blends to CBD infused varieties.
This post has been updated.
Although summer is peak smoothie season, you really can't go wrong with this delicious, nutrient-dense drink anytime of the year. Fortunately, Philly has a number of smoothie bars where you can get these little sips on the go, so you don't have to worry about grabbing all of the ingredients and mixing them up yourself. Below you'll find an array of stores serving healthy smoothies in and around town.
1701 Arch Street, Logan Square and 210 Kings Highway East, Haddonfield
Aside from juices, mixed bowls, and burritos, Ánimo is a great place to walk around for a hearty, healthy smoothie. Get something like a dessert, like Salted Chocolate Hemp topped with Himalayan Pink Sea Salt, or something more protein-focused, like Power with fruit, chia seeds, and your choice of powder. protein.
1800 Callowhill Street, Spring Garden
With a focus on strengthening the immune system through "gut healing and high quality nutrition," Callowhill Greens presents a menu of all herbal dishes. They have a robust selection of superfood smoothies – from a blend of acai and avocado infused with collagen, to a full hydration smoothie of watermelon, pitaya, cucumber, and monk fruit. Make it a day while you're at it and have a salad, a hot bowl, toast avo, an adaptogen spritzer, or a scoop of vegan ice cream.
Several locations
With multiple locations across town, Fuel offers healthy food and drink with a on-the-go feel. Their smoothie menu is varied and tasty – from matcha green tea with tropical ginger to carrots and iced mocha with avocado.
1253 Front Street North, Fishtown
Because almost everything at Front Street Cafe is utterly tasty, it's no surprise that their smoothie set is also strong. For an additional fee, you can choose to add vegan protein powder to any of their smoothies, including the Golden Glow made with pineapple, turmeric, orange, coconut, and banana, and the Matcha Mint Chip.
1700 Sansom Street, Rittenhouse
Greens and Grains offers a wide range of vegan dishes, including their satisfying smoothies. They have a coconut-centric blend, along with a combo of matcha, leafy greens, Brazil nuts, and hemp seed protein. Bonus: There are almost 30 smoothie supplements, including CBD, regenerating mushrooms, and Greek coffee.
223 Kings Highway East, Haddonfield
Opened in December 2020, this Haddonfield-based store combines two seemingly different, yet timeless things: smoothies and classic movies. The interior of Groovy Smoovies is decorated like an old-fashioned cinema, with a light-up marquee, red velvet ropes, a popcorn machine and a ticket booth, where you order your smoothie. Smoothies aren't only delicious, but they have silly names – "The Green Smile" and "West Side Smorey" – which are tributes to Hollywood favorites.
1540 Ridge Avenue, Francisville
A hub for healthy sips and bites, Juiced By B's selection of smoothies is particularly fruity. On the menu is Date Night – a mix of dates (duh), banana, oatmeal, peanut butter, and almond milk – plus Hawaiian-inspired Waikiki Treat and a very berry bevvie. You can also opt for a pre-made or make-your-own acai or smoothie bowl, if you'd rather grab a spoon than sip.
547 North 20th Street, Spring Garden
This juice and smoothie store debuted in Spring Garden last May. Although juice is their specialty, Made With Love also offers fruit and vegetable smoothies, like Bright Sunny Day made with orange, mango, carrot and pineapple, and a blend of banana, date. and cocoa infused with CBD.
2510 South Broad Street, South Philly
Main Squeeze mixes bowls, juices and smoothies filled with fruit in South Philly. For a taste of summer through a straw, try their pineapple, banana, coconut and almond milk piña colada smoothie. Or, if you need a pick-me-up, go for their Main Squeeze Mocha with Bean2Beancold brew coffee, bananas, dates, chocolate whey protein and almond milk.
943 South 9th Street, Bella Vista
This Bella Vista cafe has all the herbal menu items including smoothies (duh). They have a number of superfood blends – including Tropical Paradise with mango, pineapple, chia seeds – as well as sea foam and alkaline smoothies that help reduce inflammation and restore. balance in the body, respectively.
1500 Federal Street, Point Breeze
With tons of fresh fruit made and ready to toss in the blender, this Point Breeze smoothie spot knows how to serve up a healthy and delicious drink. They have preset choices if you're feeling lazy (we've heard great things about the Peachie Keen), or get creative with a custom order that you can add protein to. Oh, and maybe hang up their famous Fried Lobster Burger for later because balance.
1706 Locust Street, Rittenhouse
You can rest assured that a smoothie from this Rittenhouse gem is completely organic, vegan, and gluten-free. Their smoothie menu includes superfoods, such as acai and dragon fruit, as well as fun fruit-based blends like papaya-cantaloupe and avocado-lime.
Harvest the mini market
1325 Frankford Avenue, Fishtown
New health food store Reap Mini Mart – from the meal delivery company Harvest well-being – includes a blend bar that makes herbal smoothies on the spot. Currently, they offer six nourishing concoctions with a range of flavors: Spinach-Mango-Ginger, Cold Brew Coffee with Banana and Tahini, Orange Ice Cream (with Butternut Squash!) And Peach Pie. All blends are made with Reap's homemade almond and hemp seed milks, which can be substituted with oat milk.
46 South 17th Street, Rittenhouse and 3736 Spruce Street, University Town
Sure, SoBol makes killer açaí bowls, but their smoothies aren't to be circumvented either. Choose from their popular flavors of açaí or pitaya, or opt for a berry or green smoothie.
263 North 3rd Street, Old Town
Despite the name, cold-pressed juice isn't the only thing Stripp'd Juice is throwing behind the counter. This Old Town shop also has a variety of energizing smoothies, like their cold brew coffee riff and a high mix of peanut butter and jelly. (They also have bowls, toast, and wellness shots!)
216 Church Street, Old Town
The Wellness Refinery has become a fan favorite in Philly, not only for its infrared sauna and health market, but also for its invigorating bar serving healthy drinks. Designed by their in-house certified nutrition specialist, all of their organic smoothies put superfoods and adaptogenic herbs front and center, with ingredients like kale, pistachios, tahini and chlorella in the mix. You can also get lattes, teas, and freshly squeezed juices.
Bailey King Additional Reports.
---