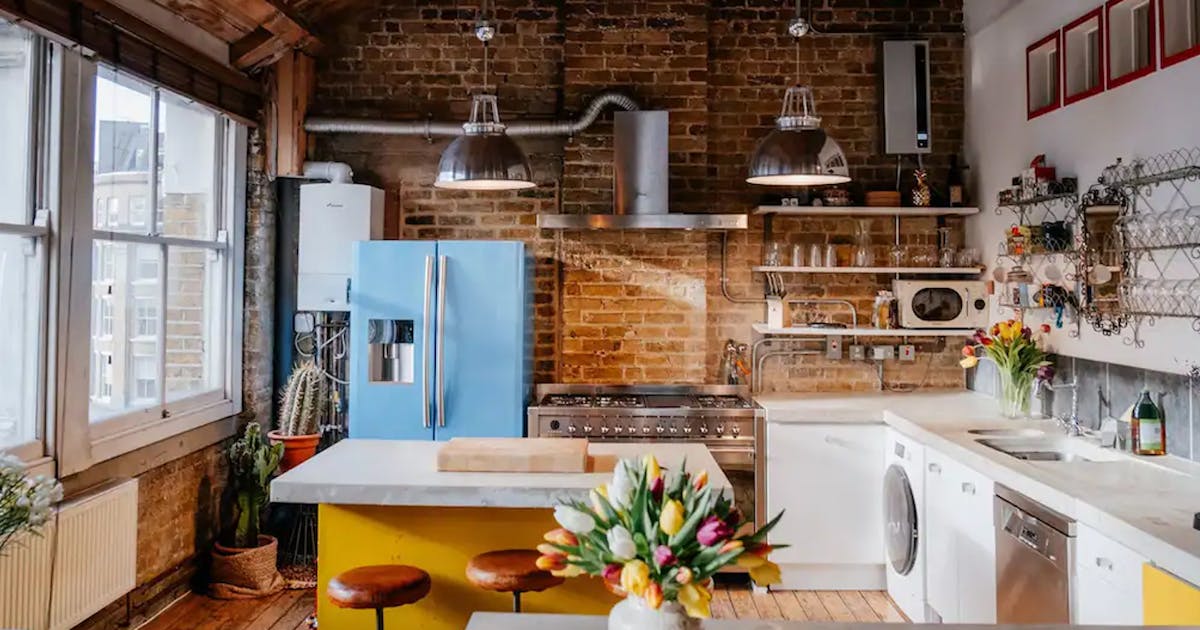 13 of the best Airbnbs in London
If your dream in life isn't to be like Hugh Grant in Notting Hill or Dolly Alderton, you're on the wrong page.
Bring us the gleaming double-decker buses, whimsical, retro bathrooms of KOKO, the gastropubs and street markets of Notting Hill, the wild buzz of Camden, and the epic street art, galleries and cafes of Shoreditch ( we're looking at you Cereal Killer Cafe)—London is truly infectious.
You'll barely have time to rest, but when you need to relax, we've found the best luxury, romantic, and cheap Airbnbs in London for you to start packing your bags. Looking for a cute couples getaway hidden away in a 1920s distillery? We have that. Thinking of a luxurious loft loft with reclaimed copper fixtures? Yeah, we have that too. Want to stay in a converted warehouse with Andy Warhol-inspired artwork and neon lights? We mean, we obviously have that too.
Read on for the best Airbnbs in London.
The best romantic Airbnbs in London
Stylish Notting Hill Apartment
From the red front door to the retro black-and-white checkerboard (it gives Kris Jenner's immaculate lobby), we dare you not to fall in love with this quaint space, one of London's best romantic Airbnbs. Tucked away on a laid-back street but still close to the bustle of Westbourne Grove, this simple stay will also give you all you need in terms of flexibility – you can arrange early check-ins or late check-outs or request a cot if you have the little third wheel.
Studio Bermonds Locke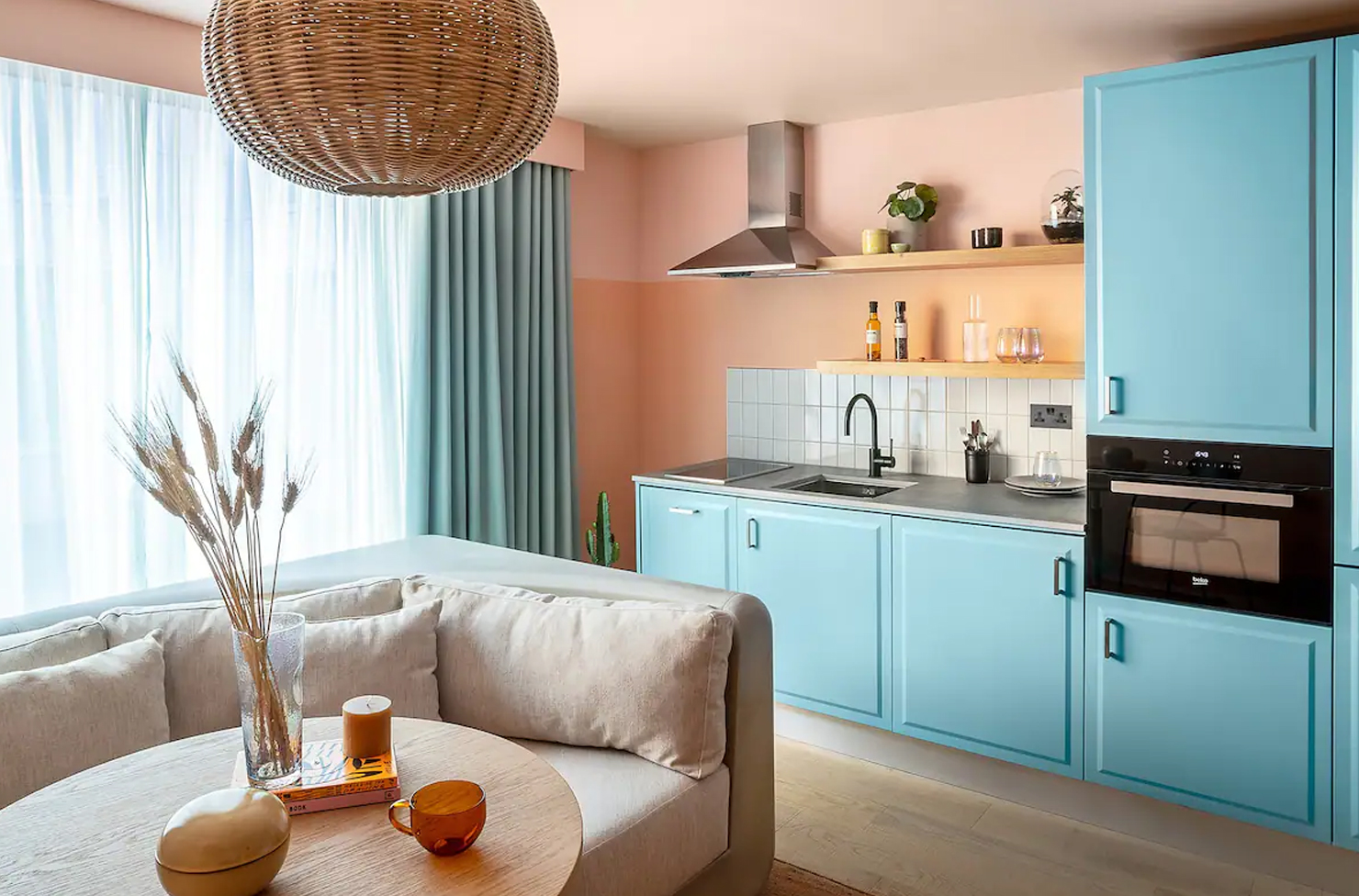 For a romantic stay in London without breaking the bank, you can't miss this pretty studio in Bermonds Locke. If you don't plan to spend a lot of time indoors but still want to relax at the end of the day in style, this 30 square meter Airbnb has your (and your partner's) name all over it. Cue the king-size four-poster bed, handmade sofa, Belko kitchen, rain shower, and Kinsey and Apothecary toiletries.
Writer's Loft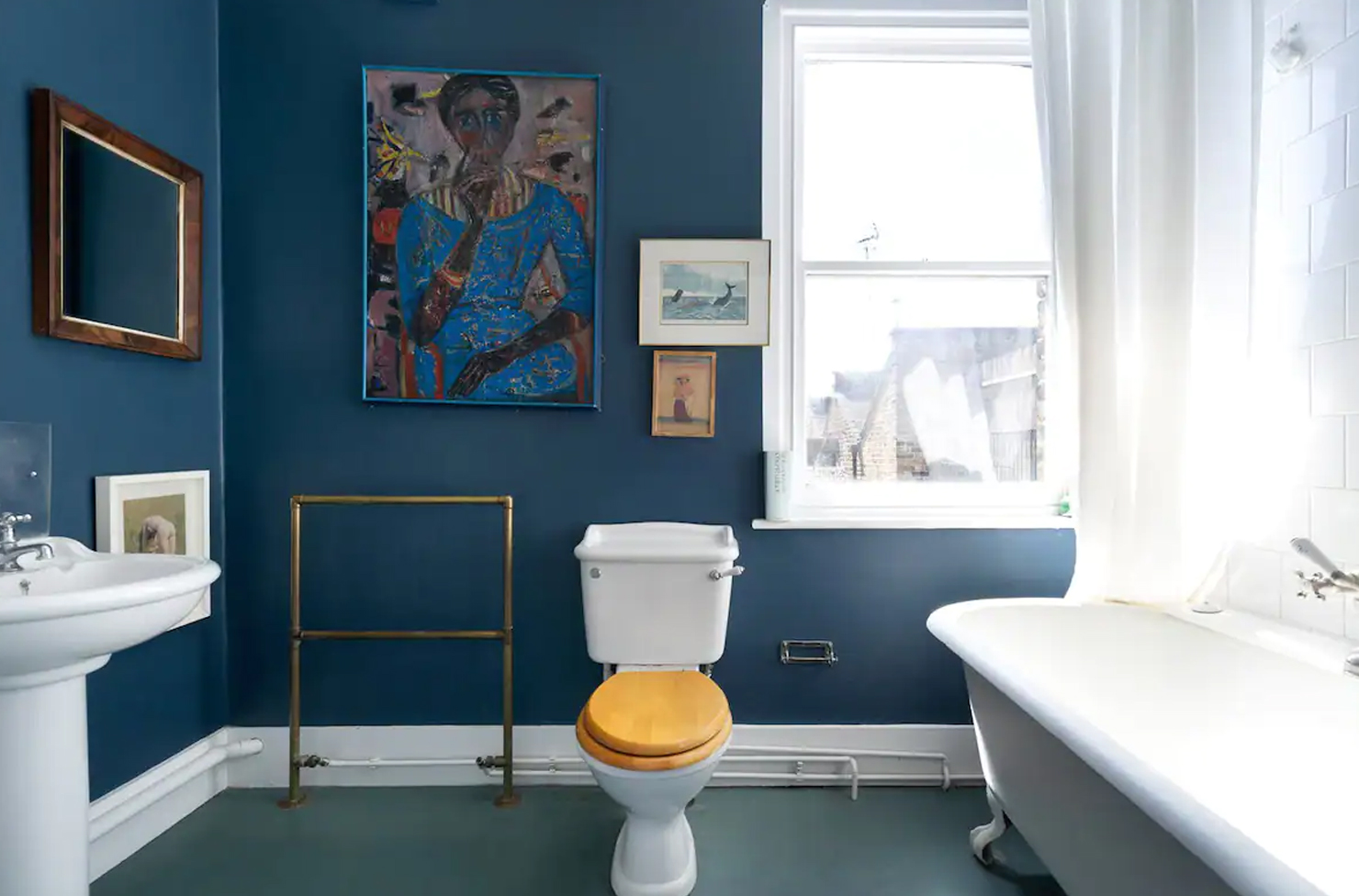 Put simply, nothing says romantic getaway like a gorgeous writer's loft near Portobello Road – facts just get marketed. You'll find this little guy on the top floor of a building, just above Tesco (uh, Dolly Aldteron, is that you?). This London Airbnb truly sells itself by stocking an antique claw foot tub, a terrace full of flowers, a lounge chair to read and ponder on London's poets of the past (because what else would you do?) and a collection discs.
One-Bedroom Apartment With Terrace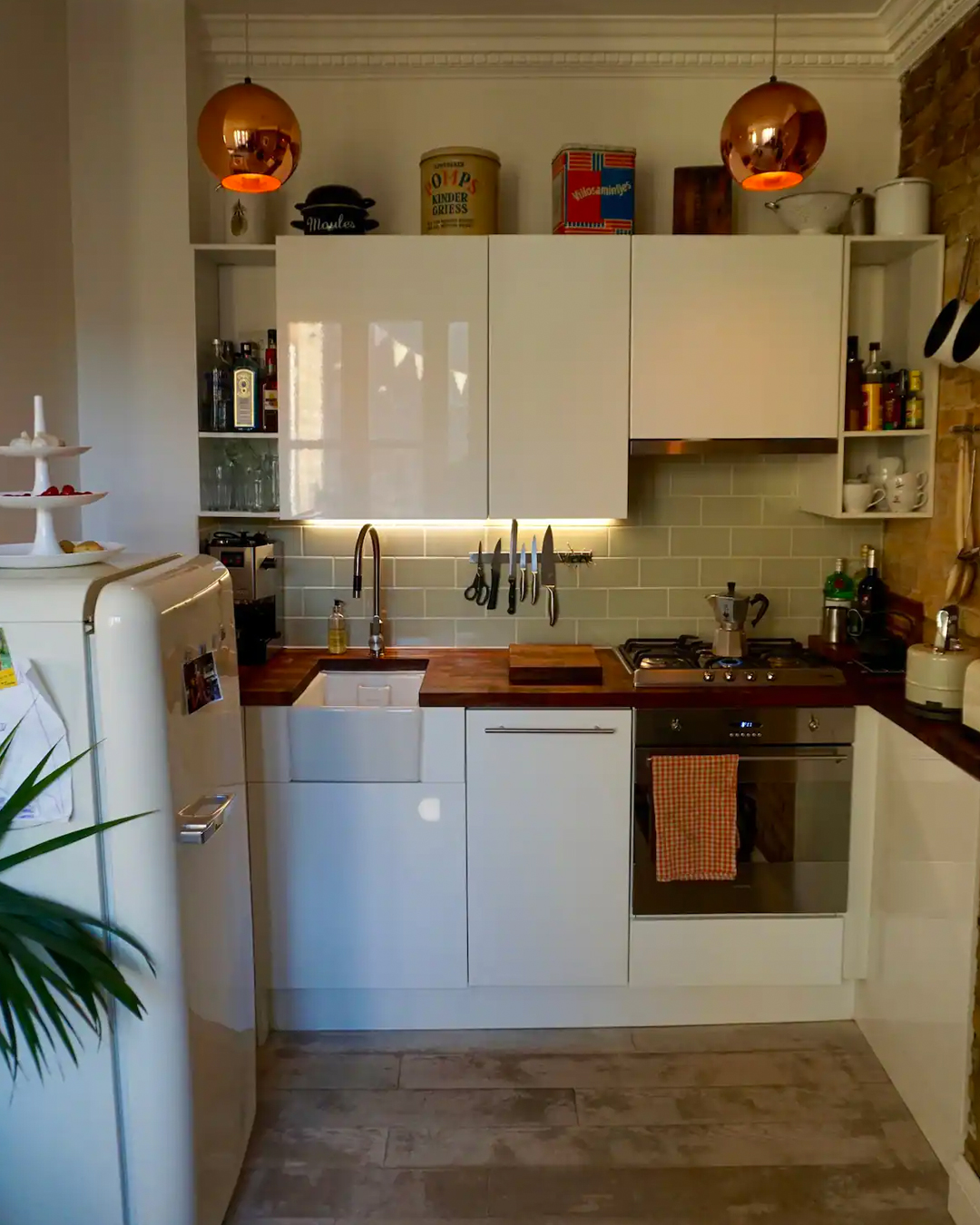 Honestly, it's like something straight out of Notting Hill (cue Hugh Grant opening the front door). Formerly a distillery in the 1920s, this bright and sunny apartment is perfect for couples. Not only does it overlook the Grand Union Canal, but it's also just a 10-minute walk from Portobello Road, so you'll be close to backstreet markets and the iconic Farm Girl cafe, inspired by Aussie fare and famous for its rose lattes. Also take a look at the lovely balcony and indoor swing.
Kensington Apartment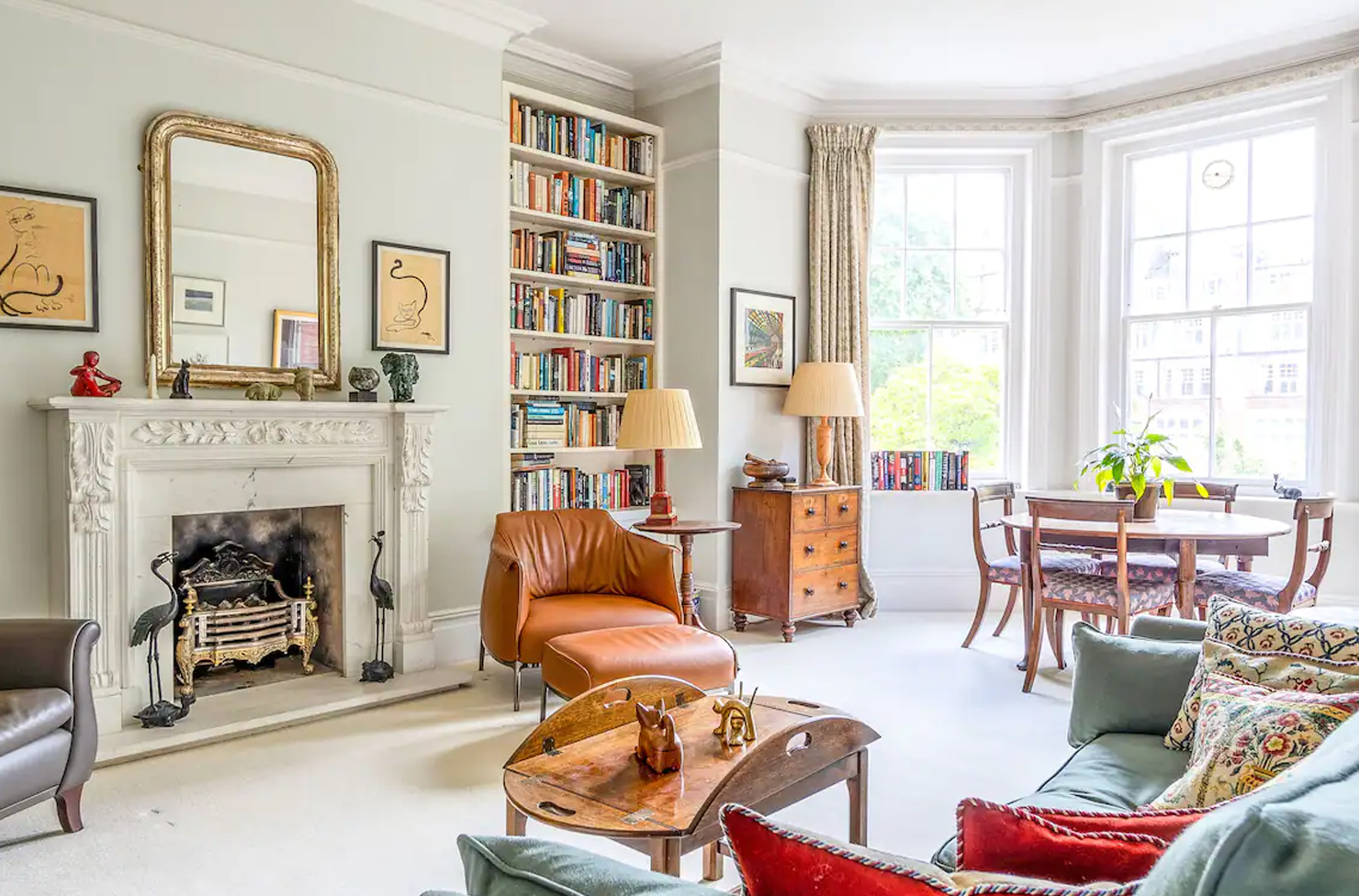 Romance sounds like a lot of things, but nothing makes Cupid's eyes shine like the endless rows of shops, museums and charming townhouses in Kensington. Located near Kensington Gardens and Hyde Park, this romantic Airbnb in London is wholesome and spacious with delicious books, comfy chairs, and high ceilings.
The best luxury Airbnbs in London
Stylish apartment filled with art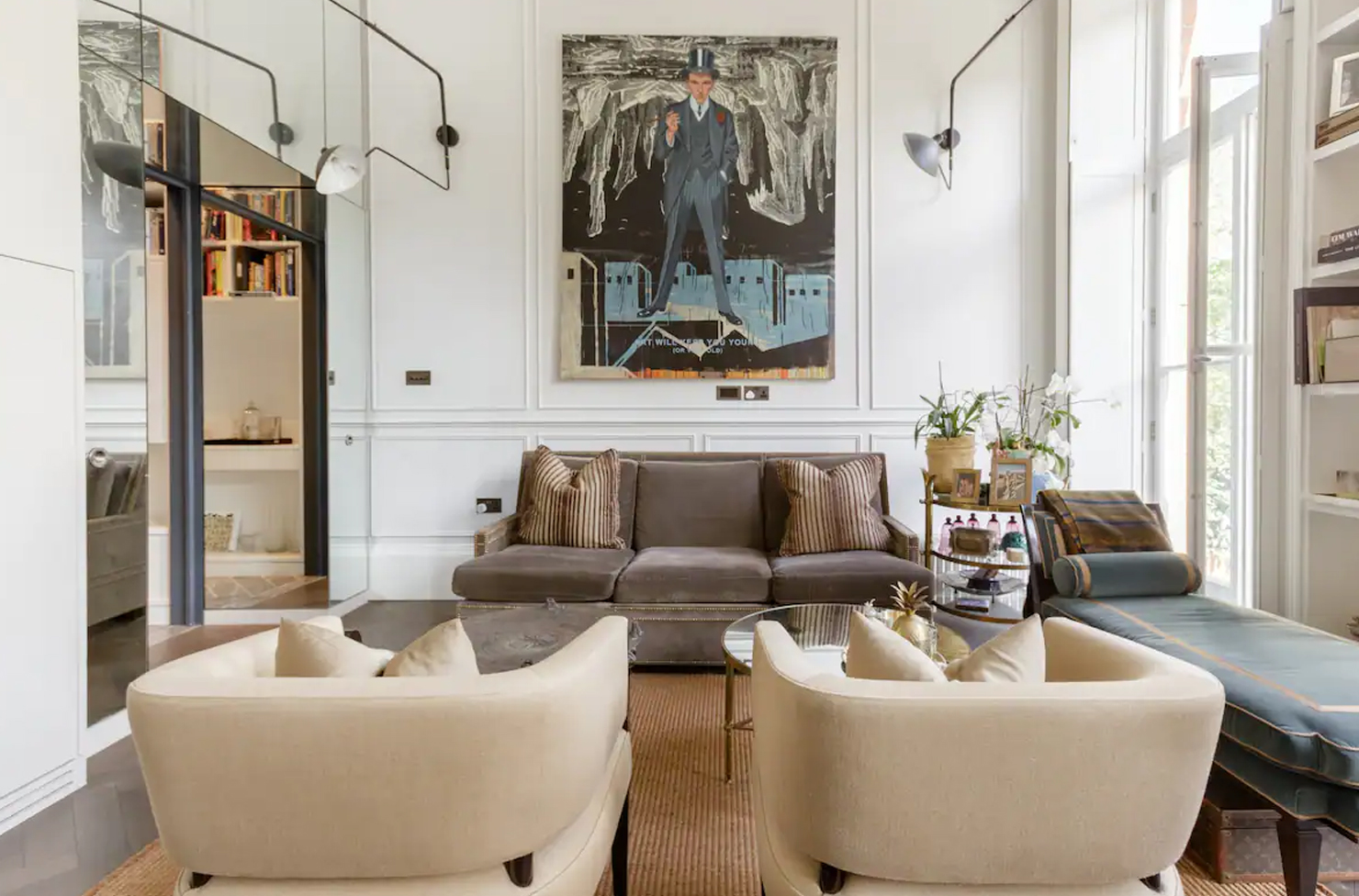 Sleek, chic and nothing short of beautiful, this art-filled apartment was designed by Duck & Shed and Aj Leigh Designs (they're big on the design world). The exterior itself is pretty darn gorgeous and you'll need your camera handy for some moody street shots, but once inside be prepared for a loft-style apartment that has everything implemented. If you're a fan of interiors, take a look at the bespoke millwork, sleek pull-out kitchen and bright reclaimed copper windows in the loft bedroom.
Mayfair designer apartment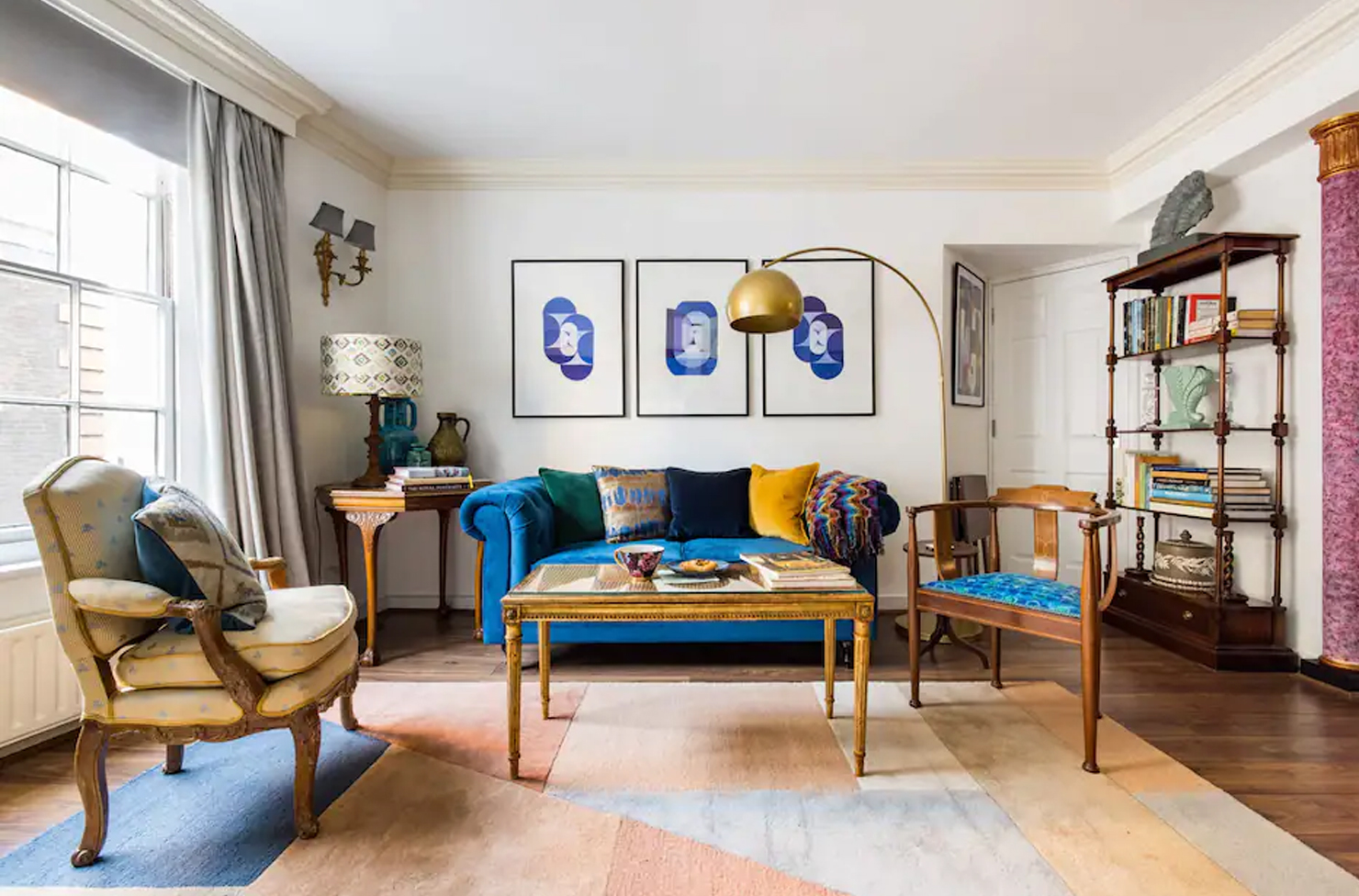 First and foremost, this London Airbnb is set in a private house from the 1730s. This one has been pinned down as one of the earliest surviving houses in the area, so it contains a bit of history after being modernized in the early 1900s. 1800s by Thomas Cubitt who also built the front of Buckingham Palace.
Loft Apartment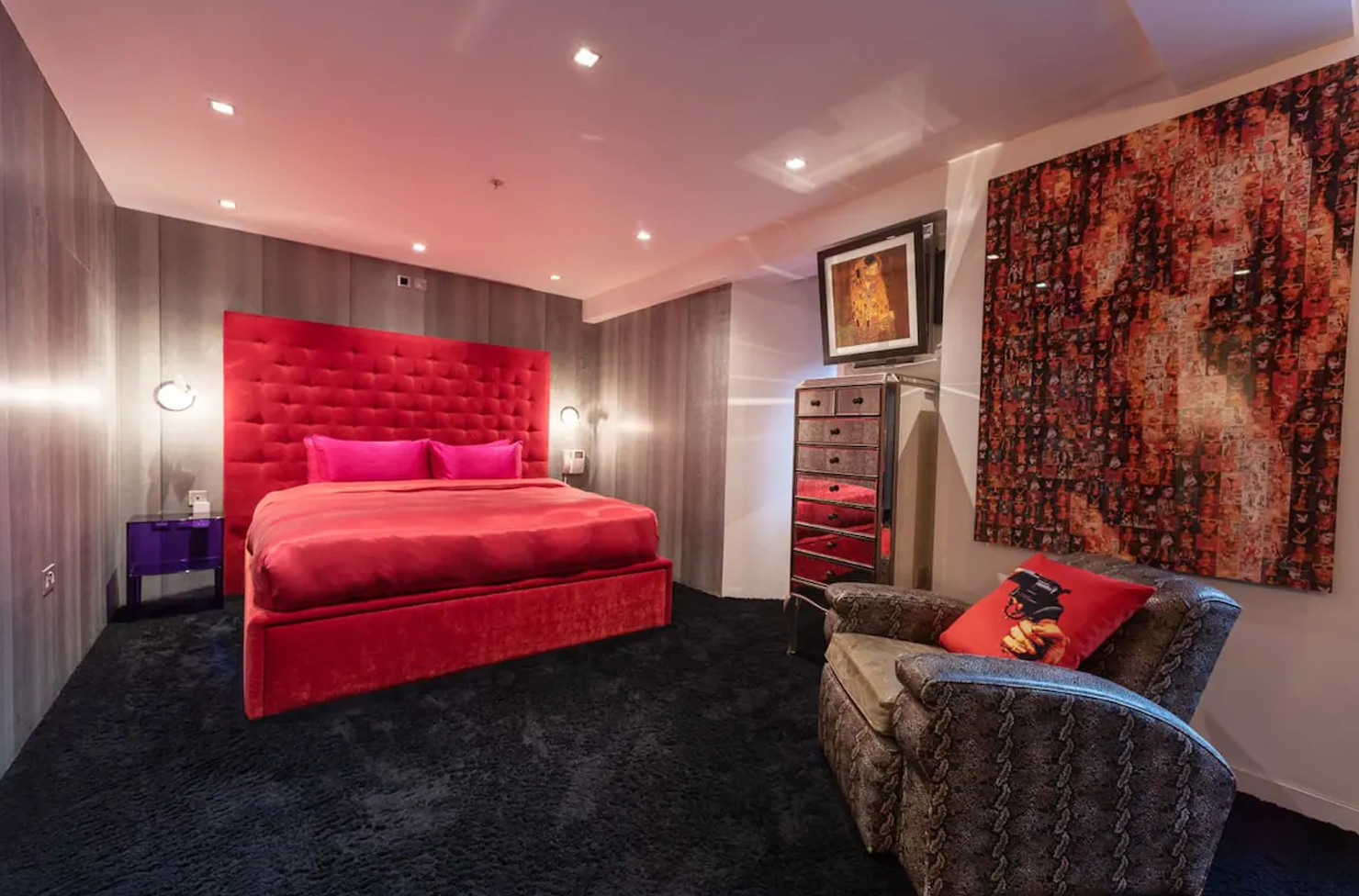 For ultimate Airbnb luxury in London, this Loft Apartment is truly unforgiving. Price-wise, you'll want to grab five of your best friends to shell out some cash for it (and we think you could justify it for some sort of special occasion… like multiple birthdays at once?). A converted warehouse in the middle of Soho, everything about this property oozes era-chic, from the Warholian, vorticist decor to the subzero fridge, Gaggenau appliances, neon lights, and giant showers. It's ridiculous and over the top in the best way.
The best quirky Airbnbs in London
The Loft
If hanging houseplants, bikes, and hammocks in the living room aren't your idea of ​​quirky, you're going to have to meet us halfway. Two minutes walk from Old Street station and in the heart of Shoreditch, The Loft has everything you could need for up to 10 people. If it's kitschy interiors you're after, we mean, need we say more than the aforementioned suspension bike? There are also Victorian sash windows, hanging birdcages, trestles and one of the best roof terraces in all of London.
The artist school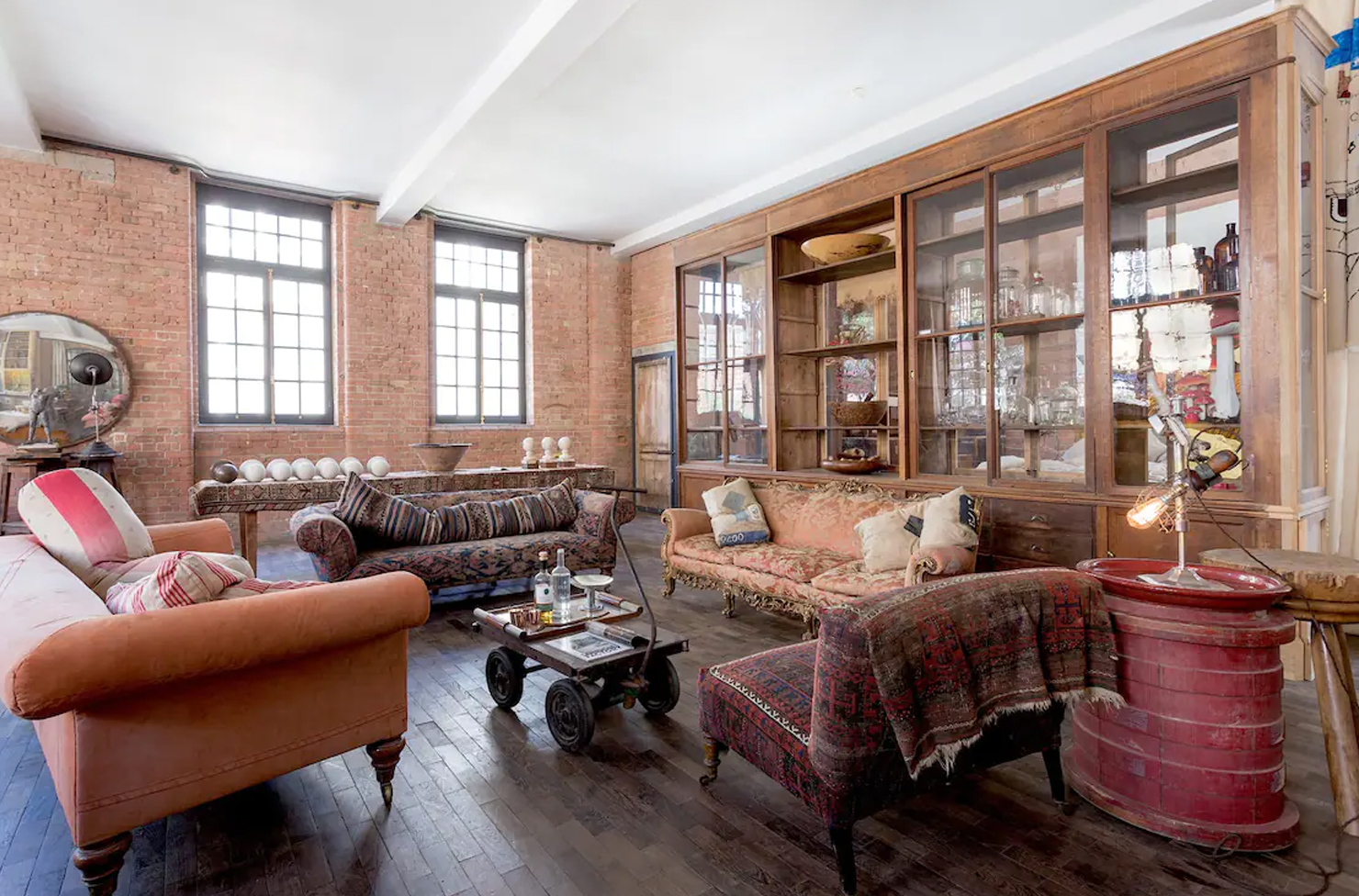 We imagine something like Finding Neverland was designed within the walls of The Artist School. Pretty much something straight out of the movies, this is a bohemian hideaway just around the corner from Borough Market and Tate Modern. The concept behind this London Airbnb is that you've never been to a room like this, but you've definitely visited it many times in books and made your jaw drop. If you're picking this one up for a real creative jaunt, there are two old-school chalkboards for you to tickle some ideas. The shower also takes up an entire room.
Shoreditch Treehouse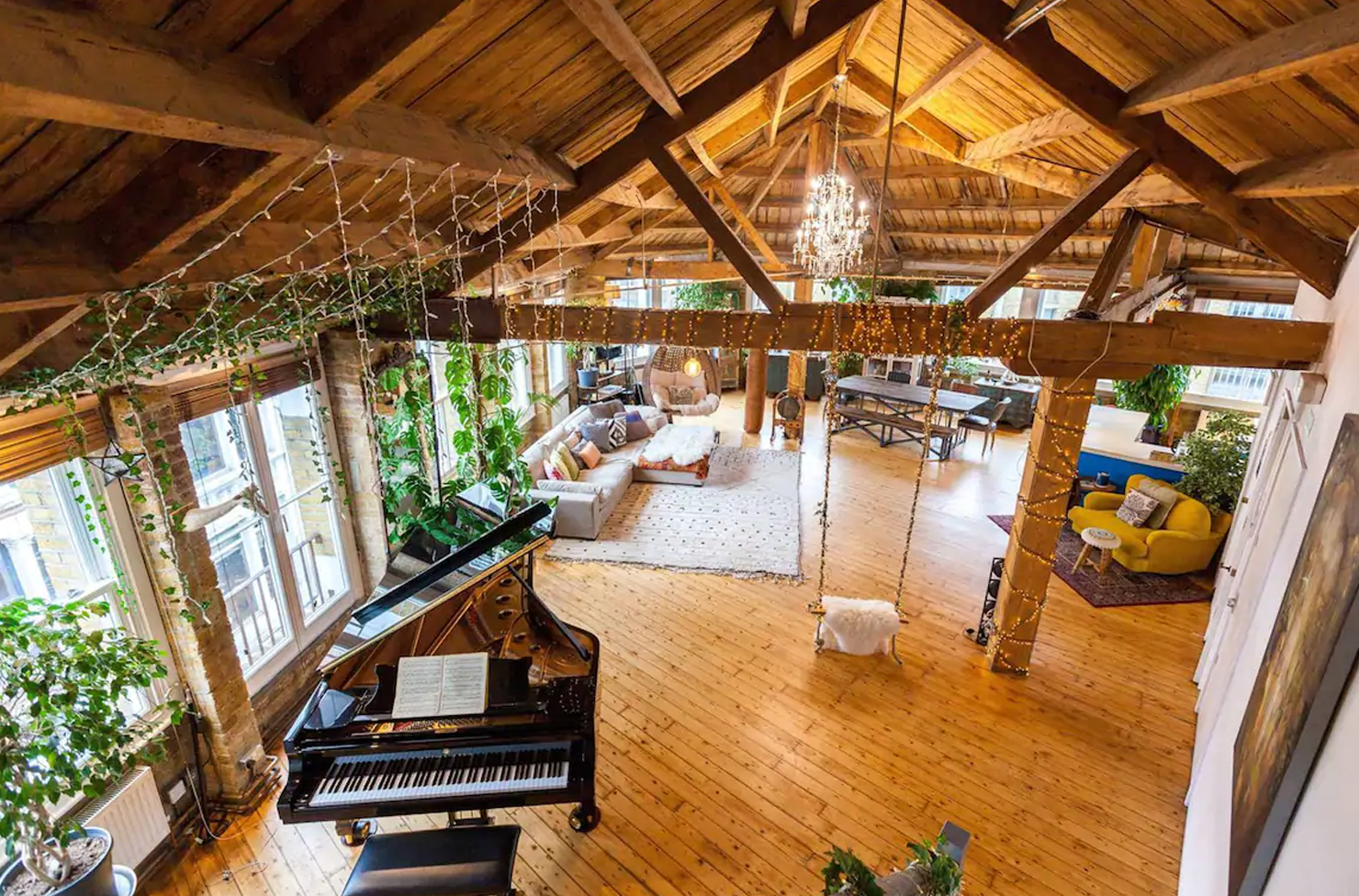 Listen, you wanted quirky Airbnbs in London, so we found you the best of the best. A stay in a treehouse in the middle of town – thank you later. Everyone in this getaway is magical, from the exposed beams, brick walls, wooden floors, indoor swing, fairy lights and lavish lights, we couldn't move in here any faster if we really tried. The icing on the cake ? That Steinway grand piano, play drumsticks, play Beethoven, whatever, it all sounds great on this one.
The Best Cheap Airbnbs in London
Two-storey apartment near metro station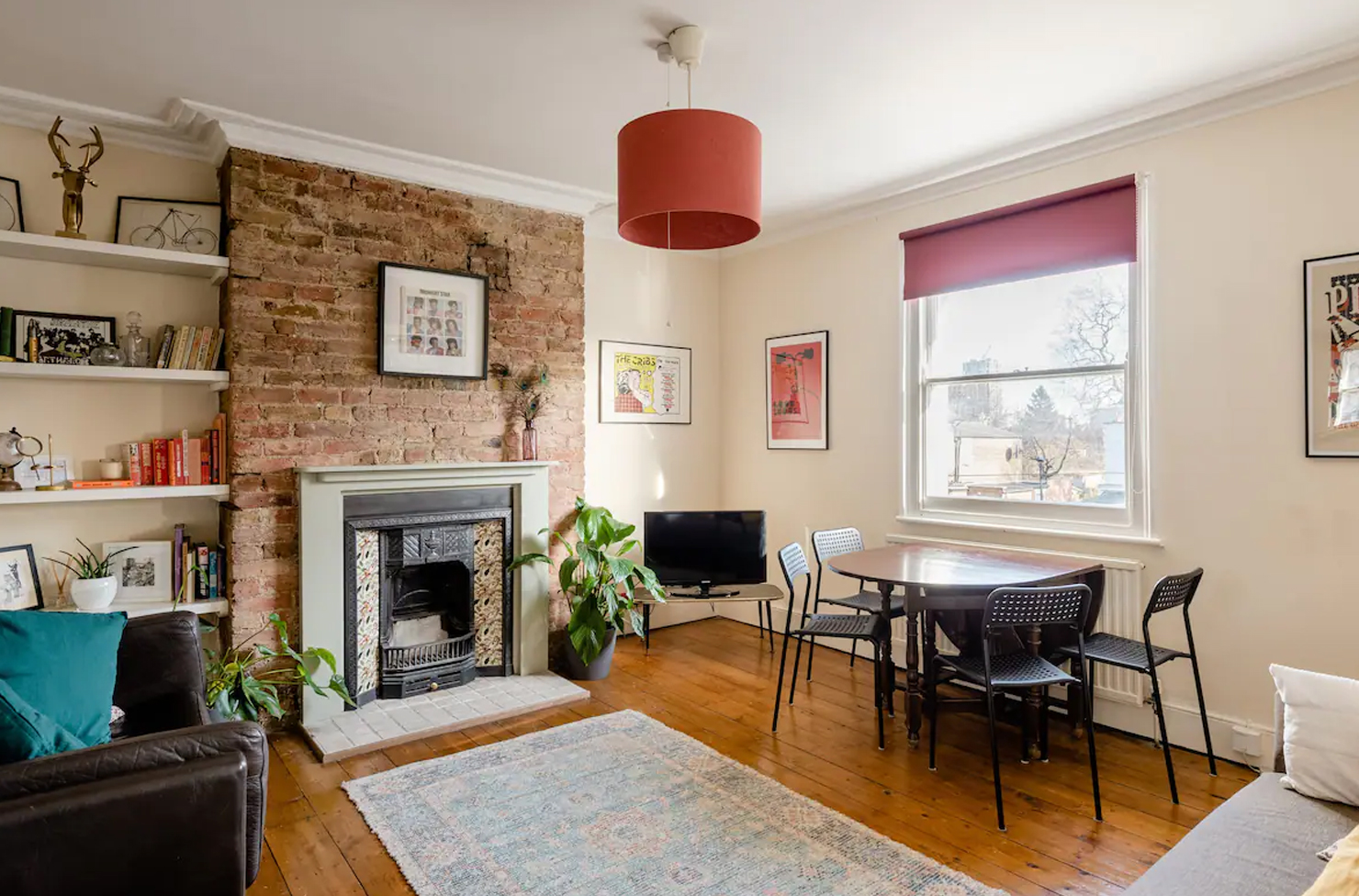 Cheap accommodation in London can be hard to come by, but we think this two-story Airbnb in south Tottenham is epic value for around $200 a night (a steal, actually). A light and bright Victorian conversion apartment, this beauty rests inside a 120 year old building that oozes charm. Original features are everywhere so you can still feel like you've spent a lot of money without actually spending a lot of money. Elsewhere you'll also be two minutes from the tube line which takes you straight to Oxford Street in just 15 minutes. One of the newer pubs around, you'll also want to check out the Beavertown Corner Pin Pub (can't miss its bright blue and yellow exterior) which has one of the best beer gardens around for smoked brisket croquettes that you can't miss.
Modern Studio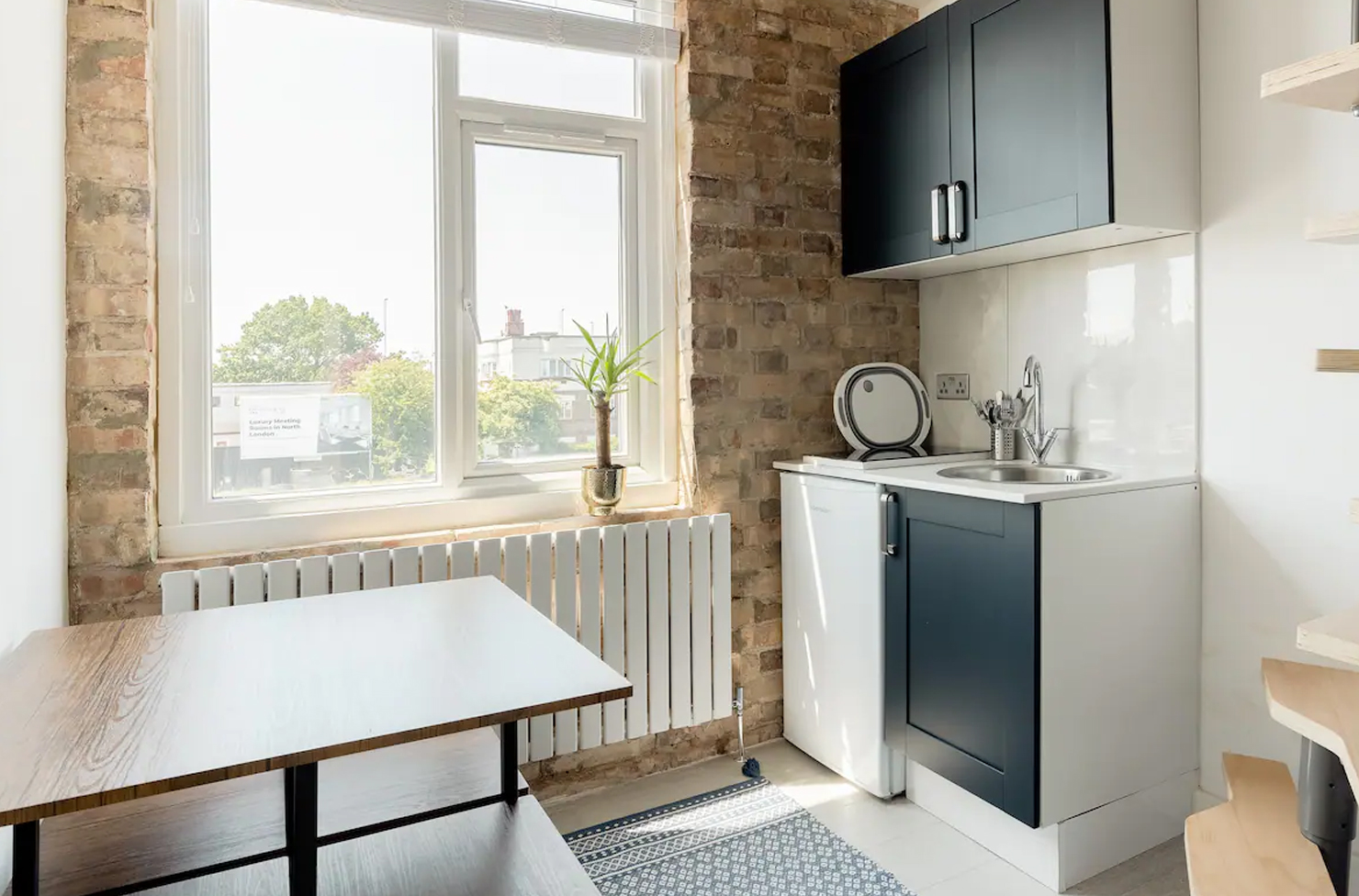 For the real budget gamers, check out this $88-a-night studio apartment, one of London's best cheap Airbnbs by far. Super modern and newly refurbished, this guy means you can really spend some cash at places like Circolo Popolare, Sexy Fish and Sketch. It's all about balance.
Prefer something more local? These are the best Airbnbs in Tasmania.
Image credit: Airbnb
Editor's Note: Urban List editors independently curate and write things we love and you'll love too. Urban List has affiliate partnerships, so we earn revenue from your purchase.