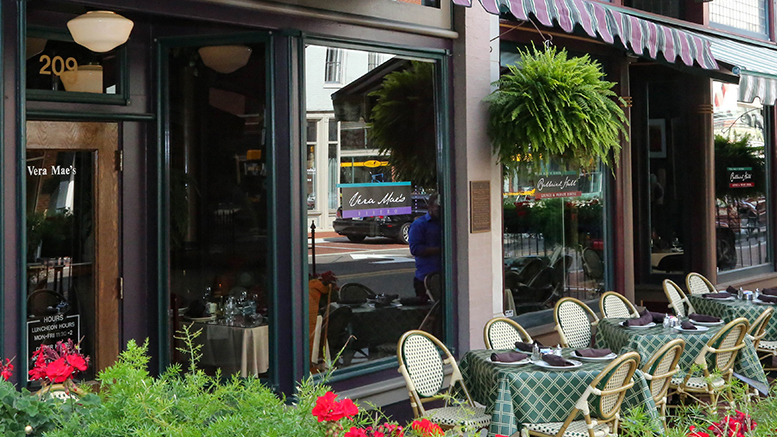 Accutech Acquires Muncie's Iconic Vera Mae's Bistro — Muncie Journal
By Scott Smalstig, Director of Community Growth, Accutech Systems—
MUNCIE, IN—Vera Mae's Bistro, the longtime fine dining establishment in downtown Muncie, joins the Accutech family of companies, effective today.
The iconic restaurant and bar, located on South Walnut Street just a block from Accutech's headquarters, was started by owners Kent Shuff and Steve Fennimore more than 23 years ago when only a few banks and law firms were setting up downtown.
Accutech Chairman Adam Unger said the acquisition fits perfectly with Accutech's mission to "make great things happen for others."
"Kent and Steve chose downtown when very few others did," Unger said. "I couldn't be happier to continue believing in the heart of this city as they enter the next chapter of their lives."
Once Shuff and Fennimore started talking with Accutech, they saw Accutech's commitment to downtown and a similar desire to serve others with excellence.
Muncie, Shuff and Fennimore luminaries have long established themselves as the high-end caterer, party planners and later restaurateurs. Dining at Vera Mae's is as much an experience as a culinary delight. The famous passage, engagements take place, weddings are planned, anniversaries are celebrated, deals are done and toasts are made.
"If downtown is the heart of the city, Vera is its soul," Shuff said. "We are happy to have found someone who believes in what we are doing."
"Vera's is the perfect extension of our community vision," said Scott Smalstig, director of community growth at Accutech. "We want to help make Muncie an even bigger destination, while creating employment opportunities, improving the quality of the place and instilling pride."
Vera Mae's high-end French-influenced fusion cuisine borrows from the rich traditions of Europe, Asia and the New World.
Unger promises Vera Mae's favorite specialties like French onion soup, served with scissors to cut through the thick layer of provolone cheese, baked brie, crab and artichoke dip, and cod in Dill Crust will continue under Accutech ownership.
Opening its doors in 1999, Vera Mae's began its history as a food delivery and catering business through its South Walnut Street storefront. Shuff, a pioneer in the revitalization of historic Muncie, later expanded the restaurant in 2002.
Shuff and Fennimore created Ballaird Hall, formerly Ballard Hardware, expanding the original bistro from 54 seats to 210 seats. The upstairs apartment they renovated with period decor and a professional-grade kitchen will be remodeled for private parties, community fundraisers, and possibly an Airbnb.
Shuff and Fennimore plan to spend more time at their beloved adopted New Orleans home, but have purchased another home in Muncie.
"Muncie is our home," Fennimore said. "All of our friends and family are here or nearby, and we love this community. We are delighted to have found a local buyer as committed to Muncie as we are.
Accutech is a wealth management software company founded in 1987 that opened its new headquarters in downtown Muncie two years ago. Since then, Unger has been committed to leveraging the success of his business to give back to Muncie. "I want everything we do to have an impact and restore pride in this community. Why Muncie, some ask. Why NOT Muncie, I say.
Vera Mae's will be the second downtown restaurant for Accutech.
The @Accutech Clubhouse, located on the first floor of downtown Accutech, opened to the public in early July after hosting more than 40 private parties from December through June. It is a family entertainment venue with digital golf simulators and micro golf with a full service restaurant experience and bar.
Accutech's acquisition of Vera Mae is the third in recent months, having bought advertising agency Intersection and Whitinger Strategic Services, a division of Whitinger Accounting, in October 2021.
"We want to make Muncie a destination," Unger said. "There's no reason we can't drive people from all over Indiana to experience Walnut Street!" We are proud of our growing family.
About Accutech Systems
Accutech Systems is a holding company for a family of brands – Cheetah Wealth Management, OpenDigital, FiCrowd, Insights, Moneytree, Intersection, The Clubhouse and Vera Maes. Together, the family of brands employs over 200 people and is headquartered in Muncie, Indiana.