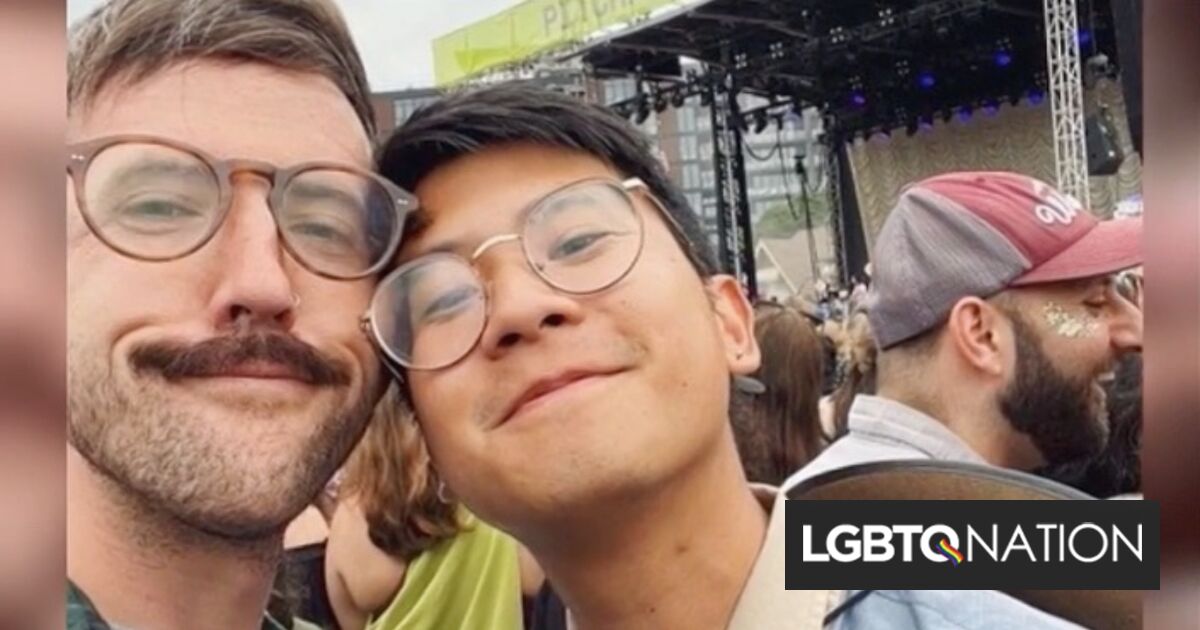 Airbnb user canceled same-sex couple's booking request after realizing they were gay
Curtis Kimberlin Jr. and his boyfriend JonathanPhoto: KXAS-TV screenshot
Airbnb is investigating an incident involving a landlord who canceled a gay couple's booking request after asking them a homophobic question.
When Curtis Kimberlin Jr. and his boyfriend Jonathan started planning their trip to Dallas, Texas, they sent a friendly note to a landlord offering his place through the Airbnb short-term rental service. But the property responded with a homophobic question before canceling the couple's booking request.
"Hi Peter!" Kimberlin wrote to the owner. "My partner and I are going to be in town for a weekend and we're really excited. It's going to be my first time in Texas and my partner is from Dallas, so he'll show me around.
The owner responded by asking, "So I'm going to house two men who sleep together…right?"
Kimberlin immediately tried to cancel his reservation request, only to find that the owner had already done so.
"I was shocked, for sure, but I'm also a bit used to having to hide parts of myself to calm conservative reactions to my identity," Kimberlin said. told KXAS-TV. "I wasn't completely surprised, let alone disappointed."
When Kimberlin posted a screenshot of the exchange on Twitter, it went viral. Hilton Hotels reached out and offered the couple free accommodation, which they accepted. Airbnb said it was investigating, but the owner denied his actions were homophobic.
I love trying to book a @Airbnb with my boyfriend in Dallas and have this be the first response to our reservation. 🙃 pic.twitter.com/vVN9w1UW1P

— Curtis Kimberlin Jr (@ckimberlinjr) January 7, 2023
The owner, who did not reveal his full name, told KXAS-TV he could not see the reviews other owners had given the couple. Because Airbnb does not perform background checks on guests, he said he was concerned.
"I'm on a fixed income, living alone and worried about my safety," he told the news station. He didn't explain why his first response to the couple's post was about the two sleeping together.
Kimberlin said Airbnb eventually contacted him about the incident with what he called a "corporate" response.
"They basically said, 'We're going to look at that,' and left it at that," he said. "There has been no follow up from Airbnb to let us know what action they took in response beyond their initial response once my tweet went viral. I really wonder what would have happened if I hadn't tweeted about it.
Airbnb has since released a statement saying, "We operate a strict non-discrimination policy, and when a potential violation of this policy is brought to our attention, we investigate and take action, including eviction from our community. ".
The company said it suspended the owner and his listing on its platform while it continues its investigation.
Short-term rental services like Airbnb could be considered a form of public accommodation. But while the company has its own non-discrimination policies, 21 states don't have laws protecting LGBTQ+ people from discrimination in public accommodations, according to the movement progress project. Additionally, 18 states lack laws protecting LGBTQ+ people from housing discrimination.
A 2014 study found that LGBTQ+ people file complaints of discrimination in public accommodations at similar rates to those who experienced discrimination because of their race and gender.