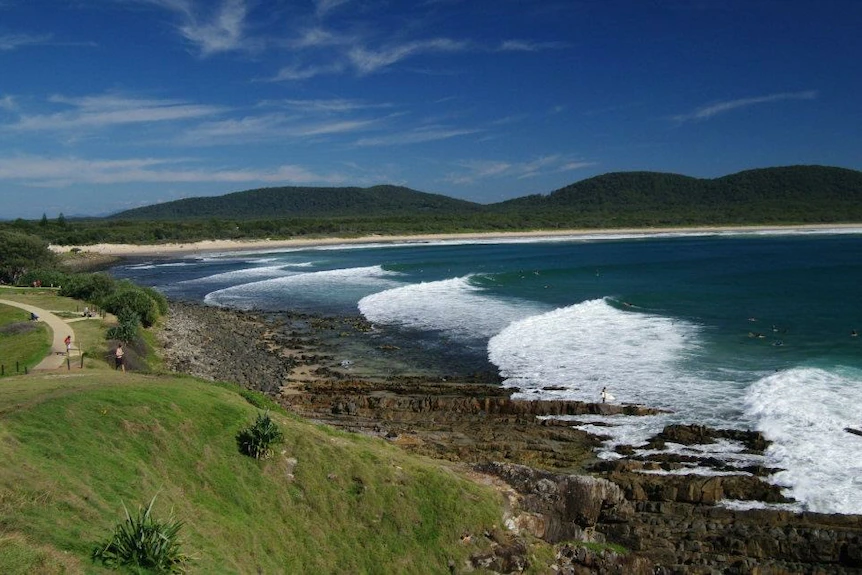 Australian designer to launch Crescent Head Hotel amid local development concerns | Sending Swellnet
Like many small Australian beach towns, Crescent Head experiences a huge increase in population every summer.
Its small-town charm and surf culture on the New South Wales north coast caught the eye of Sydney-born designer and hotelier George Gorrow.
Along with his wife and German model Cisco Tschurtschenthaler, the couple are transforming a former Crescent Head motel into a 1970s-inspired surf club hotel that will open later this year.
However, some locals who already deal with the annual tourist congestion are unhappy, especially since another motel redevelopment project is in the works for the city.
From Bali to Crescent Head
Mr. Gorrow co-founded streetwear fashion brand Ksubi and has spent the last decade in Bali, where he and Ms. Tschurtschenthaler opened a successful hotel and gallery in Canggu.
Now parents to two young boys, they have returned to Australia and a town that holds fond memories for Mr Gorrow.
"Crescent Head still feels like that place you visited as a child, you still feel so pure," Mr Gorrow said.
"I love surfing. My wife does too, and Crescent Head is one of the most iconic surf spots on the North Shore, so we try to stick with that [theme].
"My vision for a surf club hotel comes from when I was young traveling around the coast with my dad, who was an avid surfer.
"We always stayed in different cabins."
Mr Gorrow also enjoys "quirky Australian pubs brimming with culture".
"So I want to bring that to where everything you watch tells a story," he said.
The hotel, on Pacific Street, will also include a gallery, music and restaurant, as well as locally shaped surfboards.
Mr Gorrow said the external structure would not change much in a bid to "retain much of the building's unique character" and its footprint will be reduced to 24 rooms.
"The Macleay area is so rich in culture; we will also be partnering with local farms and growers to showcase the area," he said.
A village "under incredible stress"
The other current motel redevelopment proposal is for a property near Baker Drive.
The application to develop a three storey building is with Kempsey Shire Council and on display for public comment.
This has raised concerns among some locals that the character of their seaside community risks being lost among new and upmarket developments.
Crescent Head Malibu Club president and 30-year resident Roger Fergusson (left) says the village community is "under incredible stress".
"Coastal villages are under threat everywhere, the ethos, the history of the village way of life that makes up the NSW North Coast," he said.
"We have an incredible increase in traffic and people this summer, a huge volume of illegal campers, our water is at risk, our sewers are at risk and parking is overkill."
The city "needs tourism"
Robyn Harvey, 72, a former Australian longboard surfer who grew up in Crescent Head, said the new developments had a positive side.
"We need tourism to keep the shops going and going through our winter…it'll just make it shine a little," she said.
"I saw the city in the 1950s until today.
"It was great then and now. We all have to learn to share and get along with each generation."
A public meeting to discuss the latest Baker Drive development proposal will be held locally on January 12.
Find the right balance
Kempsey Shire councilor and resident Alexandra Wyatt said finding the balance between maintaining small-town character and expanding was a challenge.
Visitors were recently turned away from the north coast vacation town of Seal Rocks due to safety concerns over congested roads.
"I find opinion in Crescent Head very divided," said Cr Wyatt.
"Things cannot stay the way they were in the 1970s, 80s, 90s… and we need to make sure they evolve in a way that is aesthetically pleasing, that preserves environmental values ​​and the character of the landscape.
"I would also like to see some social fairness in this, so that we don't just kick out everyone who can't afford to be there.
"We can't love these places to death."
//EMMA SIOSSIAN
©Australian Broadcasting Corporation. All rights reserved.