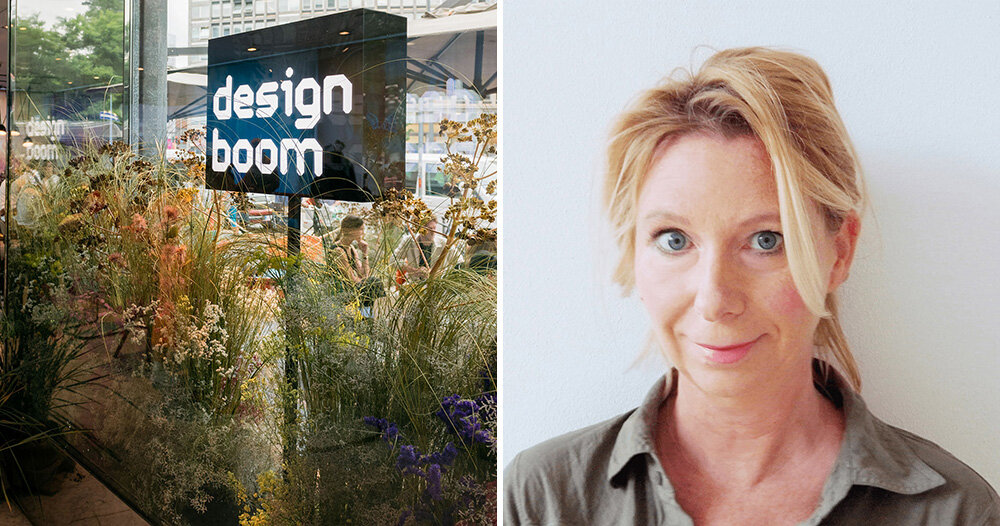 birgit lohmann steps down as editor of designboom
BIRGIT LOHMANN, co-founder of DESIGNBOOM, steps down
Birgit Lohmann is stepping down as editor-in-chief of designboom. The co-founder of the world's first online magazine served as its editorial and cultural director for 23 years, since its inception in 1999. Effective today, Designboom is pleased to announce that Sofia Lekka Angelopoulou is taking on the role of editor-in-chief. Sofia started her career at Designboom in 2018 and worked closely with Birgit Lohmann during these five years. Going forward, she will lead the team in continuing Birgit's artistic journey that began nearly a quarter of a century ago.
"It was an extraordinary journey for me, which lasted more than a quarter of a century. During this long period, designboom has been my home, my family where I have devoted love and passion,' says Birgit Lohmann. "I want to send my most sincere thanks to this extended family, to all the people who have cared for and supported designboom. Without all of you, none of what we have built would have been possible.
Over the past 23 years, Lohmann has cultivated designboom's global presence, amassing over 6 million followers on social media platforms. Her tenure as the magazine's editor launched a platform where readers can submit their designs and projects for international viewers to see and read. "We are particularly proud of our growing section of readers where we have been able to offer greater autonomy to a large number of people, a concrete sign of a more horizontal diffusion of contemporary culture. We asked them to participate actively, to inject impulses and instill the idea of ​​fantasy and freedom, of the possibility of the impossible", says Birgit Lohmann.
The editor says stepping back from her role is a natural path to venture down. "We will always be with the designboom over the next few years, but we also want to have more time now for us and our family, for the many passions we cultivate," she says. "In the meantime, we want to focus more on the reader platform, some special projects for the designboom, and overall strategic planning."
Birgit Lohmann co-founded designboom in 1999
Birgit Lohmann remembers the birth of designboom as the world's first digital magazine. "In 1999, the Internet was primarily text-based, from scientific forums to academic research. No editing software like WordPress existed, but we already imagined designboom as a magazine with big, beautiful images to illustrate what matters,' she says.'We were relatively young and unconventional [we still are]. We learned to code and designed the look of designboom ourselves. The beginning of this challenge was to pass on the knowledge of the great tradition of "project making" to new, much wider audiences. Breaking out of narrow niches and self-interested closed circles. The experience worked on all fronts.
From the beginning, Lohmann already recognized the influence of craftsmanship and humanism in the development of design. "We were redefining shared values ​​and hoping for active participation, but we were also addressing extravagance and eccentricity, the incredible and the improbable," she says. Lohmann remembers personalities who were touched by designboom stories and works.
'To our surprise, Kickstarter co-founder Charles Adler once told us that without the design boom, they wouldn't have existed. We remember the gratitude felt by the founder of Airbnb, Joe Gebbia [We invited the then young designer to travel with us around the world and to exhibit early works in our renowned and very popular mart exhibitions. [The sofa sharing, 'airbed and breakfast' idea was born soon after, after many enthusiastic discussions],' She adds.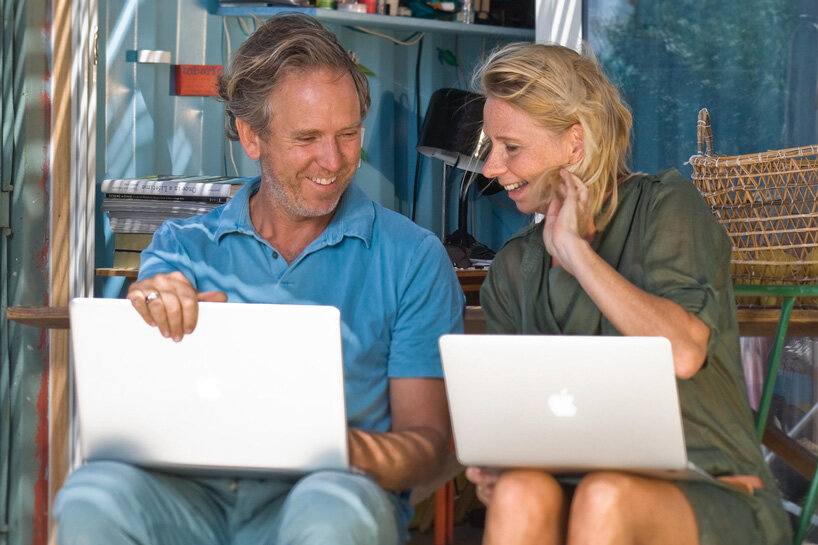 designboom co-founders Massimo Mini and Birgit Lohmann | picture © Adrian Mauri
DESIGNBOOM'S NEW EDITOR-IN-CHIEF
Designboom is pleased to announce that Sofia Lekka Angelopoulou has taken on the role of Editor-in-Chief of the online magazine. Sofia grew up in Thessaloniki, Greece, and after studying architecture and working experiences in London, Rotterdam and Amsterdam, she moved to Milan, where she started her career at Designboom. Since 2018, she has held positions of increasing responsibility, eventually being appointed director. In her new role, Sofia will lead Designboom's editorial calendar, overseeing the production of daily content.
"It is an honor for me to take on the role of Editor-in-Chief of Designboom. I am proud to bring my creative vision for the future of a magazine with such an extraordinary history. With a fantastic team, I look forward to taking Designboom into the future while building on the unique heritage of its founders. I would like to warmly thank Birgit Lohmann, Massimo Mini, Stephan Bachmann and the DAAily platforms for their trust,' says Sofia Lekka Angelopoulou.
"We have worked closely with Sofia Lekka Angelopoulou for over five years. She is now the voice of the magazine. We gave ourselves the opportunity to continue our artistic journey with the mutual wish for a new great success. We wish Sofia all the best,' says Birgit Lohmann.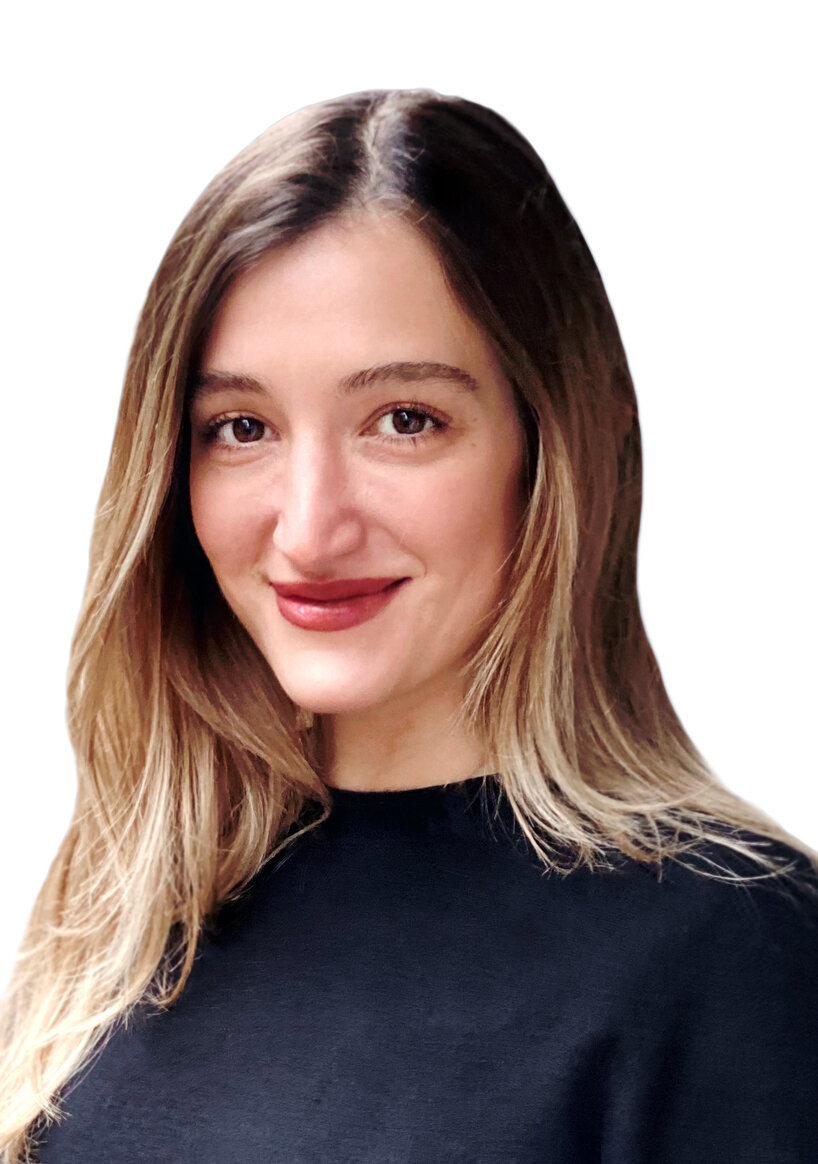 Sofia Lekka Angelopoulou
In January 2022design boom, Architonic and ArchDaily joined forces to create DAAily Platforms, the undisputed global market leader in high-end architecture and design, while continuing to operate as separate and distinctive channels. DAAily CEO Stephan Bachmann expresses his gratitude to Birgit Lohmann and how she broke barriers in the digital realm with the magazine and congratulates Sofia Lekka Angelopoulou on her new role.
'Thank you Birgit for all you have done, and I would like to congratulate Sofia Lekka Angelopoulou on becoming the magazine's editor. I have no doubt that her deep understanding and appreciation of designboom's unique heritage will stand her in good stead as she leads the editorial team in writing the next chapter. designboom continues to be the world's leading online design destination, with nearly 3.5 million monthly readers – a worthy member, alongside Architonic and ArchDaily, of the DAAily platform group of global A&D channels , whose clear mission is to inspire, connect and empower its global community of design professionals to create a better place to live,' says Stephan Bachmann. DAAily platforms are the Neue Zürcher Zeitung's (NZZ) Media Group's digital flagship.