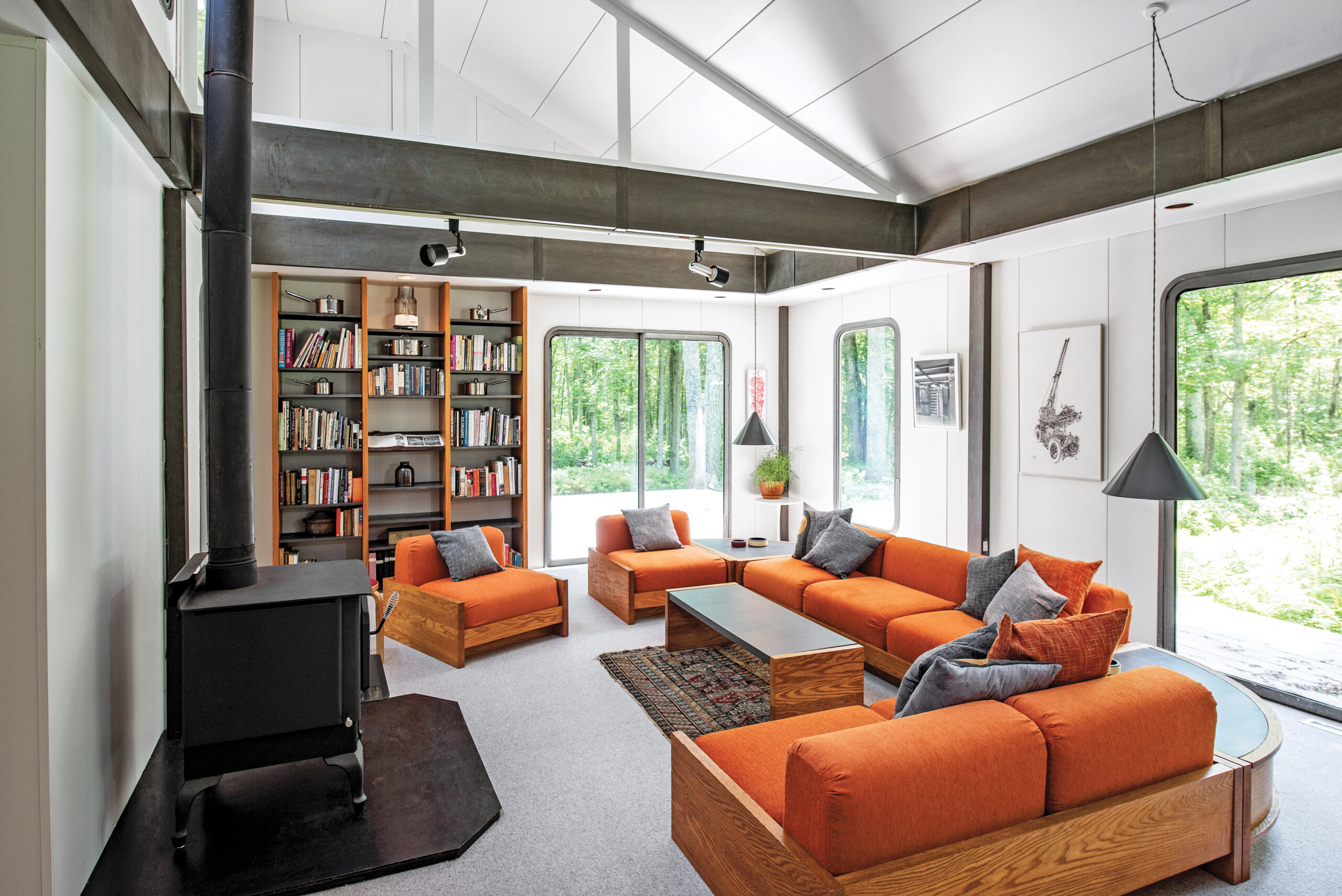 Coming home to a remarkable zinc house in Foster
Ja few miles from the Connecticut border, in the wooded areas of Foster, is a remarkable zinc house, perhaps the only one of its kind in the world.
The ILZRO house, as it is called, was built as a prototype in 1972 by the InInternational Lead and Zinc Research Organization and a group of RISD students and faculty led by Professor Marc Harrison. And now, after forty years, the house is once again in the family: Marc's daughter, Natasha Harrison, bought it in May 2021 and is restoring it to its original grandeur, with a few modern touches here and there.
"We felt we really needed to buy it and cement its identity," says the Newport resident, "so that the history of the house can be preserved."
The story begins in 1972, when the International Lead and Zinc Research Organization approached RISD with the idea of ​​building an experimental house from interlocking zinc panels that would serve as a prototype for other prefabricated houses.
Marc Harrison, in the middle of his forty-year career as a professor of industrial design at RISD, gladly agreed. His young family was already living in Foster, so they took eight acres of their property for construction.
"That's when he was happiest," Natasha says. "When he worked as a team with his students."
When completed, the 1,100 square foot home had two bedrooms, a bathroom, an open living and dining room, and a detached garage. It was built with both energy efficiency and accessibility in mind; it was one of the first houses designed for able-bodied and disabled people. In the kitchen, the counters had two different heights and modular measuring and storage units above the sink that allowed easy access. The sink plumbing was set back so wheelchair users could put their knees under it, and a left-hinged door and sliding counter under the stove allowed easy access. Light switches were also placed lower on the walls and could be operated with one hand or fist (unlike the tiny on/off switches commonly used in the 70s).
The project sparked Marc's interest in Design for All. So does a brain injury caused by a childhood sledding accident, which forced him to relearn basic skills like walking, talking and reading.
"Dad was really interested in designing for everyone," says Natasha.
In addition to his teaching, Marc has also designed several products that can be used by people of all ages and abilities, closely following the principle of universal design, which he helped pioneer.
As Cuisinart's lead designer, Marc redesigned the iconic food processor to make it easier to use, in addition to making kitchen utensils, a mini chopper, coffee maker and cutlery. He also designed the now iconic Boston subway turnstile system, an IBM supercomputer, and a lottery ticket retail system.
He died in September 1998 of amyotrophic lateral sclerosis, or Lou Gehrig's disease.
"The irony was not lost on him," Natasha says of the disease that robbed him of his ability to walk, move and talk. "It was an opportunity to understand what he had been trying to design for throughout his career."
Upon completion, Marc and his family spent time in both ILZRO and the neighboring family home before moving to Newport in 1978. It was then that RISD Professor Lorraine Howes purchased the ILZRO house, living there and preserving it for the next four decades.
In 2021 she contacted Natasha, saying she was selling the house and wanted Natasha to have it. Natasha and her husband, Ben Randall, closed on the property in May 2021. They credit Howes for taking such good care of the home — almost everything, including the original fixtures, furnishings, and design — has been kept intact.
"She was a wonderful housekeeper," says Natasha.
Since then, Natasha and Ben have been tackling house projects here and there. Ben is a carpenter involved in historic preservation, so they were able to do much of the work themselves.
They ripped up the carpet in the kitchen and bathroom and changed the color of the sofa cushions from a "very seventies" rusty red to a softer burnt orange hue.
"I agonized a lot because of it," Natasha says. "I really tried to keep the intention of the house intact. I was like, 'What would Marc do?
The original tub was remodeled in 1980. Natasha and Ben updated the room, removing the tub and converting the space into a large roll-in shower, based on what they thought Marc already done.
In the kitchen, they found replacement measuring and storage units on eBay. Some were missing and one had been deformed, the victim of a nearby toaster. In the bedrooms, Ben made a king size replica of the original main bed and made a queen size bed for the second bedroom.
During the renovation, they turned to a book published by ILZRO about the house for reference. They also removed twenty trees and added landscaping to the overgrown property and a driveway.
Once complete, Natasha would like to rent the house out for short term stays, perhaps as a retreat for artists and teachers and others who want to learn more about the house. She's not interested in listing it on Airbnb for nightly or weekly rentals — she prefers to reserve it for people intrigued by the home's unique qualities.
"It's too fragile and special," she says.
She thinks her father would be proud of their efforts to restore the house. "This house was an important moment in his career. As a teacher, he loved working with groups, it was really his style. He always wanted to collaborate.
He was a "goofball and a great guy," says Natasha, always ready to joke or laugh.
"Being here has been extremely sentimental. We both miss him.