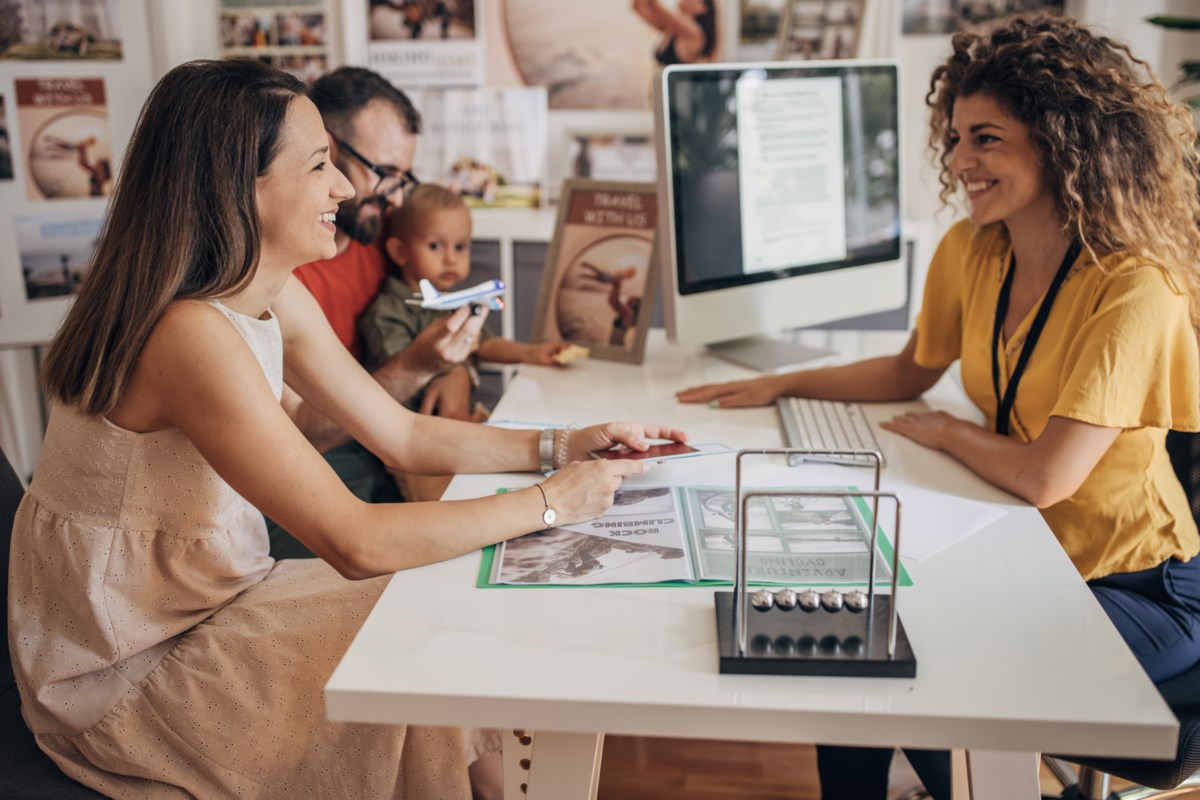 How has the Internet changed the jobs of travel agents?
A travel agent's clients include businesses, groups or individuals, who often have very different travel needs and expectations.
Travel agent jobs have fallen sharply, dropping about 70% between 2000 and 2021, according to the Bureau of Labor Statistics.
The proliferation of online travel agencies has made it easy for bargain hunters, wheelchair travelers and business trip planners to track information and find the best deals at their fingertips. But don't count travel agents just yet — many are seeing a resurgence as travel recovers from the COVID-19 pandemic.
TravelPerk used BLS data to analyze the decline in travel agent employment in the United States over time, comparing employment to a timeline of online travel resources that propelled online booking.
It is important to note the differences between the different booking options services available to customers. Travel agents help customers plan their trips by arranging trips with suppliers. Examples of their suppliers include package tours, travel insurance, railways, cruise lines, car rentals, airlines, hotels, etc. A travel agent's clients include businesses, groups or individuals, who often have very different travel needs and expectations.
Business travellers, for example, are spend 50% less on travel than before the pandemic, but as they return regularly, many have concerns, including mitigating costs as in-person conferences restart and anticipating changing entry restrictions, especially for international travel. Leisure travelers can turn to agents to recommend low-risk, yet still scenic vacation destinations.
Travel agents may own their own business or work for an agency owned by someone else. Instead of working with travelers on an itinerary from scratch, a tour operator, on the other hand, will arrange specific packages with suppliers such as airlines and hotels.
They will then offer these packages to their customers. Booking sites, on the other hand, allow travelers to tailor their travel arrangements and book them themselves, whether it's a short weekend or an international business trip. one month.
Travel is expected to return closer to pre-pandemic levels in 2023—US Travel Association projects that next year leisure spending will return to 2019 levels and business travel will climb to 88% of 2019 spending. Read on to learn more about how these online booking sites have changed the landscape of travel agents.
Travel agent jobs see a drastic decline
Internet has significantly impacted travel – fundamentally transforming the experience itself and disrupting the way the industry works. As traditional operators struggled to adapt, new brands began to emerge. The digital disruption of the industry began in the 90s and has continued steadily.
In 1994, Travelweb.com, the world's first comprehensive online hotel property catalog, appeared. It will soon include a feature allowing customers to make reservations online. Then, in 1995, the Internet Travel Network claimed to oversee the first online airline booking. ITN was the precursor to GetThere, the business travel booking system.
In 2000 he sold to Saber, which operated an automated airline seat reservation system. Also in 1995, Viator Systems, now known as Viator, launched a travel technology company that helped provide online tour and tour bookings.
In 1996, a new player entered the world of online travel booking: Expedia. This online platform was Microsoft's foray into online travel. This attempt was incredibly successful, considering its place among the best online travel agencies in the world. At a time when e-commerce was not widely adopted, Expedia offered consumers price comparisons for flights, cars and hotels, as well as the means to easily and securely book them on the site. The website's first advertisement announced that ordinary people could now use "the same reservation system" as travel agents.
In the same year, partly inspired by the American airline Southwest, Ryanair introduced its famous low-cost airline model, transforming the European airline industry by allowing travelers to book directly on airline websites. Bypassing travel agents and online booking platforms reduces service fees and commissions, and also allows users to choose any flight offered by the airline, not just those selected by a third party.
Other players that emerged in the 90s include Lastminute.com, Travelocity, FareChase and Priceline. FareChase used metasearch, functioning as a search engine that collected fares from hotel, airline and agency booking sites. This platform laid the foundation for other online booking solutions such as Skyscanner, TravelSupermarket, Kayak and Sidestep which functioned as one-stop-shops to find deals on different airline and corporate websites.
During this same decade, information about travel destinations became more accessible to consumers. In 1995, Jeff Greenwald became the first travel blogger when he published a travel article for Global Network Navigator. Although travel blogging is not the same as online booking, it is also making a difference in the travel agent landscape.
As travel and destination information proliferates online, more and more people are inspired to plan trips and make travel decisions, including booking and ticketing, rather than relying on the expertise of a travel agent.
The 2000s further accelerated changes in the travel industry
Tripadvisor was founded in 2000 with a mission to help people make better travel decisions. The company curated hotel listings, making them easier to find, and ranked hotels based on traveler reviews. With this information at their fingertips, potential travelers could book using recommendations from other travelers instead of a travel agent.
After 9/11, it took nearly three years for air travel to return to previous levels after peaking at 65.4 million passengers in August 2001. As the travel industry faced a decline in travel business and leisure, these online platforms have become the saving grace for operators like hotels and airlines that necessary to sell large quantities of stock on hand. The travel industry's reliance on these platforms remains to this day.
Another change occurred in 2003 when IAC purchased Expedia. IAC's constellation of websites, led by Barry Diller, attracts up to 2 billion monthly visits in 190 countries. In the first quarter of 2003, Expedia's net income quadrupled to $26.9 million with revenue of $198.8 millionsignaling a further disconnect between travel agents and their customers, who now plan their trips online.
Although Priceline was launched in 1997, it wasn't until 2004 that its popularity increased with the acquisition of Active Hotels, a European online hotel booking service. The following year, Priceline also purchased Booking.com, cementing its share of the profitable European travel market. Also in 2004, the online home-sharing platform CouchSurfing was launched, offering travelers the opportunity to stay and experience the destination of their choice with locals.
Soon after, the travel industry saw a startup poised to fundamentally change the hospitality industry. AirBedAndBreakfast – now named Airbnb – was able to secure significant funding in 2009, after which they grew so rapidly that by 2011 users had booked 1 million nights on the platform, which was then available in 89 countries.
During the 2008 global financial crisis, airline stocks fell 68% and cruise lines, hotels and resorts fell 74%. The next 10 years tested the travel industry's systems, and those that survived became more nimble and accessible, especially for those in developing countries. Before the 2008 recession, China, India and Latin America accounted for 21% of international travel. By 2016, this share had nearly doubled to 41%.
The impact of COVID-19 has been predictably significant
In 2021, the number of international arrivals was 1 billion less than before the pandemic. Experts from the World Tourism Organization estimate that the travel industry will not fully recover until at least 2024. Global Tourism and Travel Spending was less than half in 2020 than in 2019. Employment was also strongly impacted, with 62 million people working in the global tourism and travel industry losing their jobs in 2020.
Despite the gloom of the pandemic, it looks like a recovery is on the horizon for travel agents. BLS projects a 20% increase in demand for travel agents from 2021 to 2031, exceeding its growth projection of 5% for all occupations.
Some have reported a clear upturn in activity, even compared to pre-pandemic levels. A flash poll conducted by the American Society of Travel Advisors in early March 2021 found that in 2021, 76% of travel advisors saw an increase in customers compared to the pre-pandemic period, and 80% responded to questions from those who had never used a travel advisor before.
Due to the constant changes in restrictions and rules, travelers began to contact travel agents who could help them plan their trips. More and more travelers have turned to travel agents who can help them when business trips, cruises and other plans are canceled or delayed due to health restrictions. As more agents become more adept at handling last-minute travel assistance, their roles may expand beyond just travel planning to further assist with crisis management. and the recovery of travellers.
As travel comes back to life, the fortunes of travel agents may also rise with them.
This story originally appeared on TravelPerk and was produced and distributed in partnership with Stacker Studio.