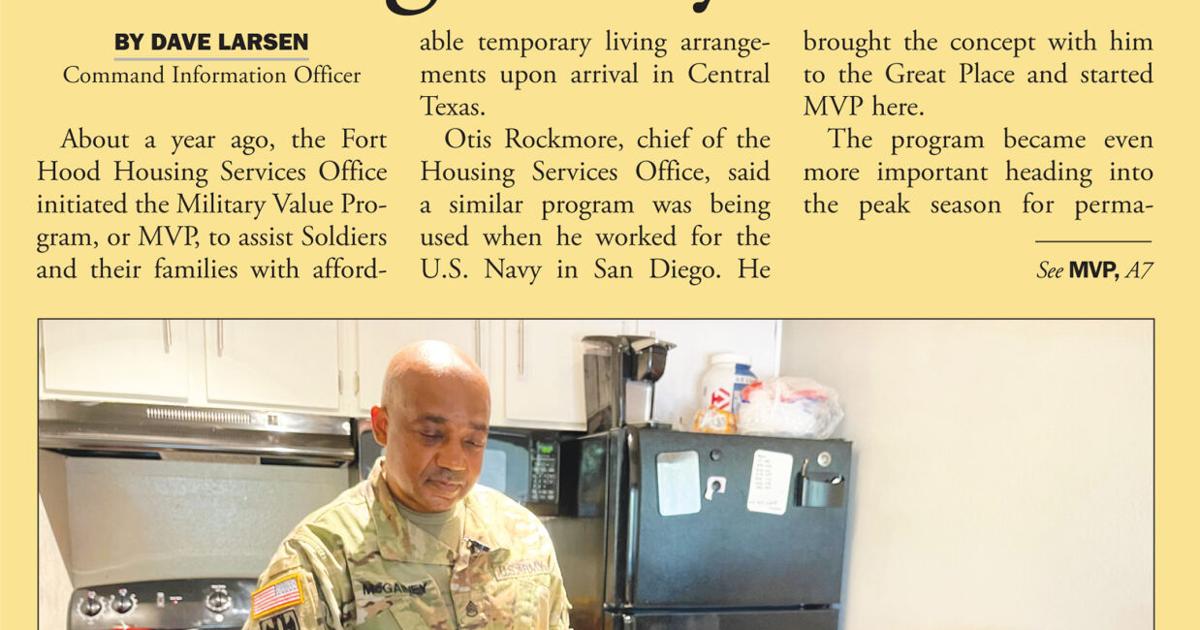 'MVP' Housing Helping Army Families | New
About a year ago, Fort Hood's Office of Housing Services launched the Military Valor Program, or MVP, to help soldiers and their families with affordable temporary living arrangements upon arrival in central Texas.
Otis Rockmore, head of the Housing Services Office, said a similar scheme was used when he worked for the US Navy in San Diego. He brought the concept with him to the Great Place and launched MVP here.
The program has taken on even more importance as we approach the peak season for permanent station change movements this summer, as wait times for accommodation in the area and on the facility have lengthened. Rockmore said the program uses area hotels, Airbnb options, and fully-furnished "corporate" apartments, all of which charge rates at or near the base housing rate allowance in the area, which reduces out-of-pocket expenses for incoming service members and their families.
"It all started with the hotels," Rockmore said, adding that 116 soldiers and their families have already benefited from the MVP program. "The best thing that happened was when we partnered with GRT (Property Management), Copper Mountain and Twin Creeks. They were sort of the test bed. apartments available, they have converted them into corporate units.
And it's not just Army families waiting for permanent housing who have benefited from this program.
Staff Sgt. Bryon McGainey, an Army Reserve NCO called up to active duty from Richmond, Va., who now serves with the Army's First Division West as an operations NCO, was among the first to take advantage of the MVP. He lives in the Copper Mountain apartment complex in Killeen.
"I think I got in early," the 58-year-old single soldier said. "Initially, I didn't know they had the business situation. I thought I should come in, (and) buy some furniture. I was considering the cost of having to do all of this if I was only going to stay here for a year and it just didn't make sense. When they told me about the situation of the company, … it was perfect for me.
McGainey's tour at Fort Hood has been extended, so he recently extended his tenancy with the program. His rent is even more affordable now because he has a roommate to split the costs, another staff sergeant within Div. Western Headquarters.
"It's beautiful. I love it," McGainey said. "I couldn't ask for a better situation."
Robert Todd, housing manager at the Office of Housing Services, said MVP now has more than 400 units across multiple properties, 50 of which are corporate apartments. He said commanders and first sergeants are briefed on the program during their command course and each newcomer is briefed on their options upon arrival. The Housing Services office also has a digital welcome packet on its webpage, which can be found at https://home.army.mil/hood/index.php/units-tenants/Garrison-1/DPW/HSO.
Another program helping to ease the stress for Soldiers and their families as they move to their new assignment in Central Texas is the Rental Partnership Program, which has been an ongoing effort for more than a decade to help provide affordable permanent housing for troops residing off the installation.
"(It) actually does three things," said Robert Todd, housing manager at the Office of Housing Services. "The three most important things are, first, the initial cost savings for service members when they move in during peak PCS season; two, (helping) service members who have no credit; and the third is (to help) service members who have bad credit.
"It gives them access to places they wouldn't normally qualify for," he added, "because it removes a lot of the upfront fees, application fees, security deposits, security checks background, and basically once you've signed up for the program, it's all handled by the Housing Services Office.
Todd, a retired command sergeant major, said he returned to government service with the Fort Hood Housing Services office to continue helping soldiers and their families.
Rockmore, a retired Air Force, said he's optimistic both housing programs will continue to expand their reach as new properties are added through partnerships with property management companies.
"We totally understand that housing is the number one issue when you PCS," Rockmore said. "It makes me feel good, because as housing professionals, it's our bread and butter.