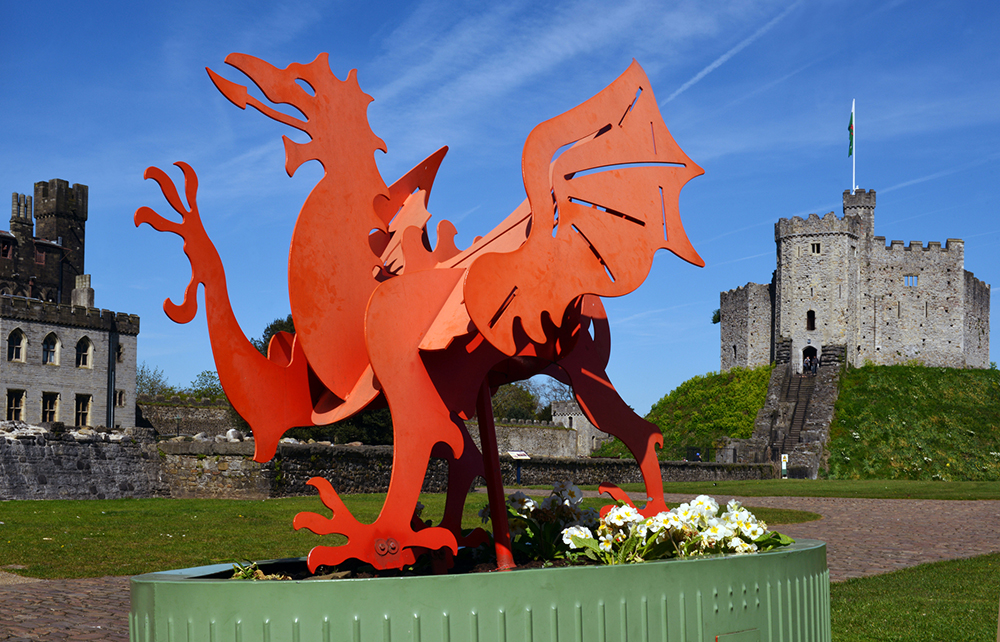 My comically awful Airbnb break
Caroline likes to rent somewhere on Airbnb between Christmas and New Years to break up the winter holidays. No, not in Courchevel or Barbados I'm afraid, but something a little more affordable. Last year we spent three days in Margate which was pretty good except for the egg smell on the seafront. This year she decided to rent a house in Cardiff. It was not a success.
The reason for choosing this particular city is that QPR were playing Cardiff at 5.15pm on Boxing Day. The plan was to drive out after lunch, drop off the bags, then head to the stadium. We were staying in Cardiff until 29th December when we got back to London in time for our home game against Luton. I can imagine many women are reluctant to organize a family holiday around QPR's fixture list, and if I was the only Rangers fan in the house that certainly wouldn't be happening. But my four children are also strong supporters, so Caroline reluctantly lined up. I decided to enroll them in this sadomasochistic cult when they were too young to learn more. After all, misery loves company.
Upon arriving at the Airbnb, the first thing we noticed was how cold it was. Not just because it was only a few degrees above zero, but because the central heating wasn't working. We called the owner, who obviously didn't go far as he appeared almost immediately and told us that the boiler had broken down and we had to make do with fan heaters. Not only that, but the kitchen window was locked open – he had lost the key – and none of the room doors were closed. I don't invent anything. This guy was an amateur builder and he hung all the doors himself with the result that not a single one fit properly. We literally couldn't close any of them. To complete the picture, the only bedding provided was the cheapest and thinnest duvets I have ever seen. Even with a fan on full blast it was impossible to get warm.
Now this place is £1265.54 for three nights so we were expecting something that was at least functional. But it turned out that nothing worked. The wifi kept cutting out, cutlery was bent, furniture wobbled. The toilet seats slid from side to side creating a fairground effect every time you picked up a number two. Obviously the owner had bought everything from a Poundland lot. Craft supplies and half-empty paint cans had been stuffed under each bed, as if we had interrupted him redoing the place, which might well have been the case. We felt like the tour party in Continue Abroad who arrive at their "luxury" hotel on the Costa Bomm to find that the place is a construction site.
To top it off, the QPR games that ended our three-day hiatus were abysmal. The first was a dismal 0-0 draw in a rainy, windswept stadium that was three-quarters empty. I don't think I've ever been to a Championship stadium that was so quiet – even the roughly 600 QPR fans, crammed outside, were subdued. Still, the draw meant we got a point on the road, which was a huge result for us. At the start of this game, we had lost four of our last five games.
We were hoping to put all that miserable experience behind us when we arrived at Loftus Road to see QPR take on Luton Town on the 29th. Luton hadn't won that game since 1984 and they are below us in the table – at least they were. But the Hatters humiliated us, beating us 0-3. Their striker was clinical in front of goal, scoring twice from three chances, while ours missed every chance. We have a new manager, having lost the last one after just 22 games, and this was his first appearance in front of the faithful. What a start! It was our fourth straight loss at home.
In truth, this short "vacation" was so comically horrifying that it was actually quite amusing. I'm one of those Brits who loves nothing more than a good grunt, and this mini-break gave me reason to complain. If it had just been poor – if the central heating had worked and if QPR had also managed to draw 0-0 against Luton – I certainly wouldn't have enjoyed myself so much. I even enjoyed our family outing to Cardiff Castle, the only visit we managed. Not because the castle itself was impressive – although it was – but because it was raining continuously and we were all completely soaked. Dare I say it, I probably enjoyed this holiday-cation more than I would have a trip to Mauritius or the Maldives. I think I have to be a miserabilist at heart, which is why being a QPR supporter suits me so much better than being a Chelsea or Arsenal fan. Good year.