NACS Show Highlights for Proximity Retailers | 2022-10-10
Last week's NACS convention for convenience store operators in Las Vegas offered a first look at product innovation from beverage makers looking to bring new products into retail store resets for 2023. The event annual includes a massive trade show where brands showcase products and provide samples for buyers from chains and small independent stores. NACS is the leading trade association for the global convenience and fuel retail industry. Here are the highlights of the event, which BD attended:
PEPSICO REVEALS NEW LEMON LIME SODA. REGULAR HFCS VERSION ONLY 150 CALORIES FOR A 20 OZ BOTTLE. PepsiCo unveiled a lime soda called Starry. The new brand targets Gen Z consumers, typically between the ages of 10 and 25. Like Sprite, the leader in the lime segment, Starry is caffeine-free and includes regular and sugar-free versions. The drink will be available in large and small stores and food outlets. Starry Zero Sugar is sweetened with aspartame, acesulfame potassium and sucralose. The regular version, sweetened with high fructose corn syrup, has 150 calories per 20 oz bottle, compared to 240 for Sierra Mist and 230 for Sprite. PepsiCo product developers believe the lemon-lime soft drink segment represents a big opportunity to appeal to Gen-Z consumers, according to company sources (learn more about our Gen-Z consumer panel at Future Smarts 2022 HERE). PepsiCo's current lime offering, Sierra Mist, hasn't made significant headway against Sprite despite changes that have included new sweeteners, a "natural" ingredient offering, and a temporary rebrand to Mist Twist. . At retail, Sierra Mist is virtually out of the market with less than $0.1 of soft drink share. Meanwhile, Sprite held a $6.9 share of CSDs after growing +17% in the first half of this year, according to BD data. A viable lime CSD would be useful to PepsiCo in the highly competitive fountain channel, where Sprite is a key player. PepsiCo's current offering is Sierra Mist.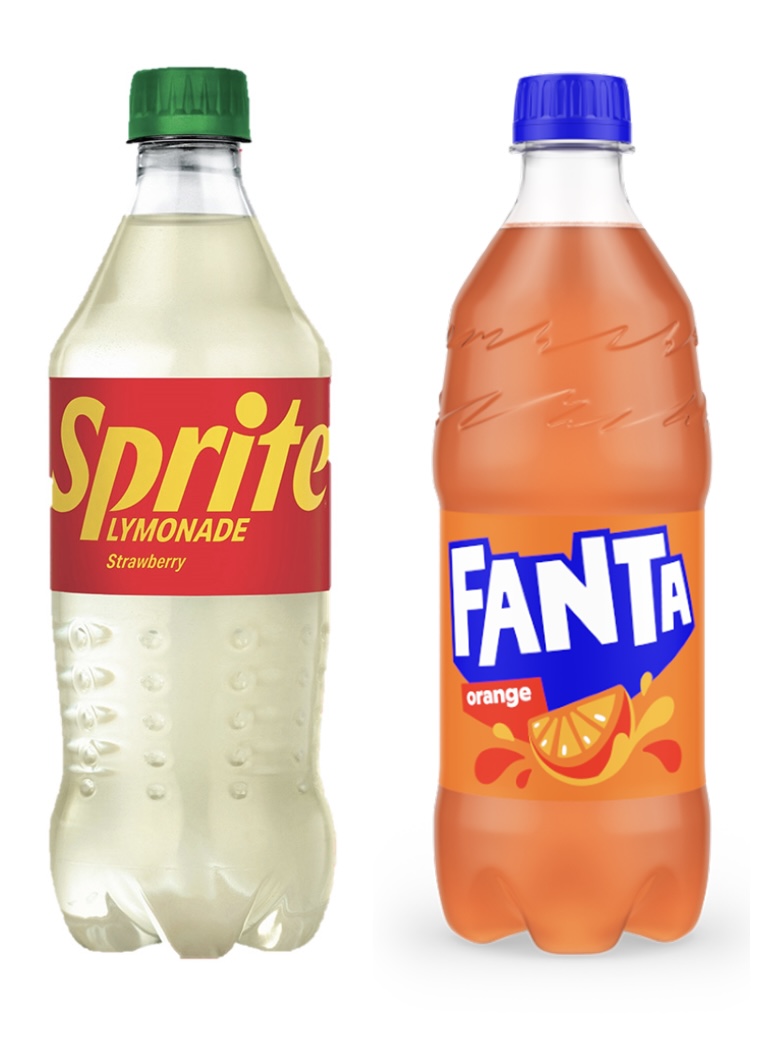 ORANGE FANTA REWORDING/ADDING SPRITE. Coca-Cola will introduce a "bolder" new formula and visual identity for its regular Fanta Orange and Zero Sugar. Meanwhile, Coca-Cola's Sprite brand will add a limited-time summer offer called Sprite Lymonade Strawberry.
NEW FLAVORS DR PEPPER, SUNKIST, SQUIRT. Next year, Keurig Dr Pepper will launch a Strawberries & Cream Dr Pepper, a watermelon Lemonade Sunkist and a Ruby Red Squirt (citrus and berry soda).
STARBUCKS COFFEE? BY THE BOTTLE. PepsiCo's ready-to-drink coffee joint venture with Starbucks introduced two new bottled ready-to-drink products called Pink Drink and Paradise Drink that were taken from the popular frozen coconut milk beverages sold at Starbucks coffeehouses. Pink Drink, named after its color, contains strawberry and acai, while the yellowish Paradise is made with pineapple and passion fruit. Both are mixed with coconut milk. The drink is packaged in a 14 oz plastic bottle. The drink will be launched in March.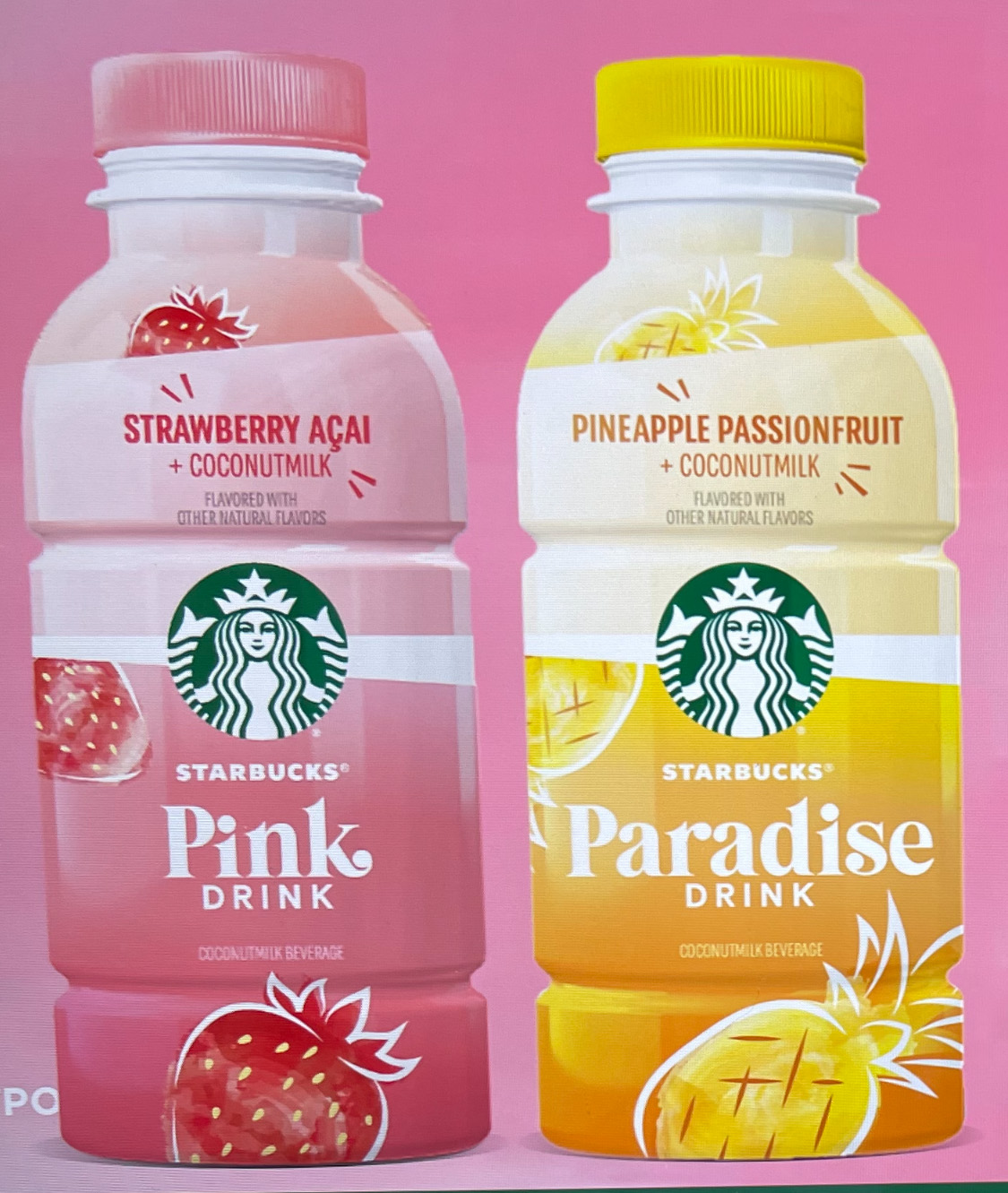 QUICK HYDRATION TAKES THE COURT. In the sports drink category, convenience store attention is rapidly shifting to versions that offer rapid hydration with high levels of electrolytes. Now under the leadership of recently acquired BodyArmor Sports Drink, Powerade and Powerade Zero will be relaunching in early 2023 with a new formula that includes 50% more electrolytes than Gatorade and an updated visual identity. At the PepsiCo pavilion, Gatorade unveiled Gatorlyte Zero, a stevia-sweetened version of the quick-hydration drink that delivers a higher dose of electrolytes and was PepsiCo's answer to fast-growing Mexican competitor Electrolit. Gatorlyte Zero will launch in January in Strawberry Kiwi and Lemon Lime flavors. Electrolit launched a Zero variant a year ago. Smaller competitors are also targeting the category. Revitalyte, a competitor to Electrolit and Gatorlyte, is adding a 20oz bottle next year to tackle the convenience store trade. Revitalyte, distributed by Monster Beverage's Canarchy brewing collective, is aimed at the "beer league" crowd, founder Ryan Leonard told BD. The brand has a licensing and marketing agreement with Barstool Sports, the popular social media sports and culture blog. Several booths away, PSR Brands of Houston displayed an electrolytic product called SueroTil. Designed initially for Hispanic consumers, the still-small brand has focused on moving into a broader U.S. market as the fast-paced hydration market receives a flood of new marketing investment from Electrolit and Gatorlyte, the companies said. PSR representatives at BD. The brand opted for a round bottle to differentiate itself from the square bottles that have defined the segment. Marketing will mock that the bottles don't fit in a cup holder. A P10 performance hydration drink packaged in 16oz cans is for pre- and post-workout occasions with high electrolytes and branched-chain amino acids (BCCAs). (PSR also has an energy drink called Patria that caters to Hispanics in the US.) Yet another Mexico-based hydrating drink, Genomma Lab's SueroX, is looking to gain traction in the US as Electrolit reported. do. And Splash Beverage Group has announced an endorsement deal with former star NFL quarterback Drew Brees for Tapout hydration and recovery drink. The drink was created under license from the clothing brand of the same name.
TEA-ING NEW WAYS TO DIE. Liquid Death, the canned water company with beer-like packaging and irreverently macabre marketing, will launch a line of canned iced teas by March, adding the company's first expansion beyond the still and sparkling water. The teas are lightly sweetened with agave syrup and contain vitamins. The flavors are Grim Leafer, Rest in Peach, and Armless Palmer (probably half tea, half lemonade).
NEW SWEETENER FOR VITAMINWATER. SMARTWATER ADDS ANTIOXIDANTS. In March, Coca-Cola will launch a new monk fruit and stevia sweetener blend for Vitaminwater Zero Sugar. The product is currently sweetened with erythritol and stevia. Vitaminwater Zero Sugar will add a coconut and lime variant called Forever You and a dark chocolate raspberry version called With Love. Also in March, sister brand Smartwater will add an antioxidant variant to the alkaline extension of the bottled water product.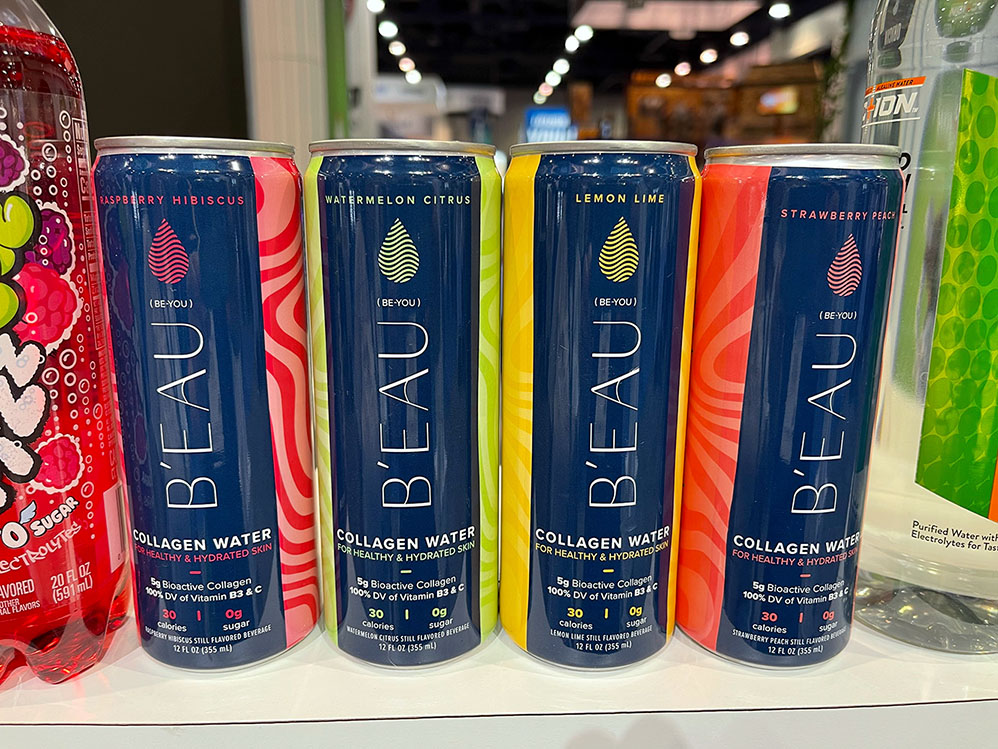 ADDITION OF COLLAGEN. BlueTriton, formed after the acquisition of Pure Life and regional bottled water brands from Nestlé in the United States, will launch a line of Beau-branded collagen waters in the first quarter of next year. Recently acquired Saratoga will add 16oz and 28oz PET bottles that will be dark blue like the brand's signature glass bottle. Meanwhile, Pure Life has reverted to a blue label after switching to a yellow label to stand out on a blue-dominated shelf, a representative at BlueTriton's booth told BD. The yellow labels did not resonate with consumers.
CROSSOVER ALCOHOL
LIPTON HARD ICED TEA ANNOUNCED. FIFCO USA, a top 10 brewer of brands including Labatt, Seagram's Escapes flavored malt beverages and Magic Hat craft beer, announced a day before NACS that the company had licensed the Lipton brand for a hard-to-throw tea during the first half of next year. Lipton Hard Iced Tea will be the second alcoholic product distributed and marketed by PepsiCo subsidiary Blue Cloud Distribution, which was formed last year to run Boston Beer's Hard Mtn Dew. At NACS, Lipton Hard Iced Tea was available for tasting at the Blue Cloud booth, rather than the FIFCO booth. FIFCO will develop, manufacture and market the drink, which will contain 5.0% alcohol and will be launched in lemon, peach, strawberry and half and half (tea/lemonade) variants. The flavored malt drink will compete with Boston Beer's market leader Twisted Tea after it launches in the states where Blue Cloud operates (currently nine). Boston Beer reportedly passed on the Lipton product after PepsiCo pitched the idea.
THE BEAST HAS BEEN RELEASED. NACS attendees got their first look and taste of Monster Beverage's recently announced flavored malt beverage, The Beast Unleashed. The 6% ABV drink will be packaged in sleek 12oz cans and 16oz cans. Flavors will be Mean Green, Peach Perfect, Citrus Mashed-Up, Scary Berries, and Killer Kiwi. January launch states will be California, Colorado, Florida, Ohio, North Carolina and Arizona. Tentatively, a March expansion would include Illinois, Michigan, Missouri, New York, Texas, Georgia and Tennessee. The brand is seeking nationwide distribution around May, according to information provided at the show by its Canarchy unit, which also took care of the sampling of the drink.
NEW FLAVORS FOR SIMPLY SPIKED, HARD MTN DEW, FRESCA MIXED. Molson Coors, under license with Coca-Cola, was sampling three new flavors of Simply Spiked for 2023 – Signature Peach, Kiwi Peach and Strawberry Peach. Constellation Brands, also under license from Coca-Cola, will add flavors next year to the just-launched Fresca Mixed line of canned cocktails. Mixed with vodka, they are Grapefruit Citrus, Mixed Berry Citrus, Mango Citrus, and Pineapple Citrus. While Molson Coors malt-based Topo Chico Hard Seltzer was on display for tasting at the show, there was no sign of the announced new spirit-based version of the drink. Molson Coors, under license from Coca-Cola, owner of the Topo Chico brand, announced in late September an expanded agreement to produce Topo Chico Spirited for the growing canned cocktail market. The product will contain "100% real spirits", including tequila. 2023 launch states will be Texas, Colorado, Oklahoma, Kansas, Missouri, California, Arizona, New Mexico, Nevada, Washington, Florida, Arkansas , Mississippi, Tennessee, Georgia, Louisiana, Illinois, Wisconsin, Ohio, Minnesota, Michigan, Virginia. , and DC (Perhaps this will lead to Topo Chico Ranch water that contains tequila, unlike the beer-like hard seltzer version currently on the market.)