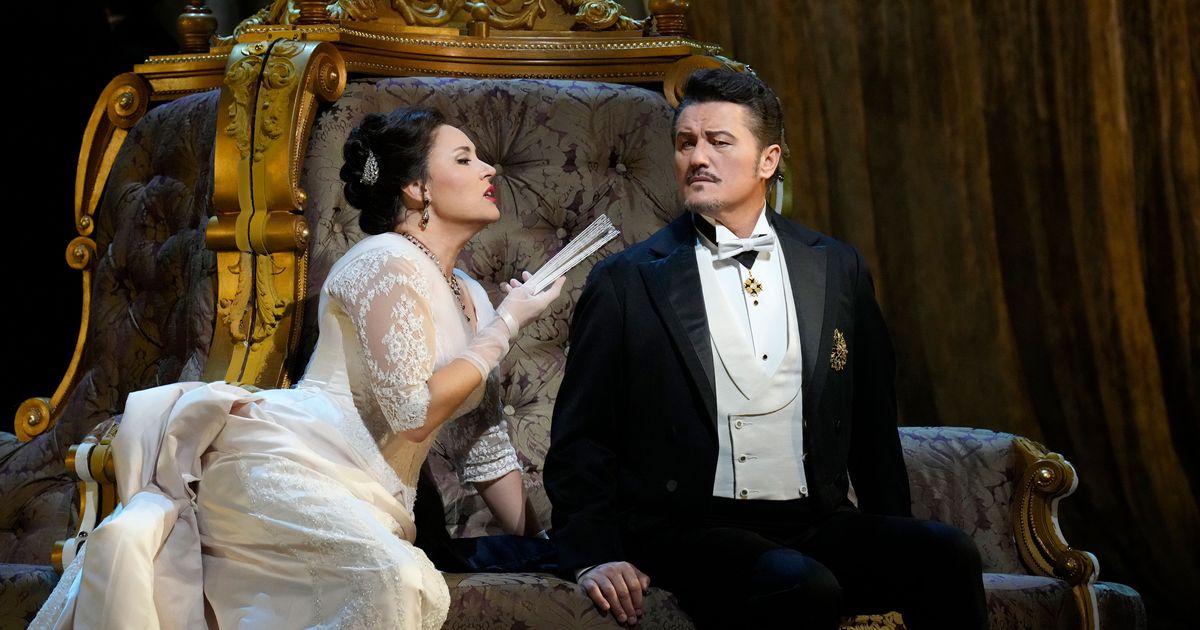 Opera Review: The Met's New "Fedora"
From the Met's new production of Felt.
Photo: Ken Howard
Felt is an opera on the set. It features a Russian palace, a Parisian ballroom and an Alpine villa in Switzerland, with costumes to match the different forms of splendor. Clothes need singers to wear them, of course, and rooms are best when filled with music. The corollary is that the score sounds juiciest when the opulence is excessive enough, and David McVicar's new production for the Metropolitan Opera hits halfway the right degree of excess. Charles Edwards' ensembles offer a whole catalog of coffered ceilings, golden circular sofas and diamond-patterned wall coverings to accompany Brigitte Reiffenstuel's sparkling dresses and tiaras. But a low-end feeling creeps in as bits of one act's mansion are recycled for the next. By the time the troubled Russian expat couple retreat to the Savoy mountains in Act III, dressed in country whites, they seem to have landed in a pleasantly airy, if slightly neglected, Airbnb.
Felt hasn't been seen in New York since the 1996-97 season, when a memorable, lavish production by Beppe De Tomasi debuted at the Met and was promptly returned to its owner, Barcelona's Gran Teatre del Liceu. The reason for her arrival and return at the time was Mirella Freni, the legendary soprano who used the title role as a parting gift to New York audiences – and to prove she still had plenty of fire. in his voice. A quarter of a century later, the Met has had to settle for a B-plus production of a B-minus opera starring leading soprano Sonya Yoncheva, who despite all her talents sings the role as if she found him slightly embarrassing. Fortunately, she can rely on the truly passionate tenor Piotr Beczala in the role of Loris and the support of conductor Marco Armiliato.
The new production kicked off on New Years Eve, and when I caught up with it a few days later, a certain hangover sluggishness took an act or two to wear off. Yoncheva's voice occasionally touched the railings. While she seemed perfectly comfortable with the height that is the birthright of a Russian princess, she seemed less comfortable with all the melting, weak-kneed outpourings, please forgive me who are the inescapable destiny of a veristic soprano heading for the finale. curtain. An opera of this genre favors the great diva who can throw herself into all these conflicting passions – the sharp hatreds and the fiery loves (in this case for the same person) – without worrying about the dangers of absurdity. Yoncheva is not that kind of singer. Even though her voice warmed up and her delivery slacked off, she still seemed to negotiate with her character, trying to make Princess Fedora seem more reasonable and dignified than she is.
This opera has all the right components of melodrama: murder, betrayal, revenge and a pining mother back home, plus the current 1890s twist of an aria on bicycles. Letters get lost, then arrive just in time to ruin everything. Political extremism hides on the margins of history, where the red herrings are kept. And through it all, Umberto Giordano's score continues to spin powerfully, trying to make the whole plot soar. He launches a two-minute salon seduction gem, "Amor ti vieta" by Loris. This nifty take on the number I Know You Don't Mean Yes has been a staple tenor since Caruso's days, usually uprooted from its original context. The rest of the longing and lamentations sound like an early draft of a Puccini opera, before all the rhythmic screws are tightened and the melodies polished.
Don't take my word for it. "I'm not going to pretend this is an overlooked masterpiece," McVicar recently remarked to the Times. "But it's an extremely effective musical theater piece." I'd say that's a pretty soft sell.