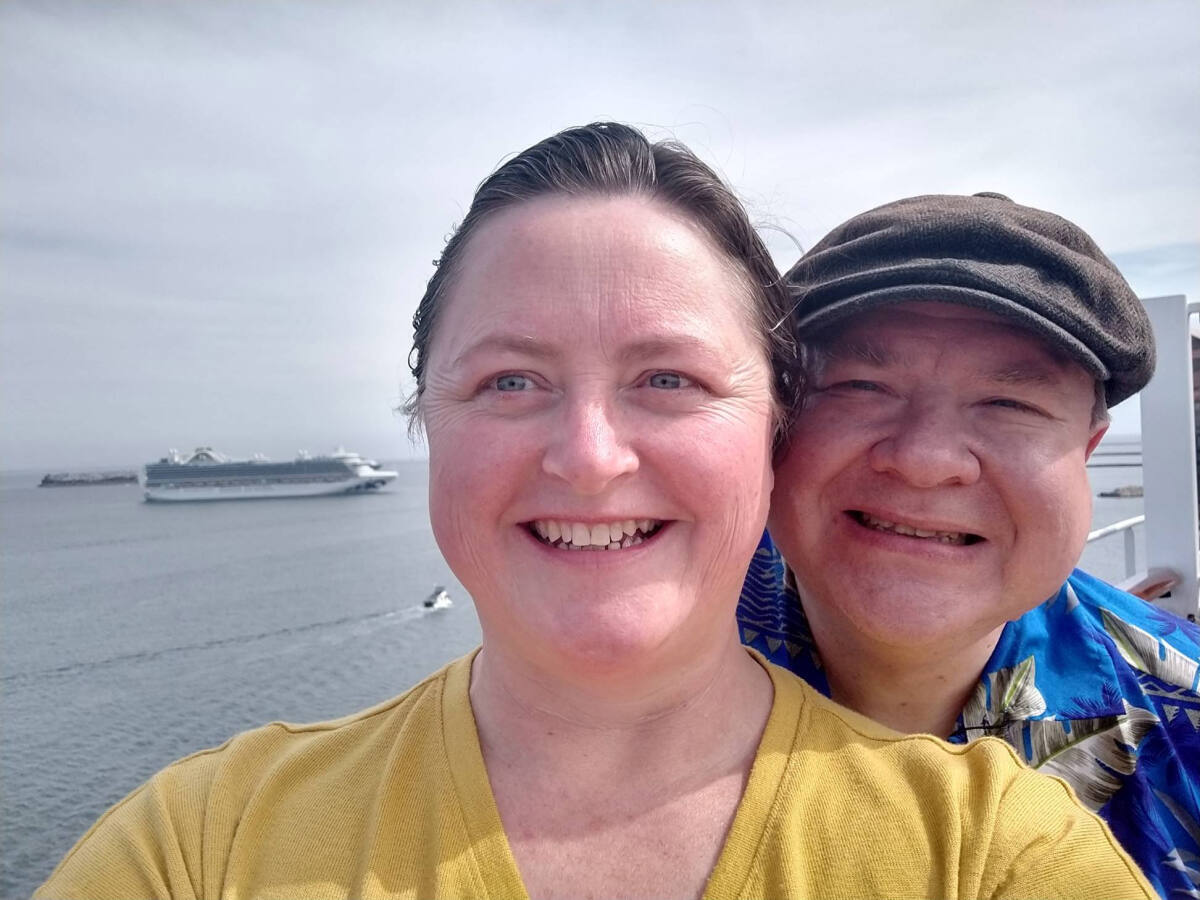 Seattle accountant is retiring on cruise ships to avoid land-based living costs
When Angelyn Burk, a recently retired accountant, decided to do some math one night last year, she made a startling discovery: It would be cheaper for her and her husband to spend their retirement perpetually on cruise ships than to continue living on earth.
"This is how I want to retire," Angelyn, 53, decided at the time. "Life is too short."
She turned to her husband, Richard Burk, and said, "We can do this. Let's make cruise ships our home."
To his delight, he was on board. The couple had thoroughly enjoyed the nearly 10 cruises they've taken together in the past, and they have a mutual love for travel as well as a shared disdain for airports.
They looked online and determined that, on average, they could string together trips on various cruise ships for significantly less money than their collective cost of living on land. All they had to do was jump from ship to ship with a few short breaks in between.
"We've calculated that we can probably live reasonably well on about $100 a day together, with what we've saved," said Richard, 51, who retired as a computer programmer last month.
"It just became a no-brainer," said Angelyn, who quit her job as an accountant in 2019 and served as a bartender briefly before the pandemic hit.
The Burks grew frustrated with the rising cost of living on earth, they said. Between the mortgage, internet, hydro, property taxes, insurance and other costs associated with owning their home in Seattle, the couple were spending more than $3,500 a month. This does not include food, transportation, entertainment and other daily living expenses.
On a cruise ship, however, "there's no extra. The price is the price," Angelyn said. Retiring at sea, she concluded, would be "so much cheaper".
"Living on a cruise ship, you earn your room, you earn board, you have built-in entertainment, you go to different places," her husband echoed. "It's hard to beat that."
Their next cruise is scheduled for July, when they plan to embark on back-to-back cruises for about nine months, with some brief shore breaks. Between cruises, they'll be nomads of sorts, visiting family and friends, as well as staying in Airbnbs and hotels, which they'll pay for mostly with credit card points.
They have tested the waters of their retirement plan over the past year, sailing a nine-day Carnival cruise from Miami to the Bahamas in November, a seven-day Carnival cruise from Long Beach, California to the Mexican Riviera in March, and a 21-day Holland America cruise departing Fort Lauderdale via the Panama Canal, ending in Vancouver in mid-May. The couple now live with their family in Seattle, awaiting the birth of their fourth grandchild, as well as their son's graduation from the University of Washington in June.
Although they haven't sold their house or car yet, they plan to do so soon. Three of their five children – aged 21 to 28 – live in their home and cover the mortgage and other expenses.
Although rare, the idea of ​​spending long periods at sea – particularly as a retiree – is not unheard of. A handful of so-called "cult cruisers" have even made it famous, and some lines have started offering extended vacations for snowbirds.
"It's definitely been on fire lately when it comes to people looking at it as a prospect," said Collen McDaniel, editor of Cruise Critic, a cruise ship review site. "We've heard of a number of people who have done this over the years, and we're hearing more and more [of it].
While the pandemic has temporarily disrupted the cruise industry, it is making a comeback and recently Cruise Critic posted a poll on Twitter, asking, "Do you want to retire at sea?" Of the 141 respondents, 43% voted: "Yes, sign me up!" and 33% voted "Maybe, if it's doable".
McDaniel said the financial savings are a big plus for the long-term cruise lifestyle, adding that the Burks' $100-a-day budget "is totally doable."
The cost of cruises varies greatly depending on the amenities. Economy trips can cost as little as $50 a day — excluding taxes, fees and tips — and luxury lines, which tend to have more inclusive prices, can cost $500 per person per day, McDaniel said.
Many traditional cruise lines have loyalty programs, meaning "the longer you stay, the better benefits you get," she said. "By building that loyalty and staying on the same line, you're really going to save money."
Beyond the financial benefits, there's a simplicity to cruising, she said, as well as an integrated social life.
The Burks said they weren't worried about some of the potential downsides of life on a ship, such as seasickness, to which they said they were immune. They are also unfazed by living in a small cabin.