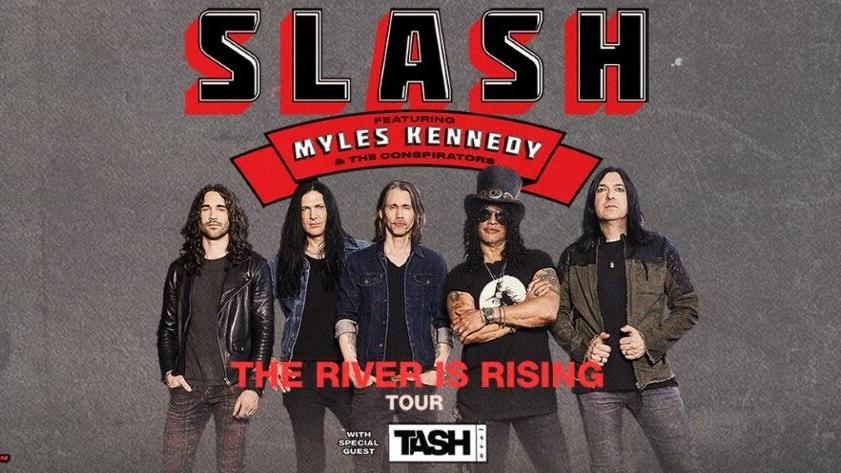 SLASH Comes to DPAC with The River is Rising Tour | Music
Slash with Myles Kennedy and The Conspirators arrives at DPAC on March 19, 2022, with The River is Rising Tour. Tickets go on sale Friday October 29 at 10 a.m.:
– Online at DPACnc.com
– Blue Cross and Blue Shield of North Carolina ticket office at DPAC, 919.680.2787, 123 Vivian Street, Durham, NC, or
Slash with Myles Kennedy and The Conspirators are on tour to perform all of their hits as well as songs from their brand new album 4 (released February 11).
It's been a decade since Slash along with Myles Kennedy and The Conspirators released their debut album together, the famed 2012 Apocalyptic Love. Since then, the band – which besides Slash and vocalist Myles Kennedy also includes bassist Todd Kerns, drummer Brent Fitz and rhythm guitarist Frank Sidoris – was one of rock'n'roll's most impressive and relentless tears, releasing two of the most impactful and highly acclaimed records (the Huge World On Fire of 2014 and the '2018's more streamlined effort Living the Dream), and rocking stages all over the world, from North America to Southeast Asia, from Europe and the UK to Australia and New Zealand, the Middle East and Russia to China, Japan, South Korea and beyond.
But for everything they've done and everywhere they've gone, when it comes to Slash with Myles Kennedy and The Conspirators, there are always new musical boundaries to push and new creative avenues to explore.
Enter 4, SMKC's highly anticipated new studio effort. True to the band's growing legacy, this is everything you would expect from Slash, Myles, Todd, Brent and Frank… but also unlike anything you've heard from them yet. This time around, Slash says, they've captured some "magic" – the sound of five musicians and band mates listening to and playing each other in the spirit of a live collaboration and in the instant.
"There's something very spontaneous and fun, and I love it," Slash says of 4. "That's really the biggest difference on this album – we did it more or less live, and the mistakes are all in there. It's the sound of the five of us playing together in a room.
Of course, he continues, "you can make an amazing album by recording the bass and the drums and putting the guitars in later and stuff. But when can you capture that rock 'n' roll spirit live? It makes it really special.
And make no mistake: 4 is special. The album kicks off with the six-string bugle call of Slash's Gibson Les Paul, which runs through the mix like a siren announcing what's to come – in this case, the opening track "The River is Rising", one of the toughest and most dynamic compositions to date. Unraveling via a menacing, tightly coiled riff and deep pocket groove, the songs transform into a big-screen SMKC-branded chorus, featuring Kennedy's voice riding waves of guitar melody, before stopping on a dime to break into a furious double. temporal instrumental sprint, with the frenetic and agile solo of Slash running above, around, alongside and in the rhythmic gallop at full speed of the band's companions. "It catches you right off the bat," Slash says.
And from the big, deliberate stampede of "Whatever Gets You By" to the slinky grooves and talkbox-drenched guitar hooks of "C'est La Vie", the anthemic swell of "The Path Less Followed" to the inflected boogie of cowbells -Shake of "Actions Speak Louder Than Words", and the grimy Aerosmith-esque funk of "April Fool" to the rampant attack of "Call Off the Dogs", 4 never let go.
To be sure, it's SMKC like you've never heard it before.
Need more proof? See, for starters, the exotic-tinged "Spirit Love", which is introduced by a devious one-note Slash theme played on an electric sitar (but don't worry – it's always performed by "a deep Marshall", Slash assures) then erupts into a psychedelic fever dream fueled by an overwhelming circular riff. Kennedy says, "Every time I hear the song, I see, for example, a cobra dancing in front of a snake charmer."
Or, on the other end of the sound spectrum, the brightly-toned pop-rocker "Fill My World," a heart-to-heart love song – even if, Kennedy admits, it's a love song about her dog. – which blooms with irresistible major-key melodies and one of Slash's most fluid and expressive solos to date.
Or a closer album "Fall Back to Earth," a six-minute "epic," to use Slash's word, awash in cinematic soundscapes and dramatic tonal changes, and anchored by an indelible guitar hook, to this practically not the trademark, Slash.
Throughout, 4 hits on a wide range of sounds, styles and moods, and all with precise musical focus and a dazzling sense of immediacy.
"Everyone was like, 'Okay, we press the red button, the tape recorder is spinning. Just do your best and make no mistake! ' Kennedy said, laughing.
He likens the process to creating a sound snapshot: "You document a moment in time and let things drop where they can. It's a different approach, but very human.
This "different approach" is just one of the many ways SMKC made a difference this time around. While the band recorded their two previous records in Los Angeles with Michael "Elvis" Baskette, for 4 they chose to move to Nashville to work with Grammy-winning producer Dave Cobb, known for leading rock and country projects. by Chris Stapleton, Jason Isbell, Rival Sons and Shooter Jennings, among others.
"Dave and I had this great conversation where we talked about [famed producer and engineer] Glyn Johns and the live recording and the spontaneity and the first and second takes – all of that stuff that's fine for me, "Slash says. "Based on that conversation, I said, 'Let's do it.' "
The experience, continues Slash, was "truly unique". To begin with, he said, "we had to go to Nashville
during the pandemic, and safely. So I was like, 'Well, we're just gonna take a tour bus.' Which was an adventure to herself.
Kennedy takes up the story. "We were trying to be very careful as things were still quite risky. So, we ended up in Las Vegas, and before we got on the bus, we all got tested. Then when we got off the bus in Nashville, we tested again. Before walking through the studio doors, we tested again.
We had all of these protocols in place.
The sessions for 4, which took place in the legendary RCA Studio A in Nashville – "this is this huge historic hall that was once Chet Atkins' studio," Slash says – have evolved rapidly.
"I remember the day before we came in, one of Dave Cobb's assistant engineers said, 'Oh, you're going to be recording by tomorrow night,' Kennedy recalls. "And I was like, really?"
Truly.
"That first day, we walked in, lined up the backline with a few baffles and started recording live, just like that," Slash says. "We recorded two songs a day – vocals, guitars, bass and drums – and we kept everything. Dave just lets us do our thing.
Within a week, the band had recorded about 90% of the music. But it all came to a screeching halt when Kennedy tested positive for Covid-19. "I was the first to fall," says the singer. In no time, Kerns, Fitz and one of the house engineers followed suit.
"We were in an Airbnb in Nashville, and everyone had to quarantine," Slash recalls. "And I was setting there wondering, 'Maybe I should check in at a hotel? But I wasn't going to give up on my group just because they got sick.
"Instead, they just moved the sessions to Airbnb. "I ended up having to finish three of the vocals – 'Spirit Love', 'Whatever Gets You By' and 'Fall Back to Earth' – in the pool house," says Kennedy. "I followed my voice on my laptop and then Todd walked in and did all the backing vocals there as well. Then we sent the files to Dave at the studio.
Slash, for his part, finished guitar overdubs at RCA Studio. And despite his best efforts, he eventually tested positive for Covid as well. In fact, Sidoris was the only conspirator who managed to escape infection. "So, I sent him home," Slash said, then laughed. "I was like, 'You don't have to do anything else anyway, get out of here. Get away from this forsaken place of God!' "
He continues: "It was really this whole period of crisis. But we all went through it together, so in a way, it was also a great bonding experience. "
This experience is reflected, and rightly so, in the sound of 4. "When I listen to a song like 'The River is Rising,' by that point I was starting to get pretty sick," says Kennedy. "You can hear it in my voice, how crowded I was. But that's part of what I find really interesting about this record. We just let these imperfections stand. Because it's all part of the story.
It is a story which, ten years later, is only progressing. "The thing about this band is that it started in one place and has grown since then," Slash says. "And just when it looks like he's got to a certain place, without really thinking about it, we'll come together and naturally move on to another place from there."
Which is certainly evident with 4. "I feel like in a lot of ways it's a continuation of what we're doing, but because of the way it was recorded it's also a progression, "says Kennedy. "The songs were captured and viewed through a different lens that helped redefine sound."
And keep going, they will. "I think we're all pretty surprised and pleasantly surprised that after a decade we're still producing records and we're all still there," Kennedy continues. "But it's because we love what we're doing and we really love each other." He's laughing. "It might not be as exciting as watching people fight on stage, but it's definitely something where people know we're here for the long haul."
Slash agrees. "The Conspirators is such a simple and easy band, and it's been that way since its inception. It's a band where everyone just wants to get together and play, and there really isn't a lot of other stuff getting in the way. We get the gear together and off we go, and once the race is over, we're going to do other things.
"But we always come back to it," Slash continues, "because we love making these records and touring and going out and having a really good time. And as low pressure as it is, it's also great, super important to have that. We do, and it's fun. And that's why we'll continue to do it.