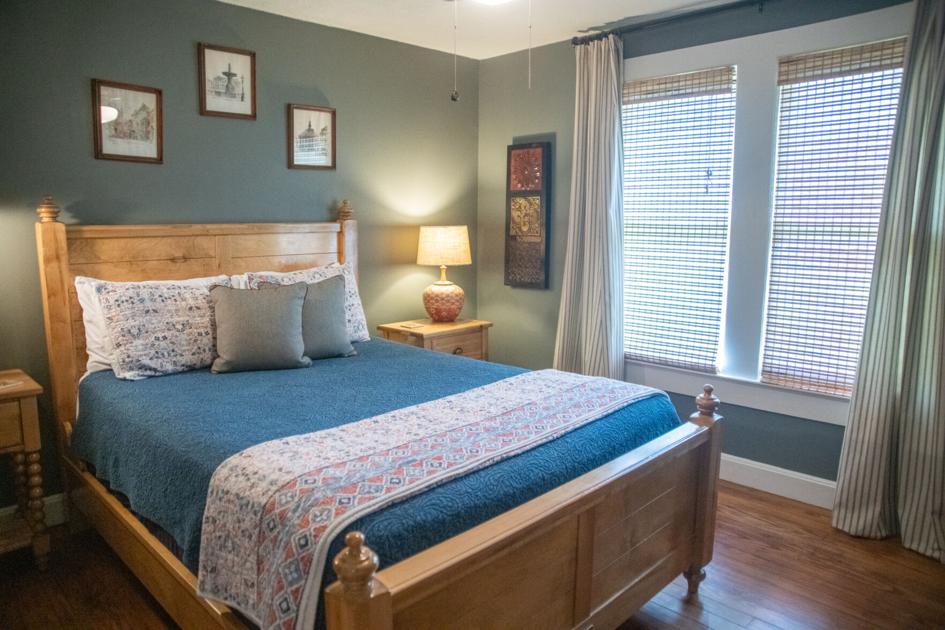 the best AirBnB in the state is in our hometown | New
The Guays make a comfortable place for tourists, visitors to explore, stay in "Home Town"
Mississippi's best Airbnb for 2021 is in Laurel and was featured on the HGTV show that made the town a household name, "Home Town."
The couple who bought the home for $ 74,000 had a renovation budget of $ 140,000 for the 1,600 square foot two-bedroom, one-bathroom home. Based on the reviews and hospitality of the house staff,
Peggy's House was # 1 Highest Rated Airbnb in
Mississippi. In Episode 3 of Season 3 of the series, Ben and Erin Napier help native Canadians Peggy and Patrick Guay find and renovate a home near Old Bay Springs Road. Mr. Guay said the house was initially going to be a vacation spot for his family.
"We were looking for homes in Florida, but then I went to New Orleans and that area, and we decided we wanted to find a place there because of the culture," he said. .
Ms. Guay was a huge fan of the show, and the couple enlisted the help of the Napiers to renovate their vacation home in Laurel in 2018. However, they realized the house would be empty for most of the year and have thought of renting it. They chose to list it on Airbnb to see how it would go, and it's been almost full every month since February 2019. During the pandemic, it slowed down a bit, but some people booked the house just to get away from it all. at her's. during quarantine, Guay said.
"Now I have to schedule a time to come to my house," he said with a laugh.
A map on the wall with pins shows where guests are coming from – all over the United States, Europe, Africa, and Australia. Over 200 guests have booked their stay at The Peggy House.
The house's first guests, Dana, Kim, Leenise and Sima from Birmingham, Alabama, said their stay at Peggy's House was a wonderful experience from the minute they walked into the property.
"We were greeted so warmly at the front door with Liz's smiley face," the guests wrote. "She was so kind to guide us to the highlighted features of downtown!"
Dennis and Jennifer Wagers of Manchester, Ky. Wrote that vintage decor was a feature she admired most in the home.
"I'm a huge fan of 'Home Town' like so many others, so being able to stay a few days in one of their renovations was a treat," the Wagers wrote.
Tray and Lisa Hall of Lancaster, Ky. Wrote that they were "grateful and blessed to be able to stay in the special little cabin.
"Thank you for sharing this with us. Your city is so cute and the people are so welcoming. We hope to come back someday and stay for more than a day, but for now, see you later." writes the Halls. .
While it was called Guay House on "Home Town", they decided to change the name.
"The person who owned the house was also called Peggy, like my wife, so we decided to name both her names," Guay said.
While the house was being renovated, the couple stayed at Bonnie's Cottage and met several other families from "Home Town". They were introduced to Liz Ables, who is now the property manager of Peggy's Home for the Guays while they live on the South Shore of Montreal in Canada.
Ables makes sure that guests have everything they need to enjoy their stay by putting together a special list of great places to visit, eat and shop. She also provides help for birthdays, anniversaries or any occasion that guests may celebrate.
"I want Laurel to not just be a place they stay, but an experience for guests who visit and stay at Peggy's House," Ables said. When guests come to the house, they shouldn't have to bring anything other than the clothes they need for their trip, Ables said.
"We provide everything," Ables said. "Toiletries, shampoo, towels, linens – and we even have a playpen for the kids."
The house also has a trundle bed that folds out for the children to stay in. One of the bedrooms also has a special gift from Ben – a bed he built especially for the Guays with the Scotsman Co. brand. In the living room, the Guays also display a green wall designed by Erin. In the corner of the room, the Guays have also put some Canadian treasures for guests to learn more about their culture. And in the dining room, Erin's original drawings from the show hang on the wall.
While becoming an Airbnb was incidental, the Guays felt it was a great way to use the home and be a part of Laurel culture.
"We're so excited for this award and just over the moon about it," Patrick said.
"The community has really opened up to the tourist attractions that the show has brought to Laurel. There is a lot of inventiveness that they do.
A stay varies from approximately $ 122 per night or more, depending on the season, events taking place in town, number of guests and availability. Visit https://bit.ly/3rFN3Oe for more information or to book a stay.