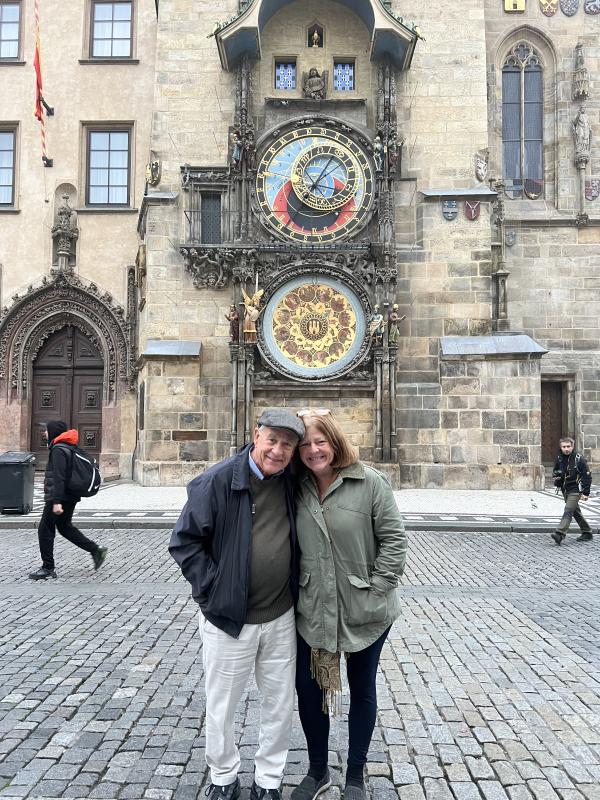 In our thrilling latest episode of "Elise and Steve Conquer Europe," we quickly transformed into two roast pigs and walked more than I ever thought humanly possible (if that human is me). Now, as veteran radio commentator Paul Harvey said, it's time for "the rest of the story." Or at least some impressions of our last two stops.
I had decided to save some money and only buy passes for two of our four cities. Salzburg is small and eminently walkable (or climbable, if you're crazy enough to attempt an alpine pasture). Prague (or at least the old town where we were staying) is also a reasonable walk/hike to and from anywhere. But we were happy to be able to hop on and off the U-Bahn in Munich and Vienna – at least once we figured them out. As we stood there on the subway platforms studying Google Maps late at night, we felt totally fearless. I had to compare this pleasurable emotion to the sheer terror I always feel on public transportation in New York and Philadelphia, where looking even vaguely lost instantly marks you as easy prey. Sigh.
We stayed the longest in Vienna and loved every moment. Highlights included a magnificent classical concert at the Musikverein and learning about the powerful Habsburgs, including the charming and doomed Empress Elisabeth – nicknamed "Sissi" – who was battling depression mightily and would have been relieved to be killed by an anarchist. At the time, the family was still incredibly wealthy and powerful; Sissi's story was a stark reminder that these things don't guarantee a happy life.
On a lighter note, we really enjoyed a show at the Spanish Riding School, featuring the royal Lippizaner horses, the majestic beasts performing routines to (of course) classical music. We also took a delicious food tour of the city, complete with glasses of 'storm', a seasonal drink made from fermented grape juice pressed before it becomes wine entirely.
Prague was our last place, and it was magical. Our apartment was right next to the famous 15e astronomical clock of the last century, with the figures of the 12 Apostles who come out every hour through small doors). We went to Prague Castle, cruised the Vlitara River and ate some great Czech food (no 100% pork products, there was a lot of duck too :-). On a day trip to the city of Kutna Hora, we visited the Church of Bones, where hundreds of thousands of ancient human bones have been transformed into chandeliers, armour, winged death angels, etc. . Strangely, it's not too scary.
We got home late last night and can't wait to give Aiden and Peter their Viennese chocolates and regale the boys with tales of palaces, magic clocks, prancing horses and (of course) all those bones.
Legend has it that touching the bronze statue of Saint John Nepomuk on Charles Bridge in Prague brings good luck. We did, but it really wasn't necessary – we knew without a doubt that we were already the lucky ones.