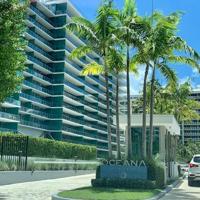 The rules for short-term rentals can be complicated, but they're growing in popularity – how does the Village handle code compliance? | Vizcaya key
Florida's short-term rental regulations come with a long list of concerns and ambiguous rules, especially for local governments such as the Village of Key Biscayne.
"We cannot enact local regulations that violate state law; it supersedes anything we do," said Jeremy Calleros Gauger, director of construction, zoning and planning, and town planner. .
But it will soon address several shortcomings, he said, such as mapping every rental property, even those not registered with the Village; ensure that all business taxes are collected; and enforce fire and code inspections, for example.
"We have to follow these things," he said.
State law does not allow local municipalities to completely ban short-term rentals or regulate the length of stays or their frequency. Since 2014, however, local governments have been allowed to adopt rules to control the negative effects of vacation rentals, such as noise and cleanliness.
Miami, for example, has a law on its books banning Airbnb, "but they're not allowed to enforce it," Calleros Gauger said.
Concerns have recently increased in the Pinellas Park area, according to a Florida Phoenix report (Problems with short-term vacation rentals in Florida persist; will there ever be a statewide solution?), citing that problems still exist with short-term vacation rentals without an indisputable set of statewide laws in place.
"Residential doesn't make sense if you allow walk-in housing," said one Indian Rocks Beach resident. "They are really destroying what was once a peaceful and safe community."
City leaders are considering tightening the rules, which in turn has rental property owners worried that tighter regulations won't benefit them or the city, which could also lose valuable tourist dollars.
Florida Law 509.242(1)(c) defines a vacation rental as "any group of units in a condominium, co-op, or timeshare plan, or any individually or collectively owned single, two, or four-family house or dwelling unit that is also a public lodging establishment transient."
Airbnb and Vrbo are simply travel website company names for the more precise definition of "short-term rental," "like tissues are generic for Kleenex," Calleros Gauger said.
According to the City of Key Biscayne's Code of Ordinances, under Chapter 7-31, regarding "vacation rentals":
– The owner of a Holiday Rental must obtain a Professional Tax Receipt in accordance with Section II. Chapter 25 of the municipal code.
– The minimum rental period must be 15 continuous days (although the regulations of each condominium supersede the ordinance). There is no maximum rental period.
– All occupations and other activities must comply with village land use regulations and other health, safety and welfare regulations – including but not limited to all noise regulations , Nuisances and Special Events as currently in effect.
The total cost to the Village by the owner of a short-term rental is $310.76, including a certificate of use, fire inspection and annual business tax receipt (costing $115.76 $). Failure to obtain this receipt will result in a Notice of Code Violation in the amount of $250.
"It's difficult to enforce a 15-day minimum," Calleros Gauger said. "Generally it's better when you have long-term leases, because (tenants) tend to take better care of the property."
What he doesn't want are single-family units in a neighborhood that "acts like a hotel," as Pinellas County residents put it, with "more unfamiliar faces every day next to our homes," as the noted a gentleman.
The popularity of short-term rentals in Key Biscayne, a glamorous vacation destination with a world-famous hotel, the Ritz-Carlton, is predictably high.
A quick glance at Apartments.com shows that 10 short-term rentals (still in winter) were available Thursday, ranging from $6,600 per month for a two-bedroom condo to $25,500 for a five-bedroom home.
In total, including hotel rooms and other home rentals, 106 rentals were available Thursday, according to Zumper.com.
Politicians push for reform
According to the Florida Phoenix report, the communities with the most short-term rental problems in the state are typically found in Miami-Dade and Palm Beach counties.
In Miami Beach, city zoning rules only allow short-term rentals in certain residential areas and not in major single-family residential neighborhoods. With respect to the unincorporated area of ​​Miami-Dade County, no short-term vacation rentals (even partial) are permitted without a Certificate of Use issued by the Department of Regulatory and Economic Resources (RER) from Miami Dade.
In 2011, Governor Rick Scott signed a law prohibiting local governments from enacting any new laws restricting the use or regulation of vacation rentals, leaving that power to the state government, although 75 communities were granted rights acquired.
But, in 2014, the Legislative Assembly decided to allow municipalities, such as Key Biscayne, to manage critical issues, such as noise and waste.
The only proposal tabled so far for the next legislative session is that of Miami-Dade Republicans Ileana Garcia in the Senate (SB 92) and Fabián Basabe in the Chamber (HB 105). Both lawmakers want to require vacation rental operators to respond to complaints and other immediate issues by providing local governments with certain contact information.
Calleros Gauger said Key Biscayne officials are working on several components of the short-term rental issue, ensuring code compliance at each location, particularly around fire inspections; collect all business tax receipts to help with city revenue; and identify each rental location.
"We actually work with a software provider that kind of tracks unregistered short-term rentals," he said. "When you rent on Airbnb, for example, you'll notice that it doesn't give you the exact address until you book that property.
"Using Google Street Views, we can actually pinpoint where the ad (leads to this address). It acts as an assistant to our code compliance officers."
One of the underlying problems with Airbnb-style rentals, Calleros Gauger said, "is that they tend to drive up (overall) rental rates and take properties out of the rental market," which impacts at the national level, particularly in areas where accessibility is a problem.
"And that can be a problem," he said.
For questions regarding short-term rentals on Key Biscayne, please contact the Village Office via email at [email protected] or by phone at (305) 365-7572.