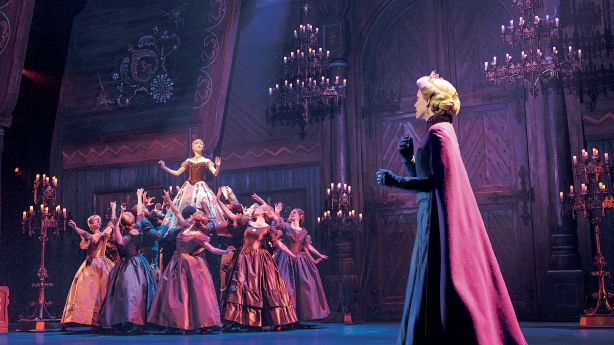 Utah actors finally get back to work as Disney's "Frozen" opens at Eccles
Caroline Innerbichler as Anna and the FROZEN Company's North American Tour. (Deen van Meer)
Estimated reading time: 3-4 minutes
SALT LAKE CITY – A long winter induced by COVID-19 has finally thawed at the Eccles Theater in downtown Salt Lake City.
from disney "Frozen" opens Tuesday, the first touring music production to grace the Eccles stage since the COVID-19 pandemic abruptly ended the highly anticipated production of "Dear Evan Hansen" 591 days ago.
As the pandemic swept the world, tours of Broadway productions came to a halt across the country and several Utah actors were instantly out of work.
Riverton High School graduate Michael Milkanin is not only happy to be back to work, but he is happy to be home as well. As happy Oaken in "Frozen", Milkanin will give a friendly "yoo hoo" to family and friends of the audience on opening night.
Milkanin was in month three of the "Frozen" nationwide tour in Portland, Oregon when the world suddenly stopped. Company management told the cast that things were closed for four weeks.
"We all thought we had a vacation," Milkanin said, as he booked a quaint Airbnb with friends.
This four week vacation has been extended to a year and a half sabbatical.
"It was surreal," Milkanin said. "All of a sudden our career has taken a back seat and is sort of seen as' non-essential ', so you start to ask yourself' is it time to pivot? Do I have to find essential work? ""
One by one, Milkanin saw friends from the theater world look to new careers, while others, like Milkanin, stuck it out.
Holladay resident and Olympus High School graduate Kalyn West was touring the country with the cast of "Mean Girls" when the nationwide Broadway tours ended.
"At the time, no one knew how long it would take," West said. "It was hard to absorb. We didn't have a job. Everything was gone. How is anyone supposed to be prepared for this?"
West used the time in quarantine to meditate and connect with his family.
"I was able to look at myself in a whole new way," she said. "I define myself by my work, by how much I produce and how much I succeed. Suddenly it all went away, but I'm still here. Who am I without it all?"
West didn't let the coronavirus stop him from chasing his dreams. She has just been chosen as one of the protagonists of the nationwide tour of "The Prom" and has just completed a series of "The Gardens of Anuncia" at the Old Globe Theater in San Diego.
West and Milkanin both found a bright side to the experience. West was able to be at home for the first few months of her first nephew's life, an experience she never could have had in New York. Milkanin spent Christmas with his family for the first time since 2014. He was also able to help his sister recover from breast cancer.
Despite all this, the two actors were eager to get back on stage.
"It's like home," West said.
And the audience was also impatient.
After the curtain rises during the relaunch of the "Frozen" tour in Buffalo on September 10, Milkanin said "the audience has gone mad."
"The give-and-take energy was so palpable and incredible," he added. "It cannot be created anywhere other than in these spaces. It is beyond."
Disney's "Frozen" is Now Playing at the Eccles Theater in Salt Lake City and runs through Saturday, November 13.
---
×
Pictures
Related stories
More stories that might interest you