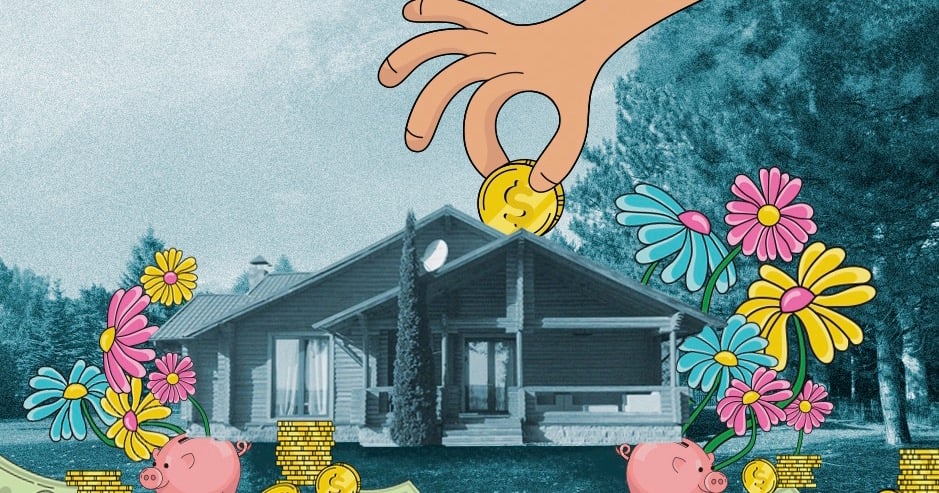 Why Some DC People Buy a Second Home First
Artwork by Niky Chopra.
Jessica Church and Dan Appenfeller were ready to embark on a rite of passage that many young adults grapple with: buying a home. (Also on this list: having a child, getting life insurance, becoming a Costco member.)
Unfortunately for Church and Appenfeller, and all other Americans who have recently thought of owning their own form of shelter, the housing market has been, to say the least, insane.
When the married couple, who live in Dupont Circle — Church, 32, works in politics and Appenfeller, 30, is a journalist — started looking for a DC condo, they were quickly disenchanted. The prices were "pretty unreasonable," Appenfeller says, and many of the buildings they considered also had "surprisingly high" HOA fees, Church says — "money you set on fire."
Both love to hike Shenandoah National Park and were returning to DC after a weekend there when Church turned to Appenfeller and asked: Would it be a bit crazy if our first mortgage was on a second home here?
Maybe not. They started snooping around and in February of last year bought a cabin in Stanardsville, Virginia. They got four bedrooms, two and a half bathrooms, 3,000 square feet and five and a half acres for the sweet price of – deep breath – $495,000. (For comparison, this will get you a one-bedroom, one-bathroom Adams Morgan apartment.)
Because their job requires them to be in DC a few days a week and they're not ready to leave the area permanently, they've continued to rent and live full-time in their two-bedroom Dupont basement apartment. and two bathrooms. They Airbnb their Virginia cabin on weekends when they're not there, which helps pay the mortgage.
Church and Appenfeller are part of a trend: first-time home buyers in metropolitan markets like DC who, frustrated by the lack of affordable housing and ready to build equity, continue to rent in the city while buying their first home in cheaper markets.
This comes as mortgage rates have risen, housing stock remains low and prices remain relatively high. All of this means that it can be very difficult to buy a first home: 26% of buyers were first-time buyers between July 2021 and June 2022, according to a National Association of Realtors Report, the lowest percentage the group has ever seen. The median age of first-time buyers rose to 36 during this period, a historic record.
While there is no data specific to the new second home buyer trend, Zillow economists named it one of the 2022 real estate trends to watch. Meanwhile, the percentages of those who bought homes in small towns and rural areas peaked in the past year (29% and 19%, respectively), says the NAR report.
Of course, more people were able to do this during Covid, thanks to remote working and low interest rates. But Bonnie DaSilva, the agent who worked with Church and Appenfeller to buy their cottage in Virginia, says she's seen a growth since 2015 in the tendency for young people to view home buying in terms of an investment, as opposed to looking for a main residence. She attributes this to the fact that younger buyers are more knowledgeable about real estate, buying options and wealth-generating opportunities: "Ultimately, they view these purchases as investment vehicles for the future. "
The trend is not without problems: some buyers might not be willing to take on the risk and hassle of maintaining a home hours away, or might not be able to pay a property manager to do it. You also can't take advantage of homeownership programs, DaSilva says, because those properties aren't primary residences and you could be subject to capital gains tax when you sell.
Plus, outside buyers entering cheaper markets could potentially drive up prices in the area and displace current residents, says chief economist at BrightMLS Lisa Sturtevant"It can create more of a housing shortage for residents of those more affordable, more remote jurisdictions who don't have the incomes that those DC folks have."
It can also exacerbate wealth disparities in the Washington area, she points out, because those who can afford to get around high prices (and can pay both rent and a mortgage) do so, leaving those who cannot further behind. Still, as affordable options remain slim, Sturtevant predicts early buyers will continue to seek out original tactics: "There's no more traditional path."
---
More room, more room to breathe
Jamie Manning, 33, who runs a digital media agency and the real estate platform DC Exposed Brickbought his first home in 2021: a $325,000 two-bedroom, two-bathroom home near Charlotteville— a good two hours from where she lives full-time with her husband in a two-bedroom, two-bathroom Navy Yard apartment.
The pandemic made Manning realize she wanted more square footage and outdoor space, which she couldn't comfortably afford in the district. The couple could have maxed out their savings on a DC townhouse for more space, she says, but the current market has made Manning nervous. Hence the Virginia house, which gave her the space she wanted at a price that allowed her to breathe, plus extra money for renovations.
The couple spend about a week a month at the property and plan to rent it out one day to help them afford a bigger forever home in DC or Charlottesville. "A lot of people our age have more flexibility with remote work and really want to build capital and invest in real estate," she says. "And DC, it's just a really tough place to go, given the prices."
Alex Alterman was a pioneer of this movement: he bought his house in Solomon Island in 2016. The 43-year-old realtor continues to rent full-time at Dupont Circle. He bought his home in Maryland for $525,000, a price that got him four bedrooms, two bathrooms, a pool and beachfront property. "I wasn't going to be able to afford what I wanted really buy in town, which was something [with] a deck or outdoor space or a simple townhouse with a yard," he says. "It was the best thing to do."
He's not ready to move there full time – he still loves the city life – but does come home several times a month to get the space and quiet he needs. Due to the price, Alterman was able to invest around $125,000 in the renovation, and Zillow now estimates the house to be worth around $774,000. "People will always want to have a place of their own," he says. "If it's not available in the city, and they just can't do it, they look outside."
---
Rewrite the story
While Church and Appenfeller will remain based in DC for now, they could eventually make the Stanardsville home their primary residence and keep a small studio in town, especially if the market continues at this pace. "[In the summer of 2021,] we probably had three to five years left before we could get a house in DC," says Appenfeller. "But now that interest rates are crazy, who even knows?"
Initially, the two felt nervous about sidestepping the traditional narrative surrounding buying your first home, the one you've probably heard from your baby boomer parents: Save up, buy an affordable first home in your 20s. , use the proceeds from the sale to buy a bigger house, repeat .
"If you had a middle-class upbringing, there are so many signals of the right way to do things to continue to be financially secure," says Appenfeller. "And the idea of ​​breaking the rules and being like 'I'm going to have a vacation home' was kind of self-indulgent and like I'm going to get in trouble for it." (Their parents were also somewhat confused, Church says: "It's so different from how they bought their first house which cost around $50,000.)
But it can also be liberating to get away from the stereotypical narrative, Alterman points out, and do something that works for you and your budget: "It's good that people realize this young and decide, 'Okay, that' is something I can do. It's a way to make myself happy and build my future."
When Church and Appenfeller drive to their cabin, which sits on its own little mountain with a wide porch overlooking the Blue Ridge, close to vineyards and hiking trails, with the kind of space to accommodate the family and the friends they could never get in town – it sounds like a dream come true. Church says, "I never thought I would own something this size.
---
---
This article appears in the January 2023 question from the Washingtonian.