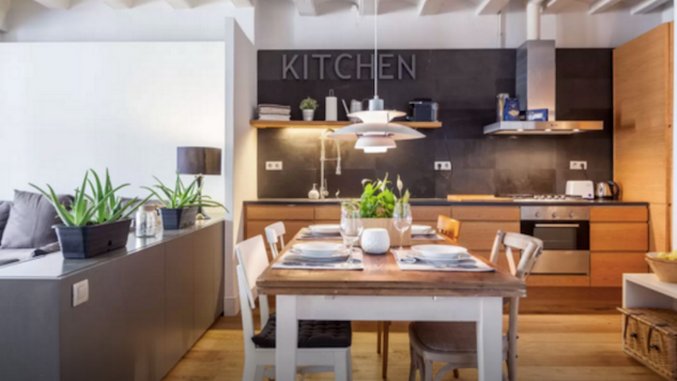 10 beautiful Airbnbs in Barcelona for $ 100 or less
When it comes to Airbnb rentals, a few cities stand out for their high-quality, low-cost offerings. Barcelona is one of those cities. The capital of Catalonia has some of the most designer, spacious and affordable rentals we have seen on our 'round the world' tour and we are not the only ones to notice it. In December, the city slapped the company with a fine of 60,000 euros for advertising unauthorized apartments. They might be tightening their rules, but we believe Barcelona will always be one of the best places to choose an apartment rental over a hotel. Here are 10 of our favorites.
Note to reader: the descriptions correspond to the images just above the text. And, please be sure to check prices and details before booking your stay.
Enjoy the open floor plan, spacious kitchen, and stylish bathroom in this apartment located in El Born (photo above), a medieval district with a resolutely modern atmosphere. The separate bedroom has a small terrace overlooking the tree-lined street. A metro station is nearby, but the idyllic Parc de la Ciutadella and Barceloneta Beach are just steps away.
Wake up to a view of the Sagrada Familia at this small apartment downtown. The mezzanine has a skylight overlooking the iconic bell towers of the basilica designed by Gaudi, or you can admire the view from the apartment's terrace. There is a small kitchen with all the essentials, an updated bathroom and a living room with a sofa bed for additional guests. Bonus: it's on average around $ 55 / night.
This boho-chic two bedrooms can accommodate six people and is suitable for children. The living room and dining room are decorated with cool vintage furniture and decor, while the kitchen and bathroom are renovated and fully equipped. It's in the very touristy Gothic Quarter, a short walk from Las Ramblas, Plaza Catalunya and more tapas restaurants than you can eat a churro.
Occupying the entire floor of an apartment building from 1888 in the trendy El Raval district, this two bedroom architect apartment has original tiled floors, wooden windows and vaulted ceramic ceilings. Featured in an article on Design trawler, the lovingly restored space is decorated with finds from all over Barcelona. There is a terrace next to each room, and it's three minutes from Las Ramblas.
With all the cultural and culinary delights that Barcelona has to offer, it's easy to forget that it's a coastal city. This boat rental gets you as close to the water as possible by staying in the city's Olympic Port, five minutes from the beach. There are toilets on the boat as well as toilets nearby.
Located in the chic Eixample district, this two bedroom apartment has floor-to-ceiling windows opening onto a large terrace, a comfortable living and dining area and a view of the Sagrada Familia. Past guests congratulate the host for happily accepting late check-ins and even offering cookies as a welcome gift.
You will find beds galore in this ultra-modern apartment El Born are four double beds in all. There is also a deep soaking tub and walk-in shower, washing machine, Nespresso machine, and breakfast basket. Over 160 five-star reviews praise hosts Sailor and Lula for their welcome and help, from giving advice on nearby restaurants to dropping off a welcome bottle of cava.
This a charming room in Gracia is off the beaten tourist track but within walking distance of major attractions as well as markets and restaurants. There is a comfortable bedroom, a comfortable living room, a working area and a dining area.
Efficiency is the name of the game at this studio in the Sants barrio on the outskirts of town. Sleep on a Murphy Murphy bed and enjoy the view of the local rooftops from the balcony. For larger groups, an adjacent studio can also be rented.
This family apartment near La Sagrada Familia has a bright and airy kitchen, a sun terrace and a bathroom with a rain shower. Three metro stations are nearby as well as bakeries, bars, shops and markets.
Looking for more on Barcelona? To verify The Airbnb guide to the city's neighborhoods.
To stick on Airbnb Columnist Erica Jackson Curran is a former editor of the alternative weekly turned freelance moonlight based in Richmond, Virginia.