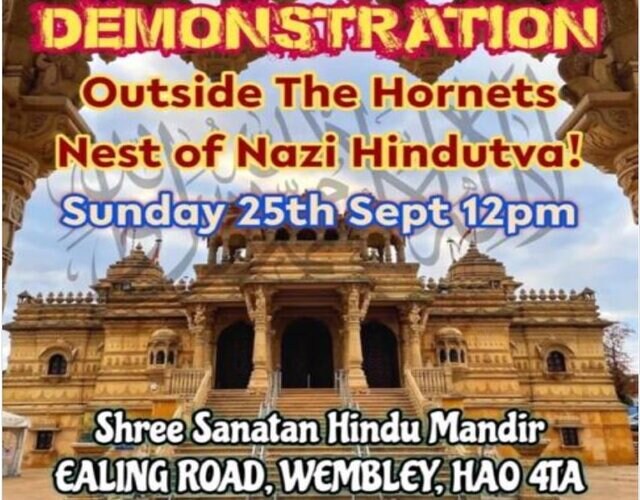 After Leicester, Birmingham now Islamic jihadists target Wembley Temple
Message calling for a protest outside a Hindu temple in Wembley shared by the apnamuslims account on Instagram.
New Delhi: Security has been tightened outside a Hindu temple in Wembley in the UK after Islamists called for a protest outside the temple on Sunday.
It is the latest in a series of incidents targeting Hindus in the UK in recent days.
Upon learning of the threat, Wembley Constituency MP Barry Gardiner tweeted that he "contacted the police about the incitement to protest outside the Hindu temple".
I contacted the police about the incitement to protest at a Hindu temple in my constituency tomorrow. Anyone considering protesting should stay away and recognize that hate crimes carry prison sentences.
Hindus should not go "defend" the mandir. It's the job of the police.

— Barry Gardiner (@BarryGardiner) September 24, 2022
The police began patrolling the area. On Sunday, Brent Police tweeted that they were continuing "patrols of religious establishments in the diverse borough of Brent."
Islamists target Wembley Temple
Following similar attacks in Leicester and Wembley, an Islamist group shared messages calling for a protest outside the Shree Sanatan Hindu Mandir in Wembley.
What happened in Birmingham and Leicester
Last week, a mob vandalized a Hindu temple in Birmingham, UK.
The cycle of violence was triggered on August 28 after India won the T20 Asian Cup match against Pakistan. A clash broke out between groups of young men from Leicestershire, according to the police statement, ANI reported.
Various videos and reports have circulated on social networks about organized gangs vandalizing and terrorizing Hindus in the UK Leicester City. The incident follows a wave of violence and disorder in the eastern part of the city.
With contributions from agencies
Read all Recent news, New trends, Cricket News, bollywood news,
India News and Entertainment News here. follow us on Facebook, Twitter and instagram.