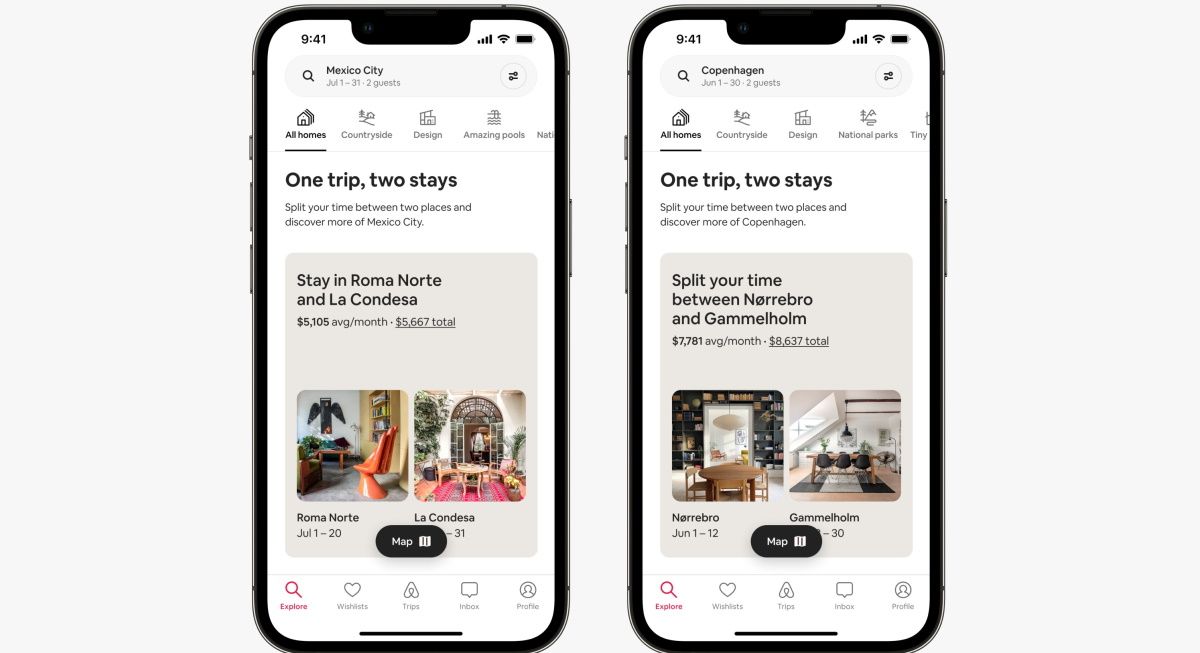 Airbnb Allows "Split Stays" to Ease Inventory Issues
In what has become a familiar cadence of semi-annual full updates, Airbnb publishes the latest version of its platform, described as "the biggest change to Airbnb in a decade".
In 2021, Airbnb also released widespread revisions to Can and again in November.
One of the coolest updates to the "Airbnb Summer 2022 Release" is a feature to split bookings for stays of at least a week and up to six months between two properties, creating a solution to meet the growing demand for longer stays.
In a call with financial analysts last week to review the company's first quarter 2022 earnings reportco-founder and CEO Brian Chesky said, "Stays of one month or longer continue to be our fastest growing category, tripling over 2019. And nearly half of our nights booked in the first quarter were for stays of a week or longer and one in five nights booked were for stays of a month or longer."
Eighty-seven percent of Airbnb listings accept stays of 28 days or longer, but in some markets demand exceeds available inventory for these types of bookings.
Subscribe to our newsletter below
"We've seen people struggle to find places that are open for 20, 30, 40 days at a time, especially in markets where we're seeing high demand. So the team came up with this idea: why don't we have an algorithm that basically helps people find the inventory, or puts together split stays, so we can adapt to the period and length of stay », explains Tara. Bunch, head of global operations at Airbnb, in an interview with PhocusWire.
When a search for a longer stay returns less than 300 properties, Airbnb will automatically offer options to split the stay between two properties that match the property type and amenities of the search. The company claims this will cause up to 40% more listings to appear in markets where inventory is limited.
Users can indicate how far they are willing to travel between the two locations, from two to six hours, view properties on a map that shows the route, and then book them, one at a time, in a single booking flow.
Full Categories
The "Split Stays" feature is also integrated with another feature launched today called "Airbnb Categories," which organizes properties by style, location, or proximity to an activity.
Categories are an extension of the 'Flexible Destinations' tool launched in May 2021, where a user could choose 'I am flexible' in the location field to be presented with options to select homes from one of 27 categories. Now users will see 56 categories on the Airbnb homepage of its website and in the app.
Bunch says the goal is to make users aware of the variety of properties available on Airbnb and give them more choices about how they begin their discovery. Those who start by selecting a category can then refine the results with dates, location and other filters such as average price per night or number of rooms.
Style categories include "Incredible Pools," with a million properties; "design", with 27,000 properties that have been featured in design publications or designed by a renowned architect; and "windmills", with 190. Location categories include 900,000 properties near a beach, 120,000 near a vineyard and 6,500 in or near the Arctic Circle. And activity categories refer to the suitability of a property for an activity, such as skiing, for which there are 400,000 properties.
According to Airbnb, to date, four million of its six million properties have been ranked in at least one of 56 categories thanks to machine learning systems that analyzed title, descriptions, photo captions and structured data. hosts and guest reviews.
Computer vision technology also displays the appropriate primary photo for each property, based on the category searched. For example, a house listed in the categories "chef's kitchen" and "grand piano" will display the corresponding photo, depending on how the user finds the property.
Fourteen of the 56 categories also offer the ability to split the stay between properties, meaning a user can choose the "surfing" category and split the stay between properties in two different beach towns.
"It's an incredibly smart algorithm. And the more we build on that, the better able we will be to meet the unique needs of any client, regardless of criteria," says Bunch.
"It's, I think, unleashing a creativity in the journey that we may not have seen in a long time."
Guest protections
Also as part of these latest updates, Airbnb is enabling a suite of guarantees for guests. The protections are part of the "Air Coverwhich launched in November with protections for hosts.
Now, extending it to guests, Airbnb says it's "the biggest Airbnb customer service upgrade in a decade."
Guarantees include a promise to find a similar home or issue a refund if the host cancels a stay within 30 days of check-in; if the guest is unable to check into the property; or if the property is not as advertised.
Airbnb has also created a 24-hour communication line available in 16 languages ​​through the app and on its website, staffed by trained agents to resolve issues and assist with rebooking if needed.
"You'll see a big red 'get help' button. … Whenever you need help from us, you hit the 'get help' button and you're basically going to a support flow that includes human and messaging interactions," says Bunch.
"It's really a more proactive approach to getting help for our customers when a problem arises. It's rare…but it feels like when it does happen, it can be really acute if you don't look into it and deal with it quickly.
Airbnb revenue reached $1.5 billion for the period from January to March for the first time in the company's history. The US home-sharing and alternative accommodation giant saw revenue grow 70% year-over-year – 80% more than the corresponding quarter in 2019 ($839 million), before its listing on public markets.