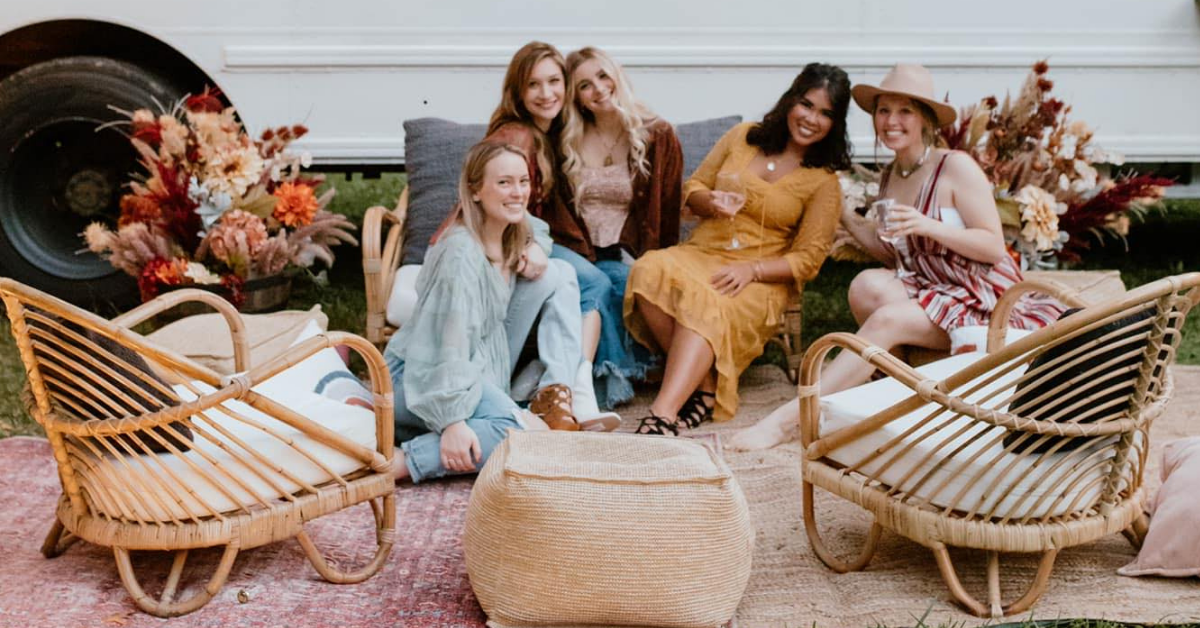 All aboard the Boho Bus + other exciting companies heading to Birmingham
Reading time 3 minutes
We're kicking off November in the best possible way, with new openings in Birmingham, of course. Today we're running from Homewood to Montevallo in search of the most exciting businesses opening up in the Birmingham area. Let's drink to that!
1. Boho bus events
Enter the brand new event concept of The Boho Bus in Birmingham. For a girls night out, a gift with friends, or any upcoming celebration, you can also hire The Boho Bus from Boho Bus Events. They personalize the bus according to the event of your choice with different packages ranging from "The Love Bird Special" to "The Boho Bus Tea". Each package includes a nice range of food and decoration, so you can have a perfect event.
Owner Taegan Crim was born in Alabama and raised in So-Cal. She therefore seeks to bring all the bohemian vibes to Birmingham to complement her roots based in Southern hospitality. If you are looking to be "the hostess with the best" look no further than your own backyard and let Taegan organize the event of your dreams.
2. Sola Salons — Boutiques in Montevallo
A new Sola Salon location is heading towards Montevallo. After three Hoover locations and one in Homewood, franchise owner King Rogers is excited to move further south. This location will be next to several major freeways and will be close to local grocery stores, so shopping will be a breeze.
While this location is slated to open in early 2022, you can get top notch salon service from any surrounding location. It will have 30 lounge areas and will allow independent stylists to have their own creative space.
3. Rodney Scott's barbecue
All barbecue lovers, Rodney Scott's is coming to Homewood. While we don't have a guaranteed opening date, they gave us the scoop by letting us know that they are targeting mid-late December. Hard to believe that December will be here in the blink of an eye!
For those who don't know all the delicacies that Rodney Scott's serves, you are missing out. This barbecue joint has three locations in the southeast and focuses on the whole pork barbecue as well as the traditional south sides. In addition to their cuisine, their friendly atmosphere sets them apart.
"There are no strangers at Rodney Scott's Whole Hog BBQ. Everyone has their place at our table.

-Rodney Scott
4. Bandit Patisserie — to come
We heard through the vineyard that Bandit is officially opening another storefront, this time in Birmingham city center. We love to cover exciting companies, but it's even more exciting when they have a story like this. After their Homewood store closed earlier this year, owners Kristen Farmer Hall and Victor King have made the switch to retail Saturdays at Pepper Place Market.
They plan to open next to Bar La Fête, a new Parisian wine + cuisine bar opened in 2022 by Hall and King. These two together will bring new energy to the already new Mercantile on Morris. We can't wait to see fresh pastries, bread, croissants and a new espresso bar in their new location.
5. MELT — Lane Parke
As we move into the holiday season and prepare for the start of 2022, it reminds us of all of our openings in early spring. This is the one we absolutely must mark our calendars for – MELT in Lane Parke. This place makes us hungry for all the grilled cheeses, sandwiches and tasty salads. Pro tip: We recommend their chicken and pesto sandwich.
Stay tuned for construction and opening announcements here and on the MELT Instagram page. Along with MELT, other exciting companies will be heading to Lane Parke in early 2022: Chop N Fresh, Ignite Cycle, Jeni's Ice Cream and BaseCoat on Fifth.
Want more animated openings delivered straight to your inbox? Subscribe to our newsletter here.