Celebrate Mardi Gras Like a Local: A Guide to Mardi Gras, New Orleans
There are many places in the world where you can celebrate Carnivalfrom Rio de Janeiro to Venice, but there's a reason why Mardi Gras in New Orleans is listed among the most famous of these bawdy and extravagant traditions – it's just a jolly good time.
Steeped in tradition and hosted in one of the most hospitable and interesting places in the world, Mardi Gras is synonymous with New Orleans, although it was not the first place in the United States where it was celebrated. (Many believe that the honor belongs to Mobile, Alabama, but it's still fair to say New Orleans perfected it.) That reputation is a double-edged sword. Many think the holidays are about women baring their breasts for cheap plastic trinkets and everyone drinking sickening, deadly strong cocktails on Bourbon Street.
The problem is that all of this is true. But to limit New Orleans to this small piece of understanding is to profoundly degrade and dismiss the cultural value and texture of a complicated but glorious city-wide celebration that is as much a good time for tourists as it is for for locals who teach their children to carry on traditions.
But this is your year to dive in headfirst, to truly understand and experience this unique New Orleans custom. Here's your guide on how to do it all and soak up Mardi Gras like a local.
What is Mardi Gras and why does New Orleans celebrate it?
It's time to open the history books, kids. In the decades before the formalization of the United States, New Orleans was founded by the French, planting Catholic roots deep in the marshy ground. Mardi Gras itself is a mix of pagan and Christian traditions, amplifying overindulgence before Lenten restrictions come into effect on Ash Wednesday. Over the years, the tradition evolved with begging and debutante rituals, and it came to include street parades, costumes, formal balls and bead throwing. Today's version in New Orleans still incorporates much of that, with dozens of street parades, high-society debutante presentations, beads and trinkets tossed from mule-drawn floats. and tractors, marching bands and dance teams, and general rejoicings spilling out into the streets.
When is Mardi Gras?
Carnival officially begins on Epiphany (also known as Twelfth Night or Three Kings Day), which always falls on January 6. Mardi Gras officially ends on Ash Wednesday, which is also directly tied to the Catholic calendar, 46 days before Easter. This means that the date of Mardi Gras, and therefore the length of the season, changes every year. The biggest weeks are the last two weekends before Mardi Gras Day, February 21, 2023.
Learn holiday lingo
Not to be semantic here, but locals and visitors colloquially refer to the whole season as Carnival and Mardi Gras. Don't worry too much, except to know that you can enjoy parades and merry-making throughout the season. The Krewes are the organizations that host parades and celebratory balls. Throws are the trinkets, beads, stuffed animals, and light-up toys that are thrown from the floats.
Where to sleep during Mardi Gras
When you travel to New Orleans for Mardi Gras, there may be no bigger decision than where are you going to stay. Most parades follow the same route from Avenue Napoleon, Avenue Saint-Charles and the CBD. Depending on how much work you have to put into your commute and the type of party outside your door will determine where you want to stay. Want to unleash your inner goblin? Look for hotels in the French Quarter or Central Business District that will put you within walking distance of the main crowds, Bourbon Street and dozens of restaurants. Hoping for mid-week live jazz or something more cultural than hand grenade cocktails? Opt for charming hotels, bed and breakfasts or Airbnb at Marigny. If you have family or are hoping to maximize your parade time, stay at a boutique hotel or on Airbnb along (or near) Avenue Saint-Charles.
How to dress the room
Extravagant costumes and outfits are always encouraged, but on Mardi Gras day they are practically evangelical. But think less of Halloween, where you dress up as something or someone, and more like an avant-garde art class. If that sounds a little weird, that's because it is. Unless you have a clever idea that makes a cheeky nod to local culture, politics or circumstances, you're better off dressing in, say, head-to-toe monochromatic sequins or d a bouquet of flowers that Peppa Pig.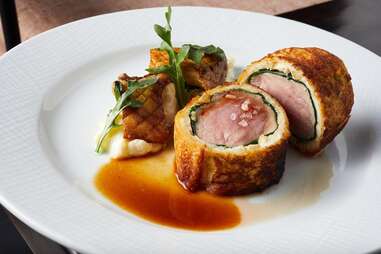 Savor the city
New Orleans World Class bars and Restaurants are at their best during carnival, when tourists (and their tips) can fill the venue every night. We have a ton of recommendations for what andwhere to eat in New Orleans, but there are three rules to know. First of all, if you want a reservation at the height of Carnival season, call now – like, right away – and you might just be lucky with a table. Second, drinking on the street is OK, as long as you do it in plastic or aluminum. Finally, be patient and tip well.
don't get arrested
Door hinges at local NOPD offices exercise during Mardi Gras, often because of tourists who can't handle their business. Locals know how to stay out of trouble during this season, when the concept of legality seems a little flexible, and that means 1) following directions, especially if a doorman or uniformed cop gives them to you, 2) pee in the toilet, not on the street and 3) don't hit a police horse. Just. Do not do it. To do. He.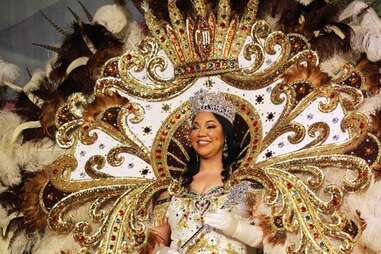 How to Rule Like a King (or Queen) for a Day
If you're going to do Mardi Gras, you can easily get to town, pack lunches for the parades, and be in bed by 10 p.m. every night without missing a beat. Or you can plan multiple costume changes, get tickets to public balls and concerts, and fuel up with Superior Grill's Popeyes chicken, lattes, and 20-ounce margaritas. Here are some ways to really enhance your Mardi Gras:
Rent a balcony: Why be part of the crowd when you can be above it? Call hotels along the parade route or on Bourbon Street and ask for balcony reservations, which perch you above the chaos and give you great views to toss pearls to the screaming crowds below, or get a great view on the parades as they pass.
Extend your stay: Coined a few years ago by Dominique Lejeune, "Deep Gras" refers to the last Ash Wednesday of Mardi Gras, and staying throughout this week gives you the ultimate immersion, opportunities to see hyper-krewes local with unplanned routes criss-crossing the French Quarter to multimillion-dollar parades like Endymion or Bacchus that light up the night and anchor the final weekend.
Ballin': While many krewes limit attendance to their membership lists and high society notables, some krewes offer ball tickets to the public, which means tuxedos, ball gowns and head-worthy performances. 'attach. Look for tickets for the balls thrown by the Zulu Welfare and Pleasure Club and the Krewe of Orpheus or those thrown by marching krewes, such as the Pussyfooters blush ball.
Brewed Chelsea is a freelance writer in his hometown of New Orleans, who previously worked for
The Times Picayune
as an arts and entertainment reporter and city columnist. Follow her on Twitter @cabraste to find out how cool she really is.