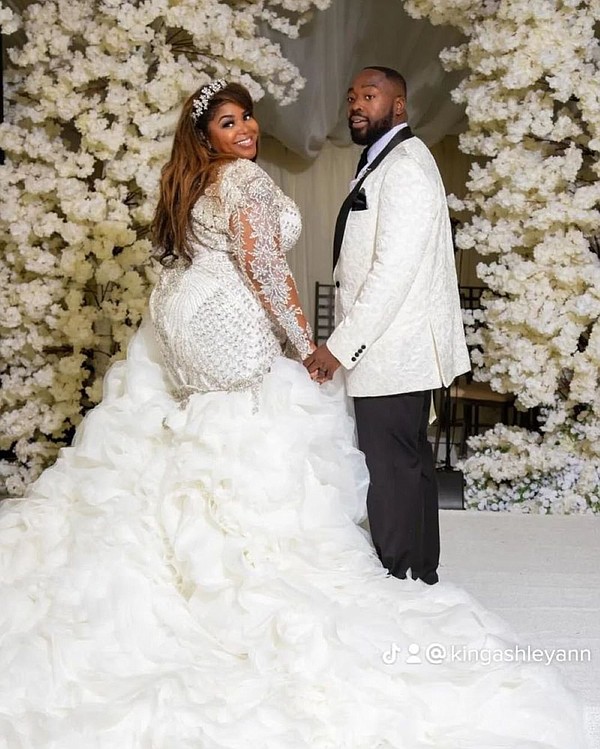 He ran down the track, hit her, then later ran after her
Corey Sullivan gave up competing on his high school track team so he could hang out with Ashley Jones the first time they met. When he saw her again a few years later, he rushed to catch up with her.
Ashley's cousin dated Corey's cousin all through high school, and they first met through this couple. Corey went to North Little Rock High School and Ashley went to Sylvan Hills High School, and a high school track competition between their schools gave them the chance to spend time together.
"He left his team and spent all day with me at this track and field meet," Ashley said.
But even though they enjoyed each other's company, their relationship was not moving forward.
"We really didn't try very hard to keep in touch with each other after that," Ashley says. "Then we grew up, we grew up and went to college."
After graduating in 2003, Corey moved to Dallas, pursuing a career in telecommunications engineering along with various entrepreneurial opportunities, and Ashley worked in finance and also started her own business.
On July 3, 2021, Ashley drove to a grocery store in West Little Rock to buy drinks for a family reunion, then stopped to refuel.
"A big white truck pulled up while I was filling up my car and this cute guy got out," she says.
The guy was Corey, who had recently returned to Little Rock, but she didn't recognize him because he had his cap down.
Corey noticed Ashley just as she got into her car and drove away. He had seen her in town once, but he had done some work around her house and didn't want her to see his best side.
He wasn't about to miss another chance to reconnect, though. He jammed the nozzle back into the pump and followed her.
"She was about two red lights ahead of me," he said. "I was trying to keep up the pace."
He caught up with her as she turned into a parking lot.
"He said, 'Don't I know you?'" Ashley says. "We talked for a while in the parking lot, then he went shopping with me in the store and he helped me put all my things in the car."
Corey called Ashley that night. They didn't talk long then, but he called her back the next day and asked for a date. They went to YaYa's Euro Bistro for a steak, and their conversation lasted beyond closing time.
"We were the last to leave, and then we talked for an hour or two in the parking lot," says Ashley. "He asked me if he could see me again."
She checked her phone's calendar to see when she might be free again, but Corey made it clear he wanted to see her the next day. She was going for a walk on the Big Dam Bridge, she told him, and he could go with her.
Corey often lifted weights, but cardio wasn't something he would normally choose to participate in, but he said he would meet her there.
"It ended up being romantic because fireworks started going off while we were at the Big Dam Bridge," Ashley said.
They grabbed a bite of dinner after their walk and started seeing each other regularly from then on.
Both loved to travel, and they did it together — seeing pyramids and other historic structures all over the world — as they got to know each other over the next five months. They also enjoy working on projects and have collaborated on preparing an Airbnb for executive rental.
Ashley says she starts decorating for Christmas as soon as Halloween ends.
"I love Christmas," she says.
Corey proposed on Christmas Eve, calling her into the lobby for a quiet chat while her family was gathered at their house for the holidays.
"He told me he loved me and wanted to spend his life with me and how happy I made him, and he got down on his knees and gave me a big Sissy's Log ring Cabin," Ashley said.
Ashley and Corey tied the knot on Nov. 11 at the Chenal Event Venue.
"We had thousands of flowers and classic entertainment," Ashley said of the wedding. "It felt very much like a dream."
Corey's travel schedule was packed when he saw her in 2021, and Ashley's was too. They marvel that their schedules lined up for their spontaneous encounter.
He could have tracked her down through social media, but she says it's best he choose the more direct route.
"I preferred to meet men in person, so you could touch them," she says. "It's not that there's anything wrong with online dating, but there are a lot of guys floating around, texting girls [direct messages]. I probably would have written him off if he contacted me that way. It was so much better."
If you have an interesting story about our encounter or know someone who does, please call (501) 425-7228 or email:
The first time I saw my future spouse:
She says: "He made me smile and I felt like I was floating on a cloud. I felt the same when I saw him again all these years later.
He says: "She had a beautiful smile. And later I was so happy because I got my Ashley back and got to know her better.
Our wedding day:
She says, "I remember seeing him walk out with the biggest smile on his face. And we all had such a great time at the reception. Everyone said it was the most fun and the best party.
He says, "I remember walking in and seeing all the work, seeing how beautiful everything was and how much work had gone into it, and then seeing her."
My advice we got for having a long happy marriage:
She says, "Come into counseling because we had different backgrounds and different viewpoints, so we could grow with each other and be on the same page about making decisions."
He says, "Communicate. Talk to each other."