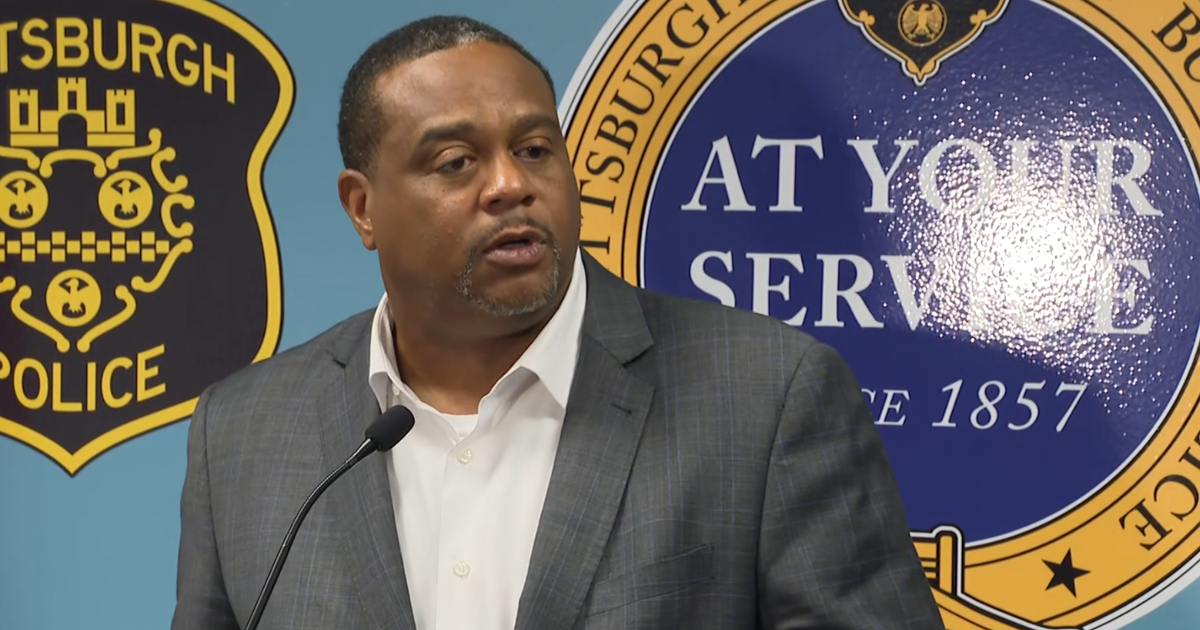 Mayor Ed Gainey and Pittsburgh Police Issue an Emotional Appeal to the Community Following North Side and South Side Gun Violence
PITTSBURGH (KDKA) — Mayor Ed Gainey, Pittsburgh Police Commander Richard Ford and community leaders have issued a moving appeal to city residents to do their part to help end gun violence after the deadly weekend shootings on the North Side and the South Side.
"I know someone knows something," Mayor Ed Gainey said. "I couldn't imagine coming home and not having a mother anymore, that my mother was lost to the violence. I couldn't imagine what it felt like – four kids who don't have a mother on a shooting senseless because of an argument it automatically ended in a shootout I don't know, and I would never want to know what it would be like There's no reason anyone would want these type of killers on the street .
Mayor Gainey began a press conference late Monday morning by sending his condolences to the families of the two women killed in the North Side shooting.
The two women were innocent bystanders caught in the crossfire, police said. Betty Averytt, 59, was found shot dead in Allegheny Commons East Park. Jacquelyn Mehalic, 33, was found shot dead at a bus stop. She was rushed to a nearby hospital and later died.
Police were called to Cedar Avenue Saturday night to a ShotSpotter report of 20 gunshots. It started as an altercation in the Sunoco gas station parking lot and led to gunfire between at least two shooters, Ford said.
In addition to the women, a man died and another was shot in the leg. Investigators have spoken to a person of interest, Ford said.
Hours later, on the South Side, police say another argument escalated into a shootout at S. 14th and E. Carson streets. A man was shot in the chest and taken to hospital.
Like Gainey, Ford said he is asking those with details of the shootings to come forward. He said the police cannot fight this type of violence alone.
"We are part of the solution, not the whole solution," he said. "Something is wrong with our system when we have people who can continually go out and commit more violent crimes, and we as police can only control one aspect of that. I see too many cases where they are back on the streets. When I see innocent people being killed because of this, it drives me crazy.
"I'm tired of seeing young geniuses and people who might have had a life not here right now," said Pittsburgh Police Outreach Coordinator Cornell Jones.
RELATED STORIES:
Earlier this year, there was another mass shooting at an Airbnb party on Easter morning. It was just blocks from the last mass shooting this weekend.
"So many guns, and no one knows where they came from. Something is wrong with this photo," Mayor Gainey said.
At this point, police have no descriptions of suspects in the weekend shooting. Investigators think someone knows something. They are asking these people to come forward.
Gainey and other city leaders like Councilman Bobby Wilson, who represents the North Side, said a gun problem isn't helping this situation. They say too many weapons are in the wrong hands and when these fights escalate it has deadly consequences.
Gainey said the Shuman Center shouldn't have been closed without a plan. He didn't provide many details, but said city leaders were actively working to find a solution.
"We have an Allegheny County system that doesn't have a juvenile detention center and there's no plan b," Ford said.
In a recent report by KDKA Investigates Regarding issues with the local juvenile detention system, a district judge said he had just signed a warrant for a juvenile who had been arrested seven times with a gun and released each time.
"Something is wrong with the system when I sign for the seventh time an arrest warrant against a minor for carrying a weapon," said judge Eugène Ricciardi. "There is a breakdown somewhere and it needs to be fixed."
Gainey said there should have been a plan in place before Shuman closed and is now in talks with the county and state about reopening the facility.
"We're going to work with the county and the state to get this juvenile detention center," Gainey said. "I'm not going to blame or throw anyone under the rug. I'm going to see what we need to do to reopen the Shuman Center."
The county just put out an application to anyone interested in redeveloping or operating the center and the mayor says there could be an announcement soon, but for police and the community, it couldn't come too soon.