mobius architekci carves 'dune house' into lush slope in poland
Dune House by Mobius Architekci
The architectural firm Mobius Architekci has completed its last Residential project called 'Dune House' near Warsaw, Poland. Nestled in green meadows and surrounded by lush forests, the house features a distinctive curved silhouette reminiscent of a sea dune, aptly giving the project its name. The curved shape, which Polish architects characterize as a harp, stretches across the hill and follows the winding line of the Narew River.
nestled in green meadows, the house features a distinctive curved silhouette
all images courtesy of Pawel Ulatowski
Cubist forms and clean lines emerging from an organic residence
Principal architect Przemek Olczyk of Mobius Architekci carved the building into the hillside of the site, creating a modern and spacious residence of over 1,500 square meters. The expansive structure rising gently from the slope undergoes defragmentation within the organically shaped body. Cubist shapes and clean lines cut through the semi-open atrium, providing privacy and letting light into the interior.
Dune evokes futuristic imagery, although it recalls the minimalism that the Polish workshop has used for years. From the perspective of the river, the building appears as a monolith. The balance and completeness of the space are also achieved thanks to the materials used: white plaster and sintered quartz stone.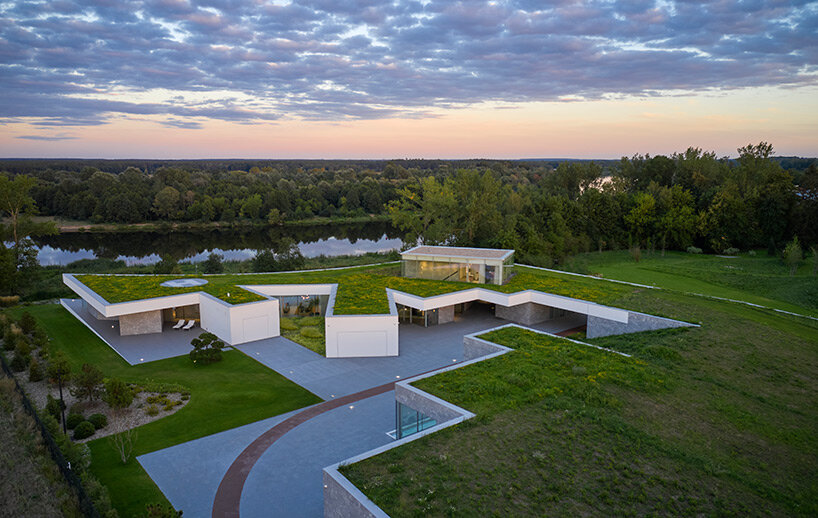 cubist shapes and clean lines cut through the semi-open atrium
'periscope' glass box and automated technology features
The house captures light while providing shelter from the scorching sun, allowing residents to be indoors and outdoors without barriers or dividers. The design provides privacy for the inhabitants of the house while being open and free from functional architecture – a common approach and characteristic of Przemek Olczyk's projects.
Looking at the house from the side of the river, the architect placed the bedrooms on the right side; in the middle there is a living room with kitchen and on the left a hobby room. Also noteworthy is a glazed rectangular box placed on the roof of a sprawling one-story body. Like a periscope, it allows you to look over the tops of the surrounding trees. The house has two swimming pools, one of which is covered, and two helipads, a 300-meter athletics track and a mobile platform that allows free communication with the foot of the hill. Many elements of the house are automated, which, combined with innovative technological solutions, directly affects the comfort of the house.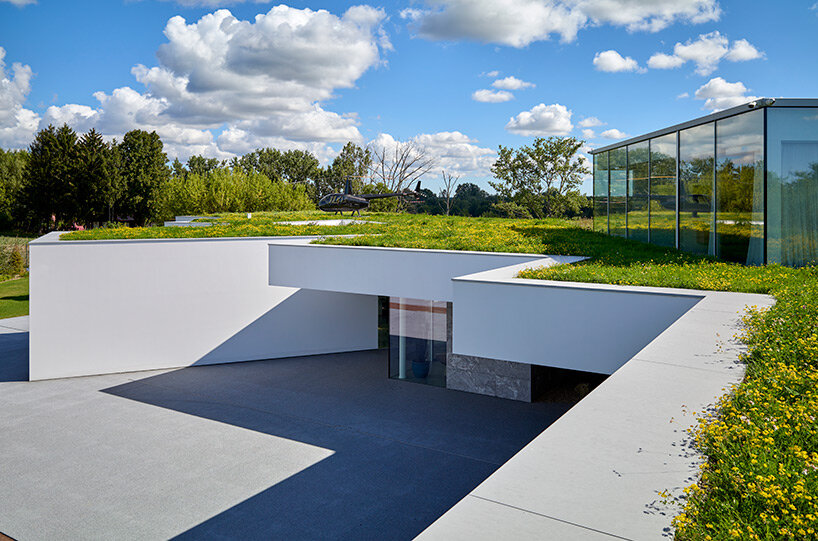 the house catches the light while sheltering from the scorching sun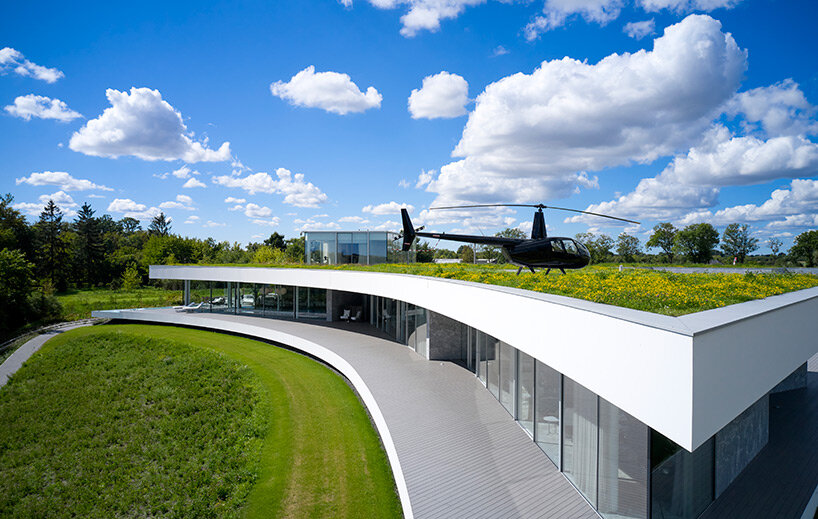 the curved shape stretches across the hill and follows the line of the winding Narew River