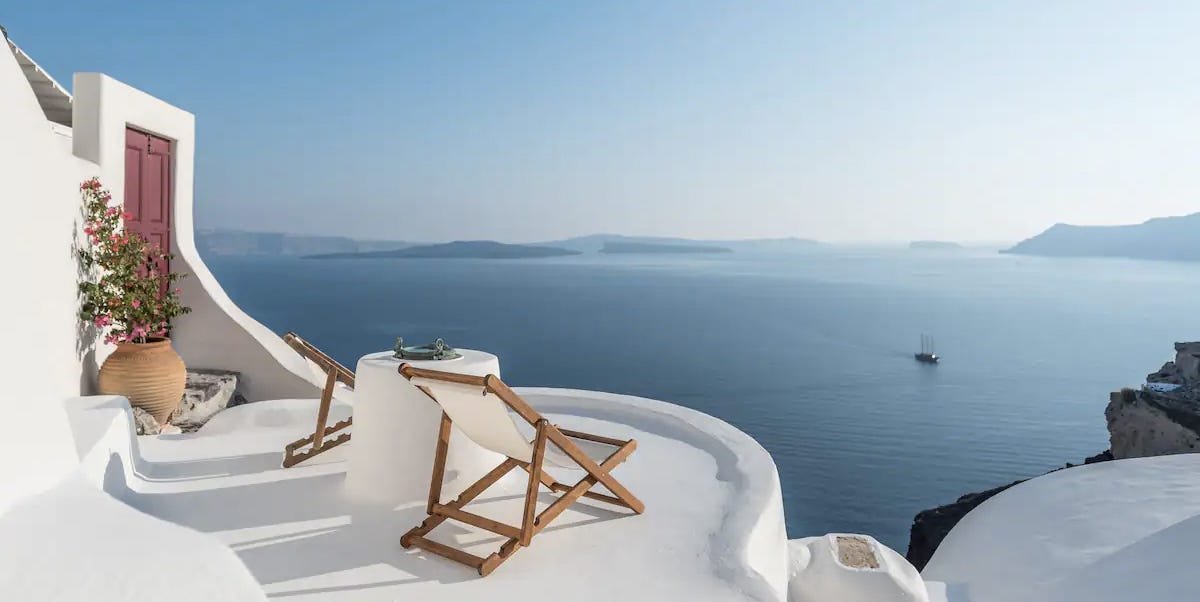 The best Airbnbs in Santorini, Mykonos and Paros
Think of the Greek islands and you probably imagine the white, cuboidal Cycladic houses built into cliffs overlooking the Aegean Sea, like Santorini and Mykonos.
Designed to reflect the summer sun so they are cooler and more comfortable inside, these homes with whitewashed limestone exteriors typically feature red, green or blue doors and windows for the perfect contrast.
If you have always wanted to stay in a traditional Cycladic villa, now is the time to plan as Airbnb just launched Categories to help travelers easily search for unique homes on its site. There are more categories, including Cyclades Airbnbs, vineyard stays, Arctic holiday homes and designer rentals, as well as very specific accommodations, such as ski-in ski-out retreats, properties with grand pianos and houses with chef's kitchen…
As we've set our sights on a Greek island getaway this summer, we thought we'd bring you the best of Airbnb's new Cyclades category, where you can see all the most beautiful whitewashed homes from Santorini, Mykonos, Tinos and Naxos in one place – without having to browse thousands of holiday homes.
Where are the Cyclades?
Located in the Aegean Sea, the Cyclades group of islands can be found in southern Greece near Athens and northern Crete. There are around 220 islands and the largest is Naxos, while Santorini, Mykonos, Naxos and Paros are among the most popular islands.
Why an Airbnb Cyclades?
For starters, they offer Instagram gold. The building made of sugar cubes standing against the blue sky and the sea – this is what Mediterranean dreams are made of. Cyclades vacation rentals also give you the privacy and freedom you won't find in a hotel, plus useful features like parking, easy access, and your own space for days outdoors enjoying the sun. greek island sunshine.
If hotels with private pools in Greece are your thing, then booking an Airbnb gets you better off as many have their own full-size pools. You'll also find Cycladic apartments and suites on the website, and rentals differ in size, so whether you're traveling as a couple for a romantic trip to Mykonos or a group of friends exploring Naxos, there's a place for you.
What are the best Cyclades Airbnbs in Santorini, Mykonos and Paros?
We've made the search easier by bringing you 10 of our favorite Airbnbs to book in the Cyclades. Discover our selection of the best Airbnb in Santorini, Mykonos, Paros, Tinos and Naxos:
This content is created and maintained by a third party, and uploaded to this page to help users provide their email addresses. You may be able to find more information about this and similar content on piano.io