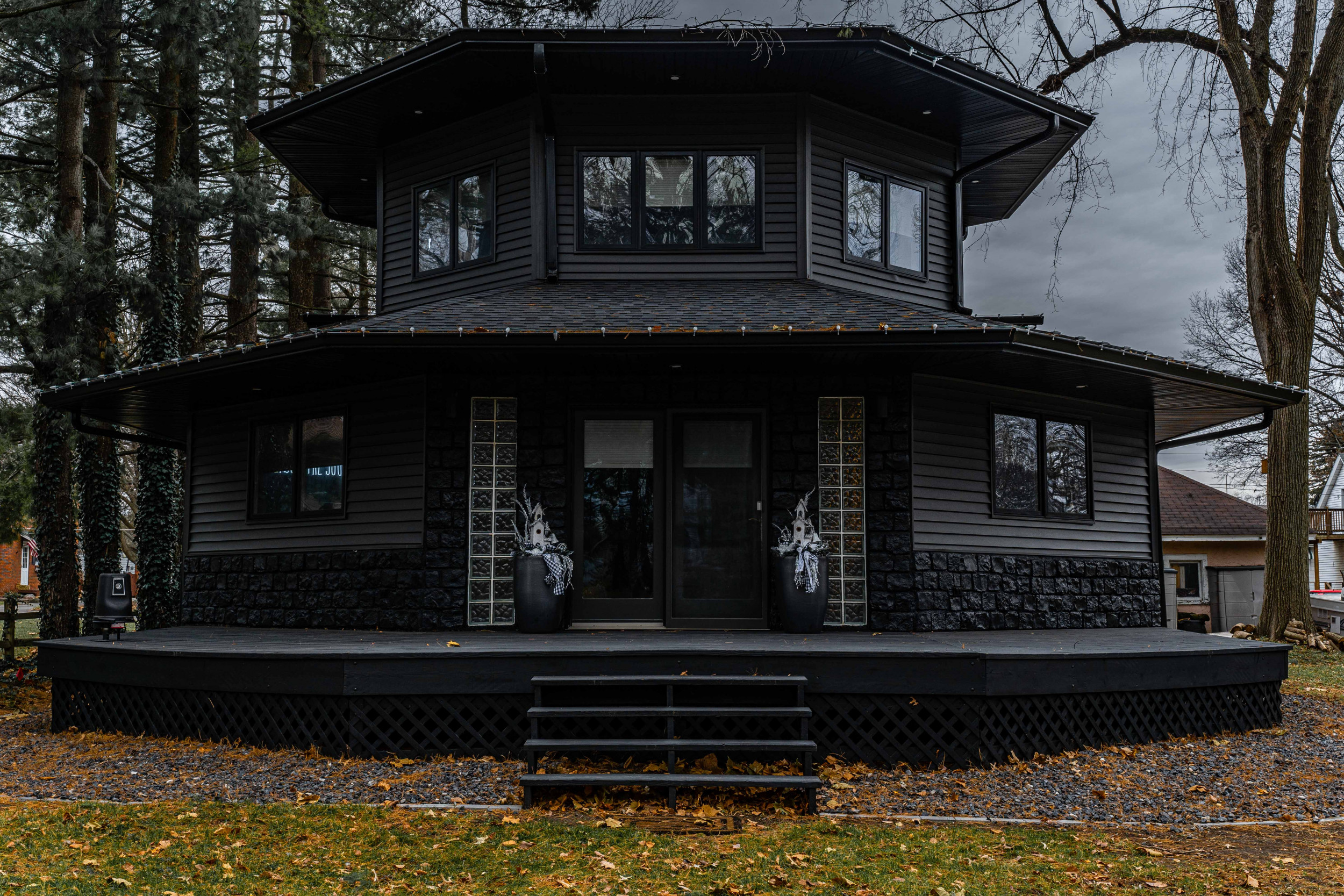 "I have created a Gothic house – Soon people will be able to stay there"
I was born and raised in Lincoln, Illinois, and as a real estate agent, I always had my sights set on an octagonal house on Edgar Street. Shape aside, it's also set back from the main street, so no one will really know it's there unless you look for it.
The original builders of the house were Jim and Charlotte Griffin and in the summer of 2021 Jim's children asked me to come and look at it and tell them what it was worth. I explained that I didn't want to be the person to talk to, because I was personally interested. Instead I asked them what they wanted for the property and we agreed on the terms as it needed some work. They had never liked the house, they thought it was quirky and too weird, so they challenged me to do something about it!
I bought the house in August, it's actually my 34th house and oddly enough I'm 34 years old. I move around a lot and have built, bought and flipped many properties. I'll have a design in mind but I'm not doing the actual work; I am not a handyman! I mainly sell because I own a real estate agency.
I paid $75,000 for the octagonal property on Edgar Street, which was a good price for what it was, but it needed a lot of work. Structurally, it was a very solid two-bed, two-bath property, but it needed a lot of cosmetic renovations. There had never been gutters and it's an octagon shaped house, so adding gutters and drainage was one of the first things I did, and there are a lot of different angles. I also had extensive landscaping done and the bathrooms stripped down to the studs and reconfigured. But I was a little limited because the house is an octagon; the shape of the rooms is original.
I invested about $160,000 in the renovations, and it was top to bottom. More or less everything inside has been changed, but I kept some original elements; there is a spiral staircase which is unique. However, I added features like a pergola with an outdoor fire pit.
For me, the vibe of the house and its location lent itself to a unique color palette, which is why I ended up going with black. I felt it needed a darker vibe. But honestly, it started with the roof. I decided I wanted a black roof and then black siding for the house itself. When I told the contractor about it, his reaction was, "I don't think so!" But the facing continued. Then I decided to paint the triple garage doors and gutters black as well. Even the landscaping rock was changed to black.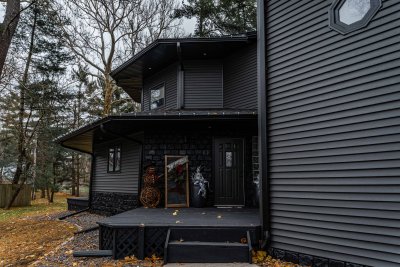 When we started inside, I said that I also wanted the interior walls to be black. My contractor said it wasn't going to work but they painted the walls black. But when I went to see them and the ceilings were still white, I decided they should be painted black too.
Some furniture is black, but many are white to create contrast. There's also white trim throughout, some charcoal gray doors, and the bathrooms also have white tiles. But a lot of items had to be custom ordered, like the light fixtures, because they were black and unique. I didn't want anything to be what you would see in a typical home.
Although the house has a quirky vibe, it has so much natural light; it has windows on all sides and the upstairs bedroom has skylights. Even though it is dark in places, when you walk in you don't feel depressed. People say the property is gothic and ask me if I'm gothic. I'm not, it's just the style of the house.
It was actually a very quick six week renovation. I would say it was done in early October. When I bought it, I planned to renovate it and stay there for a while. But then I realized that having such an unusual property in today's market meant it would be a good time to sell if I wanted my money back.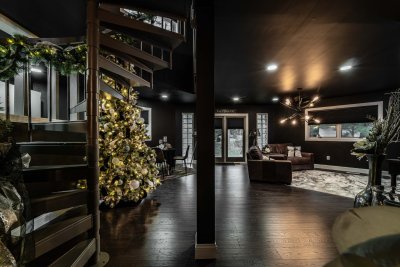 When I posted renovation photos, I knew people were intrigued, but I never thought the house would go viral. The list was shared on Facebook on December 17 and within 48 hours there were tens of thousands of shares across the country and beyond. It is now at nearly 120,000 shares and 24,000 reactions.
I didn't check my spam folder on Facebook for 48 hours after listing the property and when I did there were over 500 messages from people all over the world asking questions like: This house is- is it still for sale? Is it haunted? Do you hear or see things there? I guess people assume it would have that feel because of the color, but it's not an old house. I've even heard people say they were spiritually drawn to the house. One of the questions that made me laugh was someone asking what color the wall was, because they wanted to get that paint color. It's a custom color I purchased, but it's black.
It wasn't long before a few offers came in, simply because of the uniqueness of the house, but all types of people reached out to me to see it. I had a lot of people who I guess you would call goth who were very intrigued by that. Again, these people were asking if he was haunted and what kind of feeling he had. I would tell them that the house was built in 1993 and that I hadn't experienced anything unusual there. There were also a lot of people asking me if I could make it an AirBnB so they could stay a night and have the experience, but I like to jump from project to project.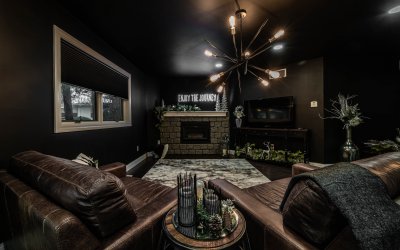 In addition to the two bedrooms and two bathrooms, the house has an open-plan living/dining room, open-plan kitchen and utility room, and none of the rooms are square! He was listed for $250,000 and he is currently under contract to be sold. The person who buys it does so without seeing it, just from the photos and videos. I haven't met him yet, he just saw the place online, called me, took me on a virtual walk and bought it. He bought it furnished and plans to rent it out as an AirBnB. From the reactions I've had, I think it's going to be great!
From what I understand, the neighbors were just happy to see the house cleaned. It wasn't that it was neglected, it just had a lot of deferred maintenance. Edgar Street used to be a kind of unfamiliar street in Lincoln, but now there are always people passing by and taking pictures. I think the neighbors are ready for it to be a quiet street again now, which will happen over time.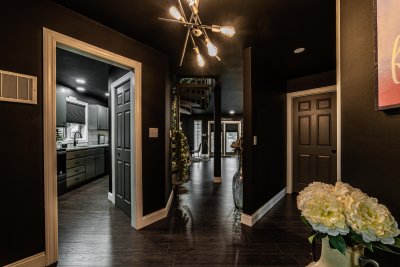 Right now I have three more houses in the works. One is a 1917 brick bungalow on an older street in town, so I'm going to be very neutral and modern with that. But I have another property also in an older neighborhood and was originally planning to style this house with very bright colors on the exterior, interior, or both. I think people are tired of always seeing the same style in properties. But since then I've had a few people interested, so I'm not sure if this will end up being a brightly colored house.
For now, I'm still residing in the black house and will be there until the sale closes, which will likely be March or April 2022. I'm already under contract to buy another house, but this one is a very modern ranch style home. It's just another chapter in the book though, so it won't be long before I move on.
I would like an answer to the question of what my "forever home" looks like. I've lived in many house styles and really have no preference. I love all styles of homes and could live anywhere because I can make a place my own very easily. I could walk into any type of house and see exactly what I want to do with it. I was definitely born and endowed with the imagination and creative spirit for this.
Seth Goodman is a realtor in Illinois. He owns ME Realty in Lincoln, Illinois. Learn more about sethsellslincoln.com or follow him on Facebook at Seth A. Goodman.
All opinions expressed in this article are those of the author.
As said to Jenny Harvard.