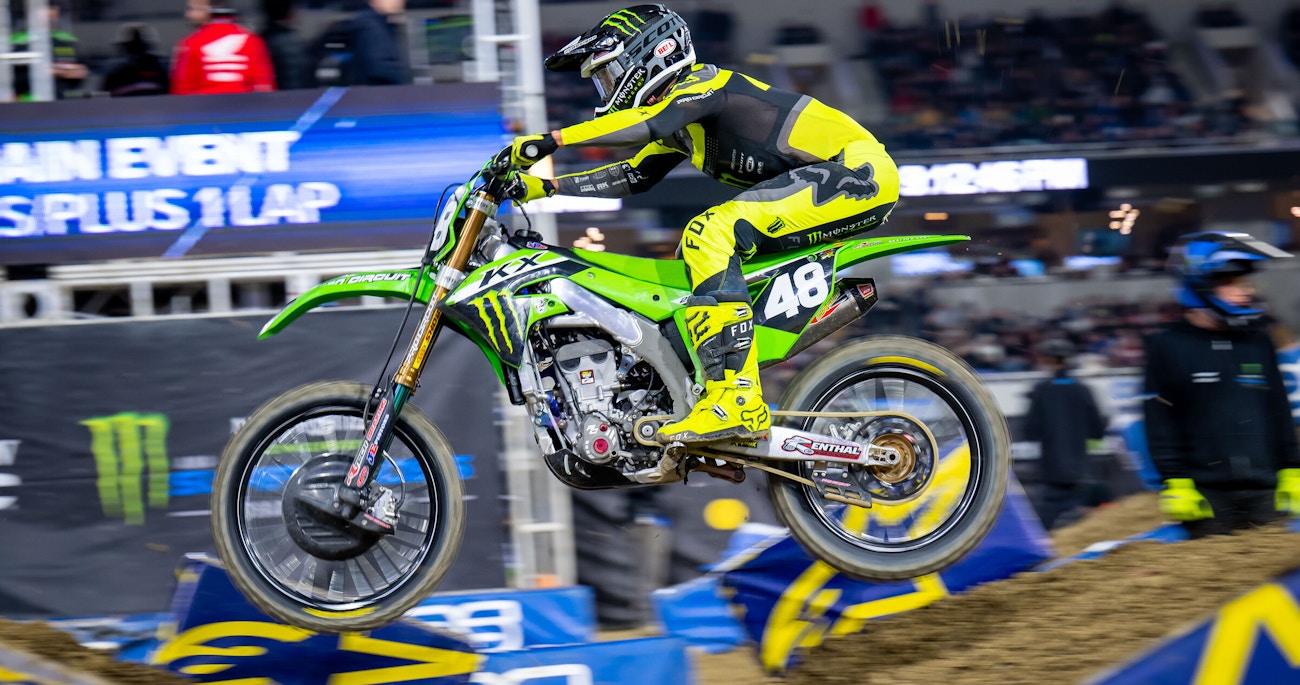 RJ Hampshire and Cameron McAdoo talk about the 2023 San Diego Supercross
What did you figure out with the bike? What did you change that brought about these improvements? Chassis, suspension, all of the above?
Man, that's so. It's the same with Coop. You can tell with him. It's also a different pilot, and Malcolm. I don't think we've had such a strong team in a while. Today was shaping up to be great for both of us. Engine, we did a complete rebuild on it. We also have more things to come for the exterior, which I'm quite happy with. Bringing in Hansen was also huge. We have a very good base. They kind of stopped telling me exactly everything they had, just because I want to know everything. I will know what Coop is doing or what anyone else is doing on my bike. That's how I am. I want to know how it works or what is better with it than mine and how I feel. I ride a very different bike than my teammate or anyone else on this 250. There are still things that can be better. My departures are certainly part of it. This start of the main event, I can't keep doing this and go from behind like this. I have already spoken to Tony, our team leader, and we will work this week and try to understand. Hopefully we can fight a little more with Jett and Cam.
You've only run west once, so go deeper. Just being back out west in general and racing the ballpark in Anaheim, Oakland coming up, and then being in San Diego, tops open, that's different for you.
Yes of course. Honestly, I've been someone who hates being here and spending time in California. All we did was change where I live now. I spent the whole month here with my family. We really take advantage of it. We appreciate where we are right now, and I think that leads into the weekend. Coming here I even got to stay in my Airbnb last night which was huge just to have a bit more comfort than staying in a hotel. I think the track was really good, and despite the amount of rain that has taken this place over the past few weeks, the track crew did a wonderful job. The stadium was nice. I think it was cool for the fans. Our whole pit setup there was way better, I feel here, than Petco. I hope we can come back.
The three of you represent brands that are very proud to be on the catwalk after the evening. What else is going through your head?
I appreciate it. We respect all the guys there, no doubt. Cam and I have a lot of respect for each other for a lot of reasons, I think, and we've been through a lot. We are now behind in our career. We have seen many things. We were teammates before. We're going to fight hard, but you're not going to expect anything crazy, and I'm not expecting anything crazy from him either. I feel like both weekends we ran hard but it was clean. Same with Jett. He's new to this, and I don't think he's lived as long as us, and he's good. That's all you can say. He has talent and he knew how to bring it down. It's cool to be here with Cam and to fight for the podiums every weekend. I don't think any of us have been this close to the lead two weekends in a row. Hopefully we can stay there and have some good battles.