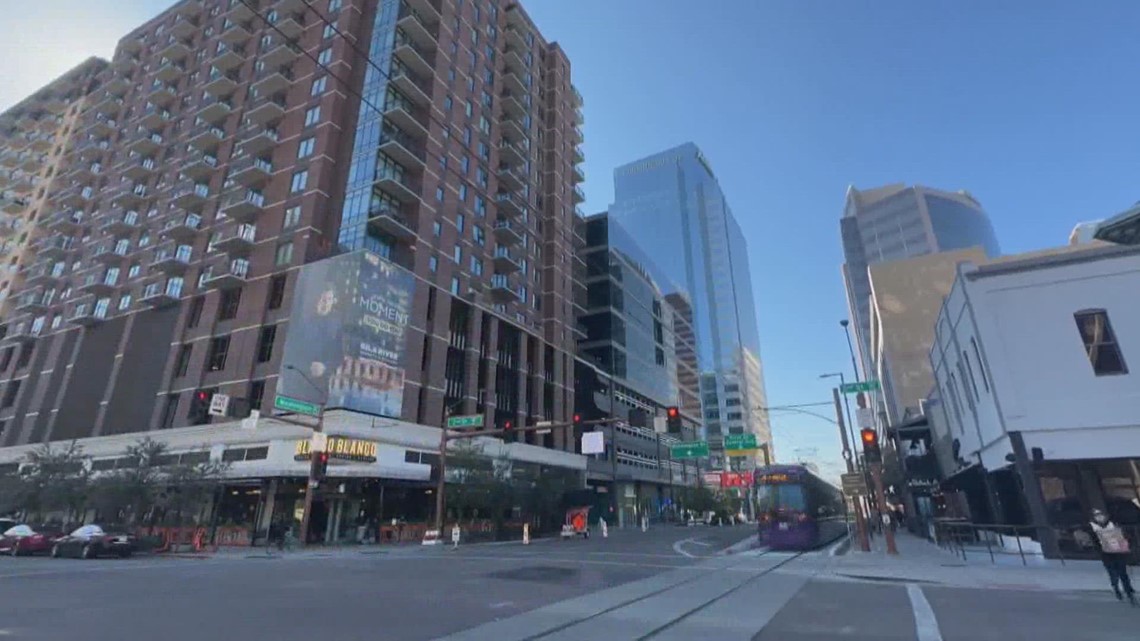 Short-term rentals before the Super Bowl
Lots of people are looking to book short term rentals as they head to the valley for the game.
PHOENIX – Excitement is building as Super Bowl LVII and the highly anticipated greenest show on grass nears!
Lots of people are looking to book short term rentals as they head down to the valley for the game.
A Scottsdale hotspot is a hop, skip, and a jump of all the action. The combo includes the ability to watch the big game from the comfort of the casita while being a five-minute drive from the WM Phoenix open.
The golf tournament and big game will draw large crowds to the valley with visitors like Jim Dragatsis. He started planning his trip eight months ago.
"We usually get a house in Scottsdale. It's getting harder and harder to find a VRBO or a house," Dragatsis explained.
In anticipation, Valley owners like Josh Scott are rolling out the red carpet for guests looking to lock themselves in one place.
"People come here not just to have a place to stay, but to have an experience," Scott said.
This isn't Scott's first rodeo either. He featured what his family calls the "Great Casita" on Airbnb in 2015.
"I booked the property for three months straight in about six or seven days for about $150 a night," he added.
Over time, plus two major events in town, the price per night increases even more, around $500 to $700 on average for a studio-style rental. Some short-term rental sites average nearly $1,800 per day during Super Bowl week!
"This little house pays for the main house, and I've put a lot of the money aside to fund my kids' college. You can't do better," Scott said.
For renters and homeowners alike, there are tips to consider ahead of the big week. Haven Thorn with Airbnb has this advice.
"Our best advice for anyone looking for a great place to stay is always to read reviews and see what people are saying about the listing before booking. Travelers can always find safe and affordable options with Airbnb hosts in Glendale/Phoenix," said Thorn.
Thorne said never to use a third-party site to book or pay for an ad. Just stay on the site platform.
"Fans can protect themselves, their payments and their personal information by staying on our secure platform throughout the process, from conversation with the owner to booking and payment," according to Thorn.
Hard for visitors to beat the pétanque, bar-style garden and lovely pool. Scott's advice to other homeowners looking to protect their assets while providing a piece of paradise is simple.
"Talk to your people who come to visit, be an ambassador for our city, it's a great place to live and that's why they come here to have a good time, so help them out. "
Up to speed
Keep up to date with the latest news and stories on the 12 News YouTube channel. Subscribe today.
Arizona Sports
The city of Phoenix is ​​home to five major professional sports league teams; The Arizona Cardinals of the NFL, the Phoenix Suns of the NBA, the Phoenix Mercury of the WNBA, the Arizona Diamondbacks of the MLB and the Arizona Coyotes of the NHL.
The Cardinals have made State Farm Stadium in Glendale their home turf and the Footprint Center in downtown Phoenix is ​​home to both the Suns and Mercury. The Arizona Rattlers of the Indoor Football League also play Footprint. Phoenix has a soccer team with USL's Phoenix Rising FC.
The Valley hosts several major sporting events each year, including college football's Fiesta Bowl and Cactus Bowl; the PGA Tour's busiest event, the Waste Management Phoenix Open; NASCAR events every spring and fall; and Cactus League spring training.
More ways to get 12News
On your phone: Download the 12News app for the latest local news straight to your phone.
On your streaming device: Download 12News+ to your streaming device
12News' free 12News+ app allows users to stream live events – including daily newscasts like "Today in AZ" and "12 News" and our daily lifestyle program, "Arizona Midday" – on Roku and Amazon Fire TV.
12News+ features live video throughout the day for breaking news, local news, weather, and even the occasional moment of zen showcasing breathtaking views from all over Arizona.